Hal Needham: Film director who started out performing stunts and went on to make 'Smokey and the Bandit' and 'Cannonball Run'
John Riley
Friday 22 November 2013 01:00 Comments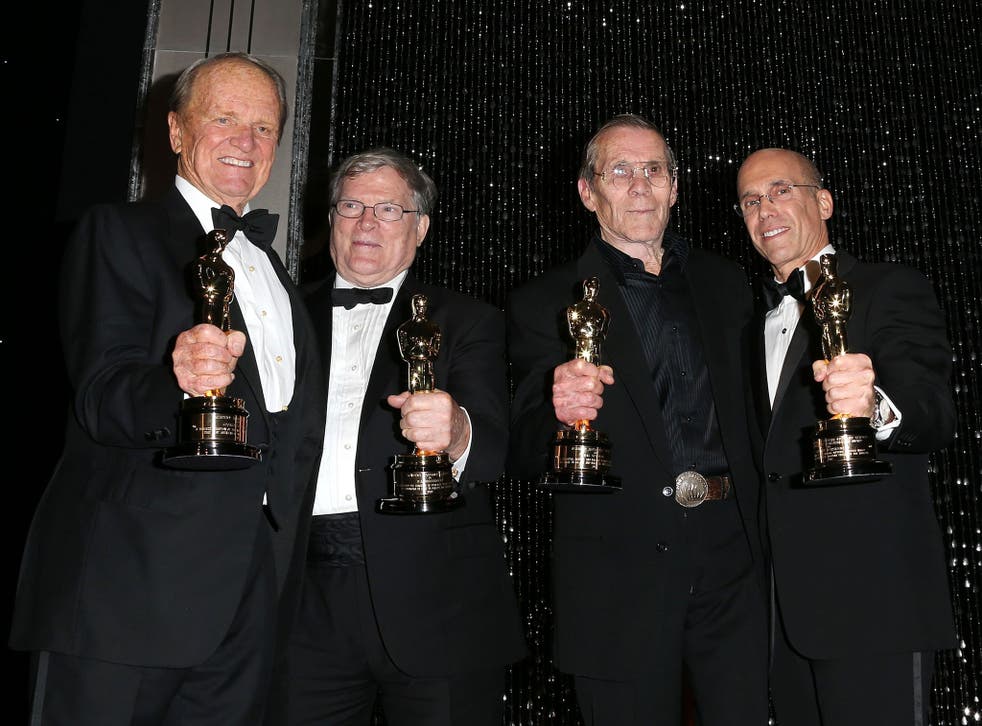 After thousands of film and television stunts in which he developed innovative techniques and technology, Hal Needham became Hollywood's highest-paid stuntman, commanding $25,000 a time. He also directed his own screenplay for the comedy-action film Smokey and the Bandit. It was one the highest-grossing films of 1977, beginning a franchise that saw two cinematic sequels and number of television movies.
Needham was born in Memphis, but his sharecropper family moved around. He didn't see a film until he was about 10 years old – and quit ninth grade to become a tree surgeon. From 1951-54 he was a paratrooper in the Korean War, after which he tried to make it as a stuntman. On the way, he worked as a billboard advertising model.
Television westerns, thrillers and detective series offered a wealth of opportunity, and Needham's breakthrough came as Richard Boone's stunt double on the popular Have Gun – Will Travel. In his second stunt on the show he was asked to jump 30ft from a rock on to a moving stagecoach, without protection. He did exactly that – but broke through the roof. "That kind of shocked the folks inside the coach," he recalled.
In 1962 Needham worked on the epic film How the West Was Won and John Ford's morally ambiguous The Man Who Shot Liberty Valance. The following year saw him in McLintock!, a Western inspired by The Taming of the Shrew. As the Vietnam War dragged on, several films clearly referenced it with a jaundiced eye, one being the revisionist western Little Big Man, in which Needham had to leap three times between two galloping horses 14ft apart. It was potentially fatal – and with 13 takes over two days, it was the toughest physical stunt he ever did. In another stunt on the film, one of his horses tripped in a gopher hole and had to be put down.
But westerns were waning in popularity and Needham shifted from horses to cars in films such as Blake Edwards' The Great Race (1965). He also graduated to overseeing others' stunts as well as occasional second unit directing, initially on White Lightning (1973), in which he jumped a car from a riverbank on to a moving barge 75ft away, only just making it as the barge moved further away. "The back wheels were in the water," he recalled. "I was out of that car in about two and a half seconds." He then collapsed from the shock.
Needham's most important connection was with Burt Reynolds, whom he had met on the series Riverboat in 1959. Reynolds enjoyed doing many of his own stunts while allowing Needham to stay on the payroll. This led to a lifelong friendship and working relationship, and co-ownership of the NASCAR Skoal Bandits motor-racing team.
Needham had written a booze-smuggling comedy-chase script, but there was no great interest until Reynolds came on board, though all his friends had advised against it. Reynolds' faith was proved right, and Smokey and the Bandit became one of the top grossing films of 1977, launching a series of sequels and shifted Needham's career into directing and producing.
Most of his 20 directorial outings – including Smokey and the Bandit 2 (1980) and, inspired by his participation in the famous cross-country car race, Cannonball Run and its sequels (1981 and 1984) – followed a similar template, though there was also Hooper (1978), with Reynolds as an aging stuntman, and Stunts Unlimited (1980), a ludicrous film about stuntmen retrieving a stolen laser gun.
After divorcing, Needham spent 12 years living a determinedly bachelor life in Reynolds' guest house, to the extent that the star began to avoid his own pool: "I was always afraid I'd find three waitresses." But in 1981 Needham announced that he was moving out to marry Dani Janssen, widow of the Fugitive star David Janssen. Reynolds said that she was the first girl Needham ever dated with an IQ over 70, and he was Needham's best man at a star-studded western-themed wedding held in the "All Faith Community Church" – a set on the Universal lot where Gunsmoke had been shot. Needham had rejected the idea of sky-diving in as, he said, "I'm getting married, not putting on a show."
Needham developed several ideas to create more spectacular stunts and improve safety which became standard to the industry. He was instrumental in introducing airbags, allowing him to do a 100ft jump and to direct even higher ones for other stuntmen. For battle scenes, an air-compressed metal plate flung the stuntman far further than he could leap under his own power.
For McQ (1974), he put rockets under a car to make it flip, though an experiment left him with a broken back and six ribs, a punctured lung and three lost teeth. From 1969 on he wore a hearing aid after an explosion went off too early in the wartime film The Bridge at Remagen.
As well as his stunt work, Needham developed a car to try to break the world land-speed record and the sound barrier, but the claim that his fellow stuntman Stan Barrett achieved it by clocking around 740mph was not officially recognised.
He wrote an autobiography, Stuntman! My Car-Crashing, Plane-Jumping, Bone-Breaking, Death-Defying Hollywood Life. He was under no illusion that he was creating art, saying, "I'll never win an Academy Award, but I'll be a rich son-of-a-bitch." In fact, he was awarded an honorary Oscar in 2012.
Hal Brett Needham, stuntman and film director: born Memphis, Tennessee 6 March 1931; married 1960 Arlene Wheeler (divorced 1977; two adopted children), 1981 Dani Janssen (divorced 1987); 1996 Ellyn Wynne Williams; died 25 October 2013.
Register for free to continue reading
Registration is a free and easy way to support our truly independent journalism
By registering, you will also enjoy limited access to Premium articles, exclusive newsletters, commenting, and virtual events with our leading journalists
Already have an account? sign in
Join our new commenting forum
Join thought-provoking conversations, follow other Independent readers and see their replies