Harry Parkes: Reliable and tenacious Aston Villa full-back who regularly outplayed more illustrious names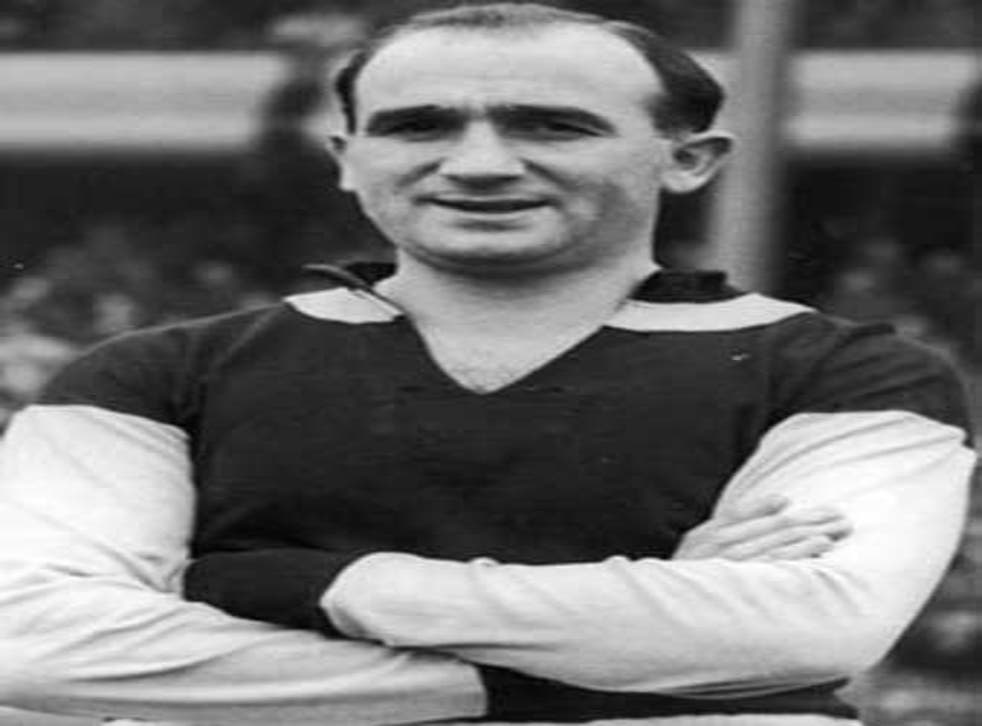 Harry Parkes's prowess as one of the best uncapped English full-backs did not represent anything like his full value to his only professional club, Aston Villa, in the decade following the Second World War.
He was the dressing room's resident comedian, an irrepressible joker who could be relied upon to lift morale no matter how dire the circumstances. His propensity for clowning also fostered a lively rapport with the fans, with whom he was in the habit of exchanging quips before, after or even during a match.
Parkes, who was voted Villa's most popular player of the 1940s in a retrospective poll of supporters in 2000, began his working life as an apprentice toolmaker with GEC, the electronics and engineering factory in Witton, Birmingham, not far from Villa Park. Spotted while playing for local amateurs Boldmere St Michaels, Parkes joined Villa as a 19-year-old amateur in April 1939, turning professional four months later, shortly before the outbreak of the Second World War.
During the conflict he guested for West Bromwich Albion and Northampton Town, and helped Villa to beat Blackpool in the final of the Football League North Cup in 1944, which was not classed as a senior competition because of the ad hoc nature of the wartime game. Still, it was an honour much prized by Parkes, who was never to collect a full-blown medal.
At that point of his career the sturdy Midlander was a utility player, making his senior debut for Villa as a right-half in a 1946 FA Cup tie at Coventry. From then on he occupied every outfield position except outside-left, before settling at right-back during the 1948-49 season, although he still swapped roles as the team's needs dictated. Such extreme versatility possibly cost Parkes his international chance, with the England selection committee which held sway at that time invariably opting for specialists. Parkes was, however, in the running for a cap in 1946, only to be thwarted by an arm injury.
Serving under three managers, Alex Massie, George Martin and Eric Houghton, Parkes helped First Division Villa to plough a steady mid-table furrow in most seasons he was with them, the peaks being sixth place in 1947-48, 1951-52 and 1954-55, the trough being 15th in 1950-51, when relegation was averted by only five points.
Through it all, Parkes offered a vein of near-metronomic reliability, proving a taxing and tenacious opponent even for world-class wingers such as Stanley Matthews of Blackpool, Tom Finney of Preston North End and Liverpool's Billy Liddell, a particularly tough and dynamic performer whom many defenders dreaded to face but against whom the Villa man invariably shone.
Parkes was quick and strong, he never shirked a physical challenge and he was also ahead of his time in that he enjoyed an occasional foray into opposition territory, probably a legacy of earlier experiences as an attacker. It was an adventurous approach rarely employed by full-backs in the middle years of the 20th century and it endeared him further to his legions of admirers on the terraces.
Although Parkes peaked in the late 1940s, he played some of his most attractive football in the first half of the 1950s, joining in smoothly with passing movements along the right flank involving the thoroughbred likes of wing-half Danny Blanchflower, the thoughtful Irishman who would lead Tottenham Hotspur to the League and FA Cup double in 1961, and the clever inside-forward Tommy Thompson.
Parkes, who had several spells as Villa captain, was 35 when he retired in the summer of 1955 to continue developing his sports goods business, supplying his former employers with boots from his shop in Corporation Street, which became a celebrated haunt for local footballers and professionals alike.
In 1968, at a time of turbulence in the Villa boardroom, he became a club director under the new chairman Doug Ellis, though the two men experienced differences of opinion which led to Parkes's departure in the early 1970s. He later served as a director of neighbours Birmingham City, but it is as a trusty bulwark of the Aston Villa rearguard, and an unfailing source of good cheer, that he will be remembered most vividly.
Ivan ponting
Henry Arthur Parkes, footballer: born Birmingham 4 January 1920; played for Aston Villa 1939-55; married (one daughter); died Solihull 4 March 2009.
Register for free to continue reading
Registration is a free and easy way to support our truly independent journalism
By registering, you will also enjoy limited access to Premium articles, exclusive newsletters, commenting, and virtual events with our leading journalists
Already have an account? sign in
Register for free to continue reading
Registration is a free and easy way to support our truly independent journalism
By registering, you will also enjoy limited access to Premium articles, exclusive newsletters, commenting, and virtual events with our leading journalists
Already have an account? sign in
Join our new commenting forum
Join thought-provoking conversations, follow other Independent readers and see their replies