Harry Reems: 'Deep Throat' co-star who found God and became an estate agent
'Acting was my true love and I buried that possibility by going into adult films,' he said
Pierre Perrone
Saturday 23 March 2013 01:00 Comments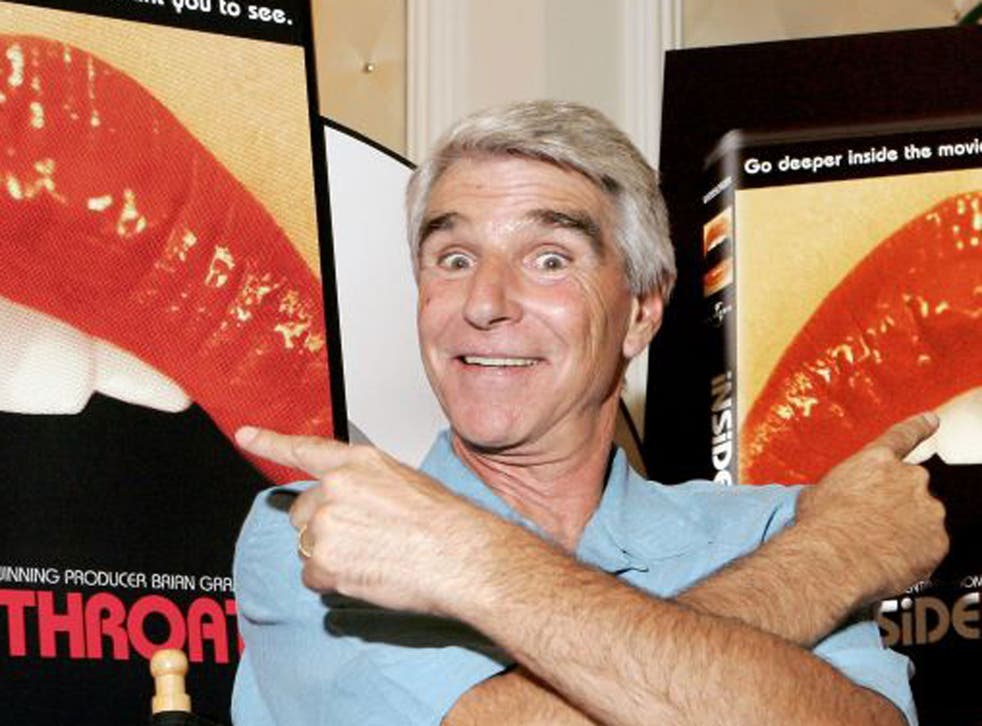 In 1972, Harry Reems became the first US male porn star to achieve national and international fame for his role as the moustachioed Dr Young in Deep Throat.
His character, such as it is, helps Linda Lovelace, the film's frustrated heroine, reach fulfilment after diagnosing the anatomical quirk affecting her and suggesting she give her male partners oral sex to remedy the problem. "How far does a girl have to go to untangle her tingle?" ran the poster tagline.
After premiering at the New Mature World Theater, a grindhouse in New York's Times Square in June 1972, Deep Throat recouped its $25,000 budget within a week. However, its graphic sex scenes soon attracted the attention of the authorities, though the ensuing media furore only seemed to enhance the movie's must-see status.
Eventually banned in over 20 states, Deep Throat attracted huge audiences wherever it was shown and inaugurated the era of "porno chic". It went on to gross $600 million, much of it laundered away by the Mafia; Reems received a few hundred dollars for the day he spent filming.
Deep Throat's cachet as a cultural phenomenon didn't make the actors or the film's director, Gerard Damiano, immune from prosecution. In July 1974 the FBI arrested Reems on conspiracy to distribute obscene material across state lines. By the time the case was tried in Memphis in April 1976, Lovelace and Damiano had been granted immunity and served as witnesses for the prosecution, while Reems stood accused alongside the mobsters who had financed and distributed the movie. "People lined up outside the courthouse," he recalled. "They didn't throw eggs at the mafiosos, they threw eggs at Harry Reems."
The case turned Reems into a First Amendment cause célèbre, with actors such as Warren Beatty, Jack Nicholson and Louise Fletcher offering to testify on his behalf, and helping raise funds for an appeal after he was given a five-year prison sentence. The appeal was handled by the celebrated civil liberties attorney Alan Dershowitz. Charges were eventually dropped in August 1977, though Reems failed to get his acting career back on track: "Acting was my true love and I buried that possibility by going into adult films. "There was no place for me in conventional entertainment."
The following year he was set to portray Coach Calhoun, the Rydell High track coach in Grease, but the producers, worried that his notoriety would affect the box-office takings of a film partly aimed at teenagers, paid off his contract and cast the comedian Sid Caesar. Reems returned to X-rated movies after being offered $75,000 to star in Society Affairs in 1982.
He spent the second half of the 1980s battling alcoholism but eventually cleaned up, converted to Christianity and became an estate agent in Utah. In 2005, he emerged as the redemptive central figure of Inside Deep Throat, the documentary directed by Fenton Bailey and Randy Barbato and narrated by Dennis Hopper, which analysed the part the film played in the sexual liberation of the 1970s.
Born Herbert Streicher in the Bronx in 1947, he was the youngest of three children. His mother had been a model while his father was a bag man for the Mob before becoming a bookie and then starting a printing business. The family moved to the more prosperous Westchester County, New York State, where he lost his virginity on a golf course despite being "this skinny little kid with a big nose and pimples."
He studied dentistry for a year at the University of Pittsburgh until his number came up for the Vietnam draft. He enlisted in the Marine Corps, where he bulked up his physique, but came down with pneumonia just as his outfit was shipping out to Vietnam. The death of his father enabled him to secure a hardship transfer and remain in the US. By the late 1960s he had moved to the East Village in Manhattan. He accompanied a budding actor friend to an audition and was picked to play Aufidius in Coriolanus. He got the acting bug and appeared in off-Broadway shows and the occasional commercial, yet always struggled to pay the rent.
In 1971, he was an extra in Klute, Alan J Pakula's psychological thriller starring Jane Fonda and Donald Sutherland, and was dismayed to find that only his knees were visible, while fellow struggling actor Sylvester Stallone was the more noticeable discotheque patron in the same scene. He began making hardcore for $100 a day as "Peter Long", appearing in the so-called "loops" shown at stag parties and feature-length films such as Damiano's Sex USA, and The Weirdos And The Oddballs. He only realised that Damiano had renamed him Harry Reems when he saw Deep Throat.
For a while Reems rode the "porno chic" wave. Again with Damiano, he made another celebrated X-rated cult classic, playing the teacher in The Devil In Miss Jones, starring Georgina Spelvin, in 1973, and also acted in Bouches Gourmandes, a French remake of Deep Throat, as well as Italian spaghetti westerns and German police films. In 1975, he published an autobiography, Here Comes Harry Reems!
He kept his Harry Reems alias throughout his 20 years as an estate agent. "I didn't want to go through the process of convincing people that I was trying to deny who I was," he said. "Nobody under 50 even knows who I am now. Unless you're a porno historian, and then you're really sick."
He died from pancreatic cancer. Lovelace, a biopic of the Deep Throat star who died in 2002, featuring Adam Brody as Reems, recently premiered at the Sundance Film Festival and is due in cinemas later in the year.
Herbert Streicher (Harry Reems), actor and estate agent: born New York 27 August 1947; married 1990 Jeanne Sterret; died Salt Lake City, Utah 19 March 2013.
Register for free to continue reading
Registration is a free and easy way to support our truly independent journalism
By registering, you will also enjoy limited access to Premium articles, exclusive newsletters, commenting, and virtual events with our leading journalists
Already have an account? sign in
Join our new commenting forum
Join thought-provoking conversations, follow other Independent readers and see their replies