Hazel Adair: Prolific writer on Emergency - Ward 10 and co-creator of Crossroads
Adair published a number of novels, dabbled in Britain's 1970s sex-film industry, and stood up for her fellow writers' rights as a leading light of the Writers' Guild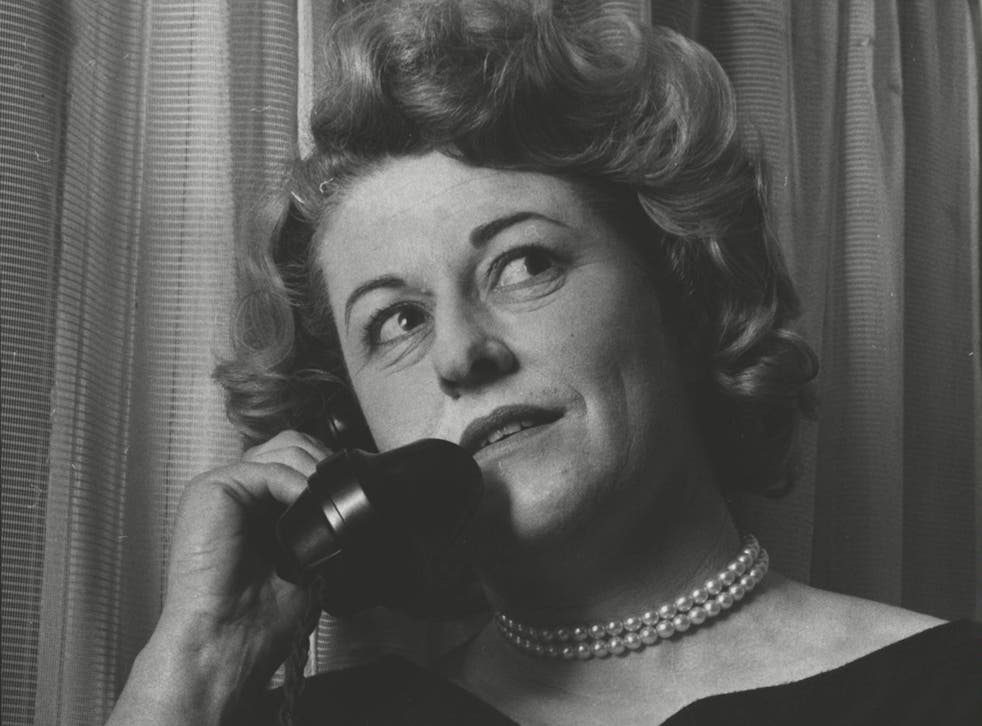 Hazel Adair, who has died at the age of 95, was a prolific writer perhaps best known for co-creating Crossroads. She published a number of novels, created powerful females characters for long-running television shows, dabbled in Britain's 1970s sex-film industry, worked with big-name stars in the legitimate end of the movie business, and stood up for her fellow writers' rights as a leading light of the Writers' Guild.
She was born Hazel Willett in Darjeeling in India but later took her stepfather's name and became Hazel Hamblin before adopting the name Adair, which she chose when she became an actress in the 1940s. In 1950 she married a fellow actor, Ronald Marriott, and worked as a scriptwriter on the celebrated radio series Mrs Dale's Diary, where she encountered another writer, Peter Ling, who would later become her long-time collaborator.
Her television career began in the early 1950s at the BBC, writing for children with the adventure series At Your Service Ltd (written with Robert Tronson) and the sci-fi series Stranger from Space (written with Marriott), which was "interactive" in that children were encouraged to write in to suggest what should happen next. But it was at ITV that she first made a splash, creating with Jonquil Anthony Britain's first daily continuing serial, Sixpenny Corner (ATV, 1955) set round the running of a run-down garage. Mostly screened live, it aired every morning at 10.45 and lasted nine months.
Later she became a key writer on Britain's first "super soap", Emergency – Ward 10 (ATV, 1957-67), which had been created by an ATV continuity writer (and doctor's daughter), Tessa Diamond. The series was a ratings superstar which followed the lives – and love lives – of the staff of a busy hospital, its mixture of life-and-death drama with domestic entanglements particularly suited to Adair's strength, concise storytelling with a populist touch. When the series spawned a feature film spin-off, Life in Emergency Ward 10 (1958) Diamond and Adair shared the writing credit.
She left the small screen for a while, teaming up with Bob Monkhouse to write the hit comedy Dentist on the Job (1961), in which Monkhouse also starred. She next formed a working partnership with Peter Ling, the pair crafting a new, fast-paced and decidedly modern-looking soap for the BBC. Compact (1962-65) was set round the bustling offices of a glossy magazine for the "busy woman" and was dreamt up by Adair as she sat in the offices of Woman's Own waiting to deliver an article. Compact featured strong career women (a novelty on TV at the time) as well as the usual soap standards of romance, fractured friendships and betrayal, made novel due to the non-domestic setting.
While Compact was still on air, the pair crossed over to ITV to deliver their next – and most famous – project, Crossroads (ATV 1964-87) another business-set soap, this time centred on a Midland motel (motels being a relatively new idea to Britain at the time). At the helm stood Meg Richardson, another strong woman (played marvellously by Noele Gordon) juggling her business life with her family life and coping over the years with murderous guests, doomed romances, family rifts and more than her fair share of trauma and tragedy.
The series was never afraid of incendiary subjects (racism, alcoholism, rape, abortion, etc) but despite this bravery it became most synonymous as the butt of a thousand jokes due to a punishing schedule that made perfection impossible.
The series was shot as live on costly videotape that producers were loathe to edit in a relentless conveyor-belt process which allowed little time for rehearsal and preparation, meaning that fluffed lines, wobbling scenery and prop malfunctions all made it on to the screen, attracting perhaps unfair charges of incompetence and cheapness. Nevertheless the show remained hugely popular, attracting viewing figures of over 16 million at its height, and it is still affectionately remembered by a core of fans.
Adair collaborated with Ling on another continuing series, Champion House (BBC 1967-68), centred round a modern wool textile business in Yorkshire but which failed to enjoy the longevity of Crossroads.
In the 1970s Adair took a perhaps surprising detour into the world of adult films, teaming up with the wrestling commentator, Kent Walton, the pair operating as writer-producers under the joint pseudonym Elton Hawke. They collaborated on four flesh-filled sex romps (Virgin Witch, Clinic Xclusive, Can You Keep it Up for a Week" and Keep it Up Downstairs), offering her an opportunity to work with seasoned TV veterans such as Ray Austin and Don Chaffey, as well as the Hammer director Robert Young, at a time when the legit British film industry was undergoing one of its periodic downturns.
Outside her core career Adair became active in the Writers' Guild, and in the 1960s she confronted Lew Grade, pointing out in no uncertain terms that she thought writer's rates were scandalously low. When her quest made no headway she called a writers' strike which lasted six weeks and resulted in a famous victory. To this day television scriptwriters everywhere in the UK owe her a debt of gratitude.
Her son, Colin Mackenzie, became a writer while his daughter, Georgia, is a successful actress.
Hazel Joyce Willett (Hazel Adair), actress, writer and producer: born Darjeeling, India 9 July 1920; married firstly Gordon Mackenzie (marriage dissolved; one son), secondly Ronald Marriott (died 1972; two sons, three adopted daughters); died 22 November 2015.
Join our new commenting forum
Join thought-provoking conversations, follow other Independent readers and see their replies