Helen Thomas: Fearless veteran White House correspondent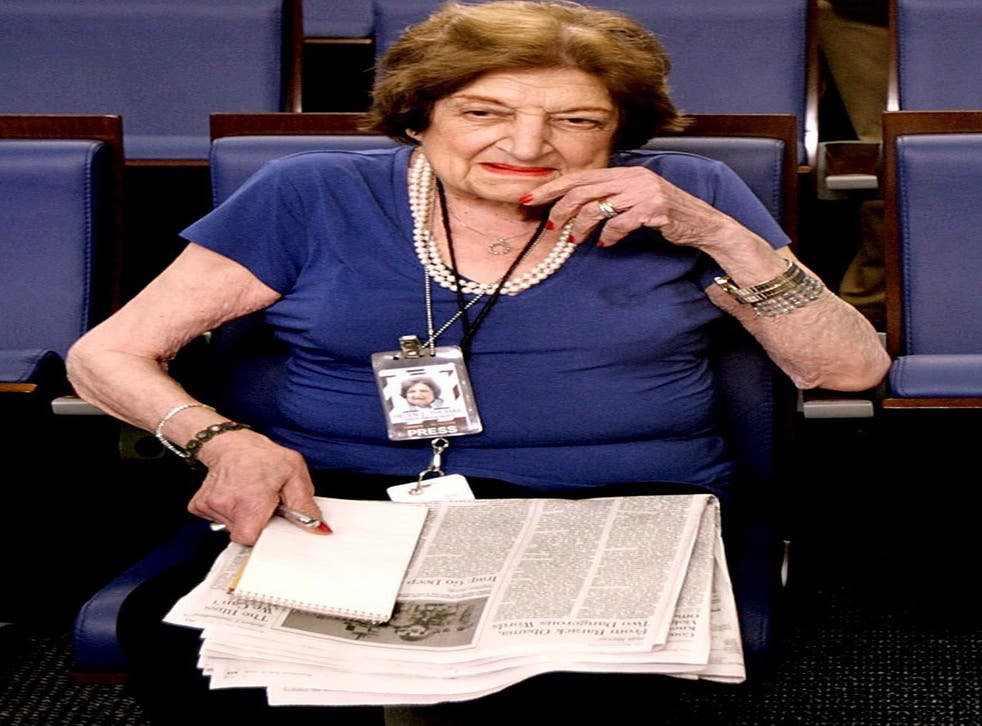 Each profession has a handful of ground-breakers, and for American journalism, Helen Thomas was one of them. When she set out, women were confined to writing about family, fashion and tips on cooking. By the end she was the uncontested doyenne of the White House press corps, traditionally the summit of the trade.
Her firsts were legion: the first woman to be assigned by a news service to cover the White House, the first to become head of the White House Correspondents Association, the first woman elected a member of Washington's starchy all-male Gridiron Club. She became the unofficial but undisputed spokeswoman for her peers at presidential press conferences, which traditionally ended with her words, "Thank you, Mr President."
For the preceding hour or so she would have been in her place in the middle of the front row, firing questions in her raspy voice without fear or favour. They were often pugnacious and invariably straightforward – "like those of a Des Moines [Iowa] housewife," someone once said. When George HW Bush declared that despite the fall of Communism, the Pentagon budget would not be cut, Thomas asked simply, "Who's the enemy?"
Among her colleagues she was famous for the inordinately long days she put in as correspondent of the United Press (later United Press International) wire service, that might begin at 6am. She might not have been the greatest writer but she was an exceptionally tenacious reporter, never intimidated, who bowed to no president, let alone his press secretary. "Who the hell do they think we are – puppets? They are our public servants. We pay them."
Her career spanned 10 presidents, starting with John Kennedy, whose campaign she covered in 1960, and three years later she watched as a teenage Bill Clinton barged forward at a Rose Garden ceremony to shake JFK's hand. With his youth and promise, Kennedy, she later would say, was her favourite occupant of the Oval Office.
The one Thomas rated least was George W Bush – "the worst president ever" – whom she pilloried relentlessly for his invasion of Iraq. By then she was writing from a new vantage point, having left UPI in 2000 to become a columnist for Hearst Newspapers, in which role she could express her views more freely. Her last president was Barack Obama, who in August 2009 presented her a cake to mark her 89th birthday.
A year later she retired, under an uncharacteristic cloud. Helen Thomas was one of 10 children born to Lebanese immigrants, and rarely concealed her sympathy for the Arab cause, especially in the Palestinian-Israeli dispute. "Thank you for the Hezbollah view, Helen," Tony Snow, a press secretary to the second president Bush, once replied to a Thomas question.
Such views would be her undoing. In May 2010 she declared that Israelis should "get the hell out of Palestine, and "go home" to Germany, Poland, the United States "or anywhere else." A clip of her remarks quickly appeared on the internet, bringing widespread condemnation. Thomas issued an apology but 10 days retired from Hearst Newspapers. None the less she will be remembered not for those words, but as a pioneer who shattered some of journalism 's thickest glass ceilings.
Rupert Cornwell
Helen Amelia Thomas, journalist: born Winchester, Kentucky 4 August 1920; reporter, United Press (later United Press International) 1943-2000; married 1971 Douglas Cornell (deceased); died Washington, DC 20 July 2013.
Join our new commenting forum
Join thought-provoking conversations, follow other Independent readers and see their replies