Hilla Becher: legendary photographer of industrial buildings and structures ​
With her husband Bernd, the renowned photographer found the unlikely beauty in these buildings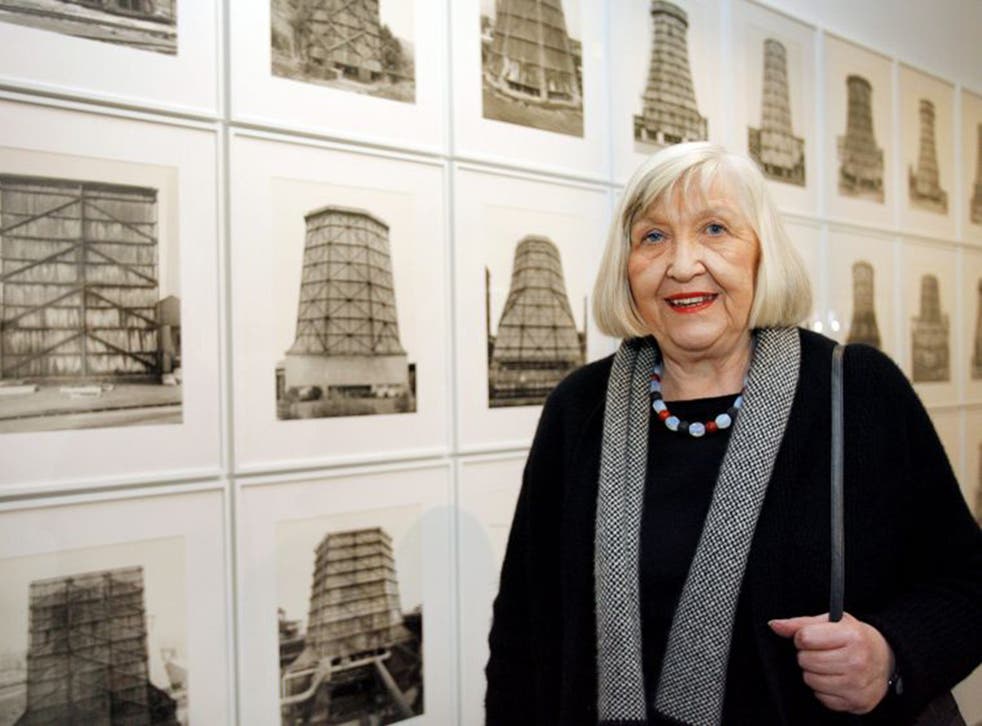 Three years after Tate Modern opened in 2000, there were to be seen hanging on its gallery walls, in a group show entitled Cruel and Tender, a series of starkly arresting, large-format, black-and-white photographs of German industrial buildings from what was already beginning to look like some bygone era: water towers, coal bunkers, cooling towers, many of them from in and around the Ruhr Valley.
Given that the entire Tate Modern enterprise concerned the breathing of new life into a redundant power station – and consequently a renewed appreciation of the importance of utilitarian architecture of this kind – these extraordinary photographs, which had been made from the 1960s onwards, looked particularly prescient. It seemed to confirm that what had once been deemed to be aesthetically indifferent, if not downright ugly, could be seen with new eyes. It invited us to look a little more closely.
These were all the work of Hilla and Bernd Becher, two of the most influential conceptual photographers and teachers of photography of the postwar era. The two, who met at the Kunstakademie Düsseldorf in 1957, married in 1961, and were collaborators for almost half a century, until Bernd's death (Independent obituary, 19 July 2007).
Hilla Becher was born in Potsdam in 1934, and served her apprenticeship as a photographer in that city. She later worked as a photographer in the advertising industry, and as an assistant to the landscape photographer Walter Eichgrun. As a student, Bernd was primarily a painter and a maker of photomontages.
Their difference of approach at the time they first met was described in an interview Hilla gave to the British Journal of Photography earlier this year. "At the time he was not a photographer, but an artist with a brush or pencil," she remarked. "He only used photography once in a while, because his subjects were disappearing and he wasn't fast enough to record them. He started making photomontages, but they were quite messy, I must say. I was a little more conceptual, I think."
Their passion for photography was a joint enterprise from first to last. The Bechers were pedagogues from the start. Bernd helped to build up a department of photography at the Kunstakademie, where they themselves had studied. The two of them encouraged a different kind of looking, dispassionate, cool and closely attentive, and they were natural heirs of the New Objectivists of the 1920s.
The particular way in which their exhibitions were organised encouraged the viewer to pay particular attention to design and detail – or, perhaps for the first time ever, to acknowledge that old and often semi-decrepit industrial structures such as grain elevators and storage silos had design and detail.
The images were grouped in grid-like structures, image cross-referencing image. They called these groupings "typologies" as if to allude to the questing, quasi-scientific nature of their unfolding, lifelong enterprise. In their passion for orderly groupings, they were also reminiscent of the great taxonomists of the 18th century.
They preferred to make their photographs in the early morning, usually on an 8x10, large-format camera. Weather conditions were important. Weather governs sentiment, and they wanted to exclude sentiment from the picture. Consequently they preferred cloud-cover so that no shadows would be cast. The images are often grey, fumy and monolithic, and often taken at some distance from the subject so that its near overwhelming scale can readily be appreciated.
Their discovery of this subject matter had at least one unexpected consequence. The structures that they photographed, year on year, so systematically, those great, decaying hulks, occasionally became, as a direct consequence of having been newly photographed, and those photographs subsequently put on public exhibition, newly appreciated as objects of beauty and significance which deserved to be rescued from oblivion. Some even had preservation orders slapped upon them.
The Bechers' stark, dispassionate acts of looking would, in time, and thanks to the fact that they themselves became revered teachers at that same Kunstakademie in Düsseldorf, come to have a huge influence upon the photographers that came after them, and often studied under them: Thomas Struth and Andreas Gursky, for example, who were proud to be known as disciples of the Becher School.
Their influence has by no means been limited to Germany. Similar interests underpin the work of Canadian landscape photographer Edward Burtynsky, and an exhibition of works by the British artist Idris Khan, staged at the Saatchi Gallery in 2004, paid direct homage to the ghostly qualities of the Bechers' photographs of old industrial structures.
By the middle of the 1960s, their interest in the haunting legacy of heavy industry had begun to lure them away from Germany. In 1966 they visited England and Wales, photographing the architectural heritage of the coal industry in Nottinghamshire and the Rhondda Valley. They travelled to Belgium, Luxembourg, and France, and in 1974 further afield still, to the US and southern Canada, where their work was becoming widely known thanks to the recent publication in the US of Anonyme Skulpturen, the first monologue devoted solely to their work. International survey shows began to pay them some attention.
In 1970 their photographs were included in Information at the Museum of Modern Art in New York, and in 1972 they were represented in documenta V. After Bernd's death in 2007, Hilla continued to work with the images that they had created together, re-mounting, re-grouping and exhibiting them, assiduously attentive, from first to last, to their collective legacy.
Hilla Wobeser, photographer and teacher: born Potsdam, Germany 2 September 1934; married 1961 Bernd Becher (died 2007); died in Düsseldorf, 10 October 2015.
Join our new commenting forum
Join thought-provoking conversations, follow other Independent readers and see their replies