Hilton Valentine: Guitarist who helped propel The Animals to success
The North Shields musician and his band were inducted into the Rock and Roll Hall of Fame in 1994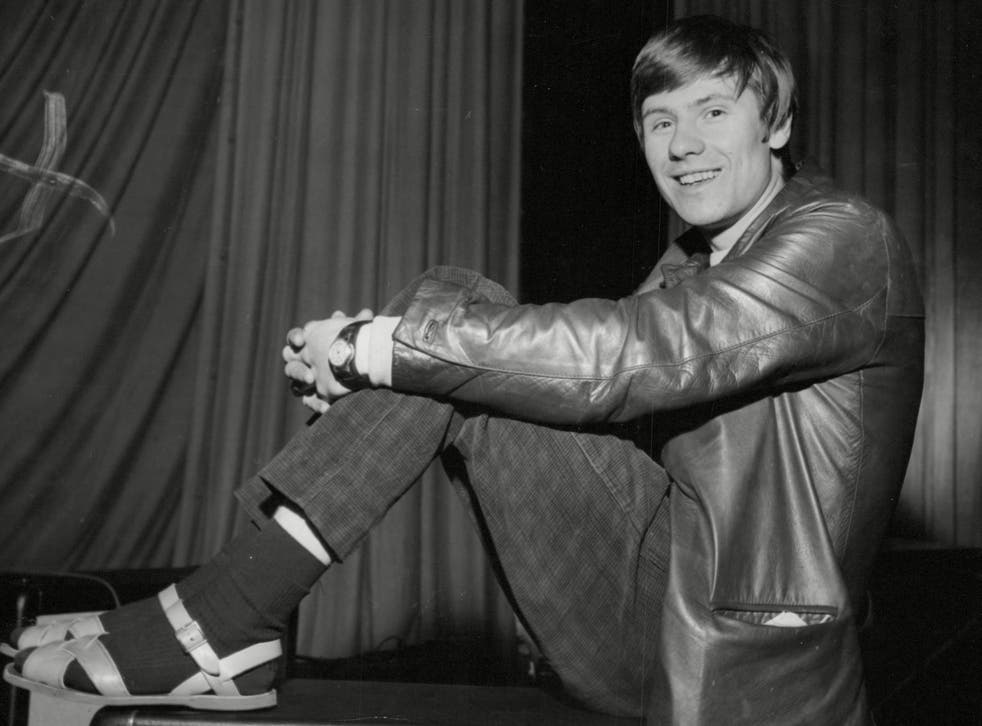 Though Hilton Valentine never drew the "godlike" plaudits lavished upon some Sixties guitarists, his steady right-hand ensured his place in rock's pantheon.
His choice arpeggios on "The House Of The Rising Sun", as played on a Gretsch Tennessean he bought in Newcastle in 1962, helped propel The Animals' version to No 1 on both sides of the Atlantic in the summer of 1964. Bob Dylan had recorded it too, but later cited The Animals' gnarly version as the prime-mover in his fabled move to electric guitar at the Newport Folk Festival that July.
When The Animals played their first US tour in September 1964, they were lauded as the gutsiest British R&B act of the era, and found themselves trapped in a tunnel in Hartford, Connecticut, while crazed teenagers pounded upon their tour bus. Valentine embraced the eye of the storm.
A December 2000 issue of Mojo told of him being introduced to LSD by the Rolling Stones' Brian Jones in 1965, then "spending weeks behind glasses made from bicycle reflectors to help maintain his lysergic world vision".
Born in North Shields, Tyneside, in 1943, Valentine was orphaned young. His father walked out on the family when Hilton was still a child, and when his mother died just before his 16th birthday, he was taken in by a family friend.
The guitarist's early career mapped a similar trajectory to that of many musicians of his vintage. Initially in thrall to the Fifties UK skiffle craze spearheaded by Lonnie Donegan, he formed the Heppers at Tynemouth High School, then embraced the advent of rock'n'roll in the Wildcats, using an Echoplex pedal to emulate the futuristic twang of The Shadows' Hank Marvin.
It was in 1963 that Valentine, famed locally for ripping of his shirt on stage, joined the Alan Price Rhythm and Blues Combo, who were later renamed The Animals before their first recordings. Animals bassist and future Jimi Hendrix manager Chas Chandler maintained that, despite the centrality of Price's organ motifs, it was Valentine's arrival on guitar that made The Animals commercially viable.
Always an insular, fractious concern – "We were out to smash race barriers, but we didn't trust anybody from Sunderland," recalled Animals frontman Eric Burdon – the initial run of the group's classic lineup only lasted two or three years, but spawned further hits including "Don't Let Me Be Misunderstood" and "It's My Life". Price's acrimonious departure in 1965 was followed a year later by a full band split.
Valentine subsequently moved to California and made a charming flower-power solo album, All In Your Head. Released in 1969, the record revealed a softer side, its whimsical appeal typified by the chamber-pop and 12-string acoustic guitar arrangement of "Sitting In The Sun".
The original Animals lineup reformed to tour in 1976, and made a new album, Before We Were So Rudely Interrupted, in 1977. The pattern was repeated in 1983, with a final studio album, Ark, and subsequent world tour.
Valentine and his Animals bandmates were inducted into the Rock and Roll Hall of Fame in 1994, but Chandler's death in 1996 ended any further reunions.
In his later years, Valentine returned to his skiffle roots, performing under the name Skiffledog having settled in Wallingford, Connecticut, with his American wife Germaine, whom he married in 1997.
Valentine also returned to his native North Tyneside, performing in the seaside village of Cullercoats in June 2017, and frequenting the Dog & Rabbit in Whitley Bay, a pub just metres from The Victoria Hotel, where The Animals played in 1963.
Having been contacted by Germaine Valentine, ABKCO Music announced Hilton Valentine's death aged 77. He is survived by his wife, and by bassist Samantha Valentine Simmons, his daughter from a previous relationship.
Hilton Valentine, rock guitarist, born 21 May 1943, died 29 January 2021
Register for free to continue reading
Registration is a free and easy way to support our truly independent journalism
By registering, you will also enjoy limited access to Premium articles, exclusive newsletters, commenting, and virtual events with our leading journalists
Already have an account? sign in
Register for free to continue reading
Registration is a free and easy way to support our truly independent journalism
By registering, you will also enjoy limited access to Premium articles, exclusive newsletters, commenting, and virtual events with our leading journalists
Already have an account? sign in