HR Giger: Artist hailed for his surrealistic creatures in nightmare landscapes who won an Oscar for his work on 'Alien'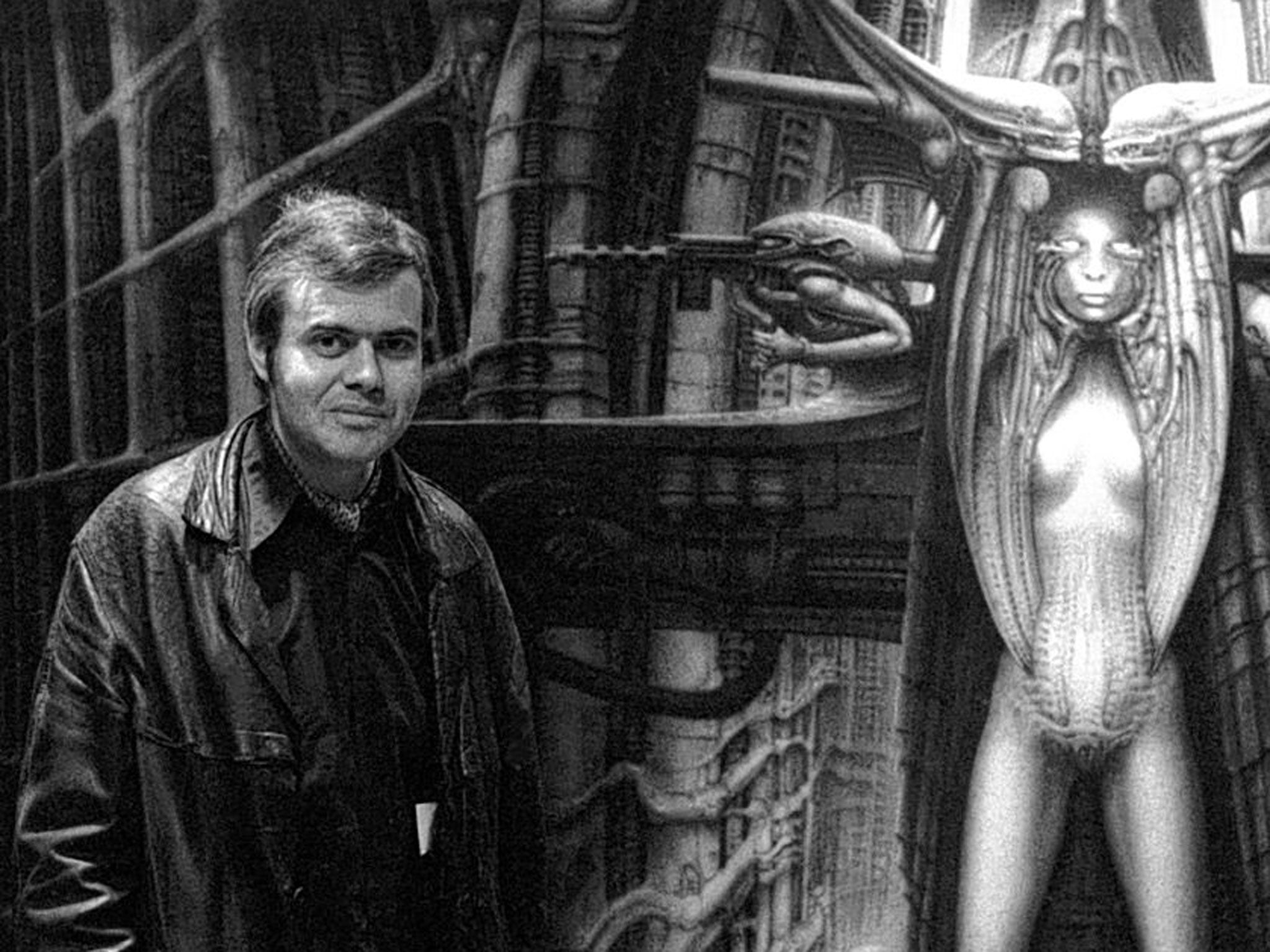 HR Giger, the Swiss artist best known for the biomechanical designs which defined the film Alien, has died following a fall at his home in Zurich. His hybrid creations combined mineral, man and machine to create surrealistic creatures in nightmarish landscapes. "My paintings seem to make the strongest impression on people who are crazy," he once said, "If they like my work they are creative ... or they are crazy."
Hans Rudolf Giger was born in 1940 in Chur, south-eastern Switzerland, the son of a chemist. He showed an early aptitude for art, creating a ghost-ride for friends and neighbours, a corridor of skeletons and monsters made from plaster and cardboard. While his mother encouraged him, his father considered art a "breadless profession" and steered him towards the pharmaceutical business. He moved to Zurich in 1962 to study architecture and industrial design at the School of Applied Arts.
His paintings and sculptures were influenced by Ernst Fuchs – as well as Salvador Dali, who he met in 1975 at Cadaqués through his friend, the painter Robert Venosa. "Dali showed a polite interest in my work and introduced his wife Gala, describing her as a specialist in monsters and nightmares whose external appearance completely belied her inner world," Giger recalled. "Gala then expressed the opinion that I would only need to wear a mask in order to completely match the world of my pictures..."
The visit to Dali's home, and an introduction from Venosa, led to Giger working with Alejandro Jodorowsky on an ill-fated film project, an adaptation of Frank Herbert's epic science fiction novel Dune. That over-ambitious production would have featured set designs from Dali and Giger, music from Pink Floyd and a cast including Gloria Swanson and Orson Welles, but the money ran out. When the film was finally made in 1984 by David Lynch only a few fragments of Giger's ideas remained.
His work with Jodorowsky did however, bring Giger to the attention of Ridley Scott, who was in the process of designing Alien (1979), starring Sigourney Weaver and Tom Skerritt, in which the spaceship Nostromo lands on a planetoid and the crew find a chamber containing alien eggs, from one of which a creature hatches and escapes into the ship (via John Hurt's stomach).
In an era before the widespread adoption of CGI the design work was done with paintings, drawings and three-dimensional models. Giger's concept for the eponymous monster was based on his 1976 painting Necronom IV, which Scott had seen. "I wanted to make something that would be somehow human, and yet, would also be robot-like," Giger said, "that is to say a kind of human being that is protected from all kinds of alien influences, be they weapons, or from radiation or from all kinds of things." This need for protection, he suggested, came from his own feelings of vulnerability, on which he had worked through during a period of self-analysis in the late 1960s.
Alien was nominated for two Oscars in 1980 and won one, for Best Visual Effects. Through box-office success, critical acclaim and audience reception the film launched the careers of Scott, Weaver and Giger alike and has retained an avid cult following. Jean-Pierre Jeunet, who directed the fourth film in the franchise, Alien: Resurrection (1997), said "The people who made the first Alien were artists. Ridley Scott, Giger, the writers... they invented everything. The rest of us who follow are artisans. The first film is a work of art, an entity all its own."
Although he worked as a designer on one of the sequels, Alien 3 (1992), Giger become disillusioned with the industry, saying. "My design was adopted and modified. The film business is a gangster business."
In 1998 Giger acquired the Chateau St Germain in Gruyères in the Fribourg region of Switzerland. He had previously had an exhibition in the town in 1990 and had fallen in love with the area. The building, now managed by his second wife, Carmen Maria Scheifele-Giger, houses the largest collection of his work in the world, including many designs which were used on Alien. Even the bar of this museum reflects the artist's aesthetic, with an arched, biomechanical-styled roof, walls and fittings.
As well as his work on film, Giger also designed album covers for a number of artists including Emerson, Lake and Palmer – his cover for their Brain Salad Surgery (1973) fuses a machine with a human skull – and Koo Koo (1981) by Debbie Harry. His work had been widely adopted by tattoo artists. "The greatest compliment is when people get tattooed with my work, whether it's done well or not," he said. "To wear something like that your whole life is the largest compliment someone can pay to you as an artist."
A major compendium of his work up till that point, Necronomicon, named after a fictional grimoire first described by HP Lovecraft, was published in 1978. Last year Giger was inducted into the Science Fiction and Fantasy Hall of Fame.
Hans Rudolf Giger, artist and sculptor: born Chur, Switzerland 5 February 1940; married 1979 Mia Bonzanigo (marriage dissolved), 2006 Carmen Maria Scheifele; died Zurich 12 May 2014.
Join our commenting forum
Join thought-provoking conversations, follow other Independent readers and see their replies