Hugh Scully: Presenter best known for 'Antiques Roadshow' and interviews with Margaret Thatcher
His broadcasting career began as a result of luck and what he termed a "cheeky letter" to the BBC outlining 10 good reasons why they ought to give him a job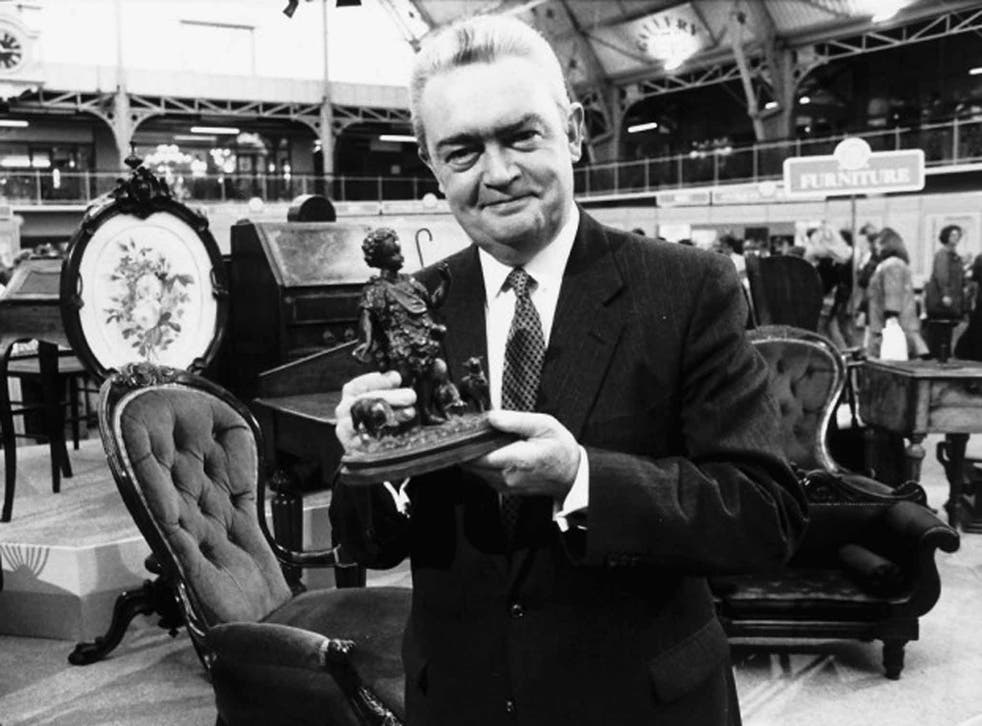 Hugh Scully was the much-loved presenter who rose to fame on British television as the host of the BBC's Nationwide and Antiques Roadshow programmes. His calm manner and crisp, unruffled delivery endeared him to audiences, whether as a news anchor or indulging his enthusiasm for antiques. A freelancer from the outset, he never became a BBC employee, preferring the independence of remaining an outsider.
Scully was born in Bradford on Avon, Wiltshire and had an itinerant childhood, tracing his father's RAF postings to Egypt and Malta. Arriving back in Britain aged 13, he was sent to a Catholic boarding school in Bath. On leaving school he got his first job as an assistant at the piano maker Steinway & Sons, but was sacked for bad time-keeping.
His broadcasting career began as a result of luck and what he termed a "cheeky letter" to the BBC. He recalled: "I gave them 10 good reasons why they ought to give me a job. They were looking for a temporary newsreader, so I had an audition. Much to my surprise I had a telegram immediately saying turn up at BBC Southampton the following Monday. I think I got the job purely on the basis of the voice."
Scully's first assignment, in 1963, was reporting for BBC local radio about a ship that had caught fire in Southampton dock. He soon joined BBC Spotlight as a presenter of television news for the south-west. Four years later, when the Torrey Canyon oil tanker sank off the coast of Cornwall, Scully's local story with a wider importance gave him his national television debut.
Luck intervened once again when, during a visit to Scully's home, a producer found by chance that he was a keen antiques collector. He was invited to present Talking about Antiques from 1967, and Collector's World, from 1970, on BBC radio.
By now an anchor on the BBC's Nationwide current affairs programme, he joined Antiques Roadshow, hosted by Arthur Negus, in 1981. When Negus retired two years later Scully became the show's sole presenter, a role he held for the next 17 years.
He looked forward enthusiastically to every episode of the programme, which he considered the "most spontaneous" on television, once saying, "We do not have any idea what the day will bring, but we are rarely disappointed. The success of the programme is that it is essentially a conversation between two people with many millions of eavesdroppers." The most significant discovery during Scully's tenure was probably The Halt in the Desert, a watercolour by the Victorian painter Richard Dadd, lost for over a century and brought in for valuation by a couple from Barnstaple. The painting, which sold for £100,000, is now in the collection of the British Museum.
In 1999 Scully signed a £3 million deal with QXL.com, the internet auction house flush from a recent successful stock market floatation. He would go on to provide an antiques valuation service, akin to Antiques Roadshow but online and for a fee.
Pre-empting any perceived conflict of interest with his television role, Scully decided to quit the programme. Christopher Lewis, Antiques Roadshow's then executive producer, said at the time, "Hugh's contribution to the Roadshow has been immense, hosting the programme... with an enthusiasm and authority which has placed him in the affections of millions of people, both at home and around the world,"
Scully continued to run his production company, Fine Arts. His commissions for the BBC had already included Labour: The Wilderness Years (1995) and the series The Gulf War (1996). But his proudest achievement was the long sequence of interviews he conducted with Margaret Thatcher, which became Thatcher: The Downing Street Years (1993), a four-part series timed to coincide with the release of her memoirs.
He had first approached her in 1992, having heard about the planned writing of the book, and was invited for a meeting to discuss the project with Thatcher in May the following year. "She really wasn't interested in the programmes. I would have expected a lot of questions about what was involved", Scully told The Independent in 2011. Instead, he remembered, she had asked him about his views on the Franco-Prussian war.
"I went away thinking the meeting hadn't gone well," he recalled. However, the following day he received a call to say that his company had got the contract. He recorded some 40 hours of interviews, edited down to four hours for the critically acclaimed series which documented the clashes of personality, policy and ideology that took place during her time at No 10.
Peter Salmon, director of BBC Studios and former controller of BBC One, said in tribute, "Hugh was a great servant of the BBC for more than 30 years. He was a wonderful journalist and presenter, making his name at Spotlight and Nationwide before going on to spend an incredible 19 years at Antiques Roadshow, where he won a special place in the hearts of so many."
Michael Hugh Scully, television presenter: born Bradford on Avon, Wiltshire 5 March 1943; married 1966 Barbara Dean (died 2009; two sons); died Tresillian, Cornwall 8 October 2015.
Register for free to continue reading
Registration is a free and easy way to support our truly independent journalism
By registering, you will also enjoy limited access to Premium articles, exclusive newsletters, commenting, and virtual events with our leading journalists
Already have an account? sign in
Register for free to continue reading
Registration is a free and easy way to support our truly independent journalism
By registering, you will also enjoy limited access to Premium articles, exclusive newsletters, commenting, and virtual events with our leading journalists
Already have an account? sign in
Join our new commenting forum
Join thought-provoking conversations, follow other Independent readers and see their replies