Ian Gourlay: Courageous captain who became Commandant General of the Royal Marines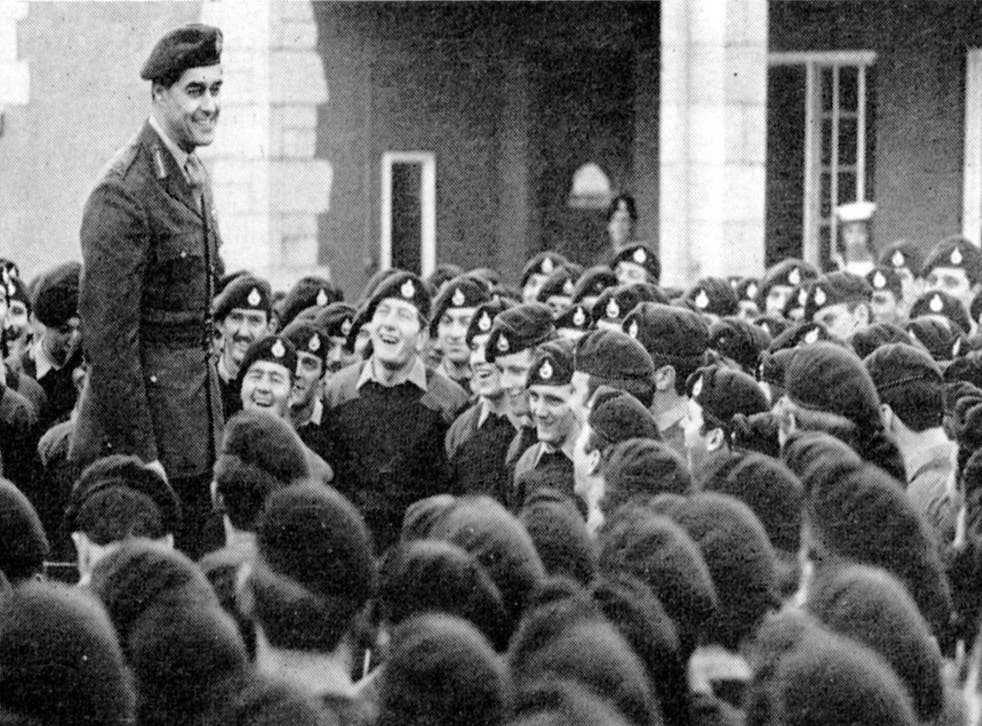 Acting Captain Ian Gourlay showed the mettle that would one day make him Commandant-General of the Royal Marines when he led his troop in the capture of the enemy-occupied Adriatic island of Solta in September 1944. The operation succeeded largely because of "his inspiring leadership and devotion to duty", which "were beyond praise and an example to all", the recommendation, in an Admiralty file marked "Secret" in handwritten red ink, says.
Gourlay, serving in 43 Commando as part of the Vis Brigade, formed in 1944 to work with Yugoslav partisans, had first made a reconnaissance of the island off the rugged Dalmatian coast, then seized and held a dominant feature that the enemy were using as an artillery observation post. This place, vital to the defence of the island, was strongly fortified, mined and wired – but Gourlay, the account says, "pressed home his attack with speed, tactical skill and determination, forcing the enemy to withdraw." The achievement was all the greater because physical handicap attended it: "Although wounded in the head early in the action, he refused to leave his troop and continued to take charge of the tasks of consolidation and patrolling."
The action took place over several days, from 17 to 25 September. The recommendation continues: "On the 20th, 21st, 22nd and 23rd his positions were heavily engaged by artillery, mortars and machine guns, and for 24 hours no rations could reach his position, but in spite of weakness from his wounds, hunger and lack of sleep, he showed complete disregard to personal danger, and outstanding courage." "Strongly recommended" is the comment typed in beneath, in the space signed by Field Marshal Henry Maitland "Jumbo" Wilson, Eisenhower's successor as Supreme Allied Commander Mediterranean Theatre.
Earlier in the Second World War, from 1941-44, Gourlay, who was commissioned into the Royal Marines in 1940, had been in the aircraft carrier HMS Formidable, in the Pacific, the Indian Ocean and the Mediterranean. After the war's end he joined 45 Commando until 1948, and was an instructor at the Royal Naval College, Greenwich until 1950.
During this period, the young officer – who had, as a schoolboy at Eastbourne College, Sussex, won his colours in cricket and rugby – found time for tennis, and played mixed doubles with friends, including the daughter of a Russian aristocratic family who had fled to England before the 1917 revolution, Natasha Zinovieff. The couple married in 1948 and had a son and a daughter.
Posts at home followed, until in 1954 Gourlay, having attended Staff College, was appointed Brigade Major, 3rd Commando Brigade. The Marines went to Cyprus and Gourlay was mentioned in despatches during operations aimed at quelling the Greek Cypriot Eoka campaign against British rule. No publicly stored record of his action, however, remains.
His life was to change when in July 1956 President Gamal Abdel Nasser of Egypt nationalised the Suez Canal. Suez, Gourlay told friends, "was the time I gave up smoking." During the four-month delay between Egypt's seizure of the Canal Zone, and the British and French attempt to win it back, Gourlay planned the commandos' landings, while politicians fretted.
This was when, for the first time as a senior officer, Gourlay got to know a man who came to admire him – the First Sea Lord, Admiral Lord Louis Mountbatten. Mountbatten, then also Acting Chairman of the Chiefs of Staff, joined others in having doubts about the campaign. Though commandos could seize the Canal Zone in three or four days, Mountbatten thought, not enough troops could be sent in fast enough behind them to maintain the position.
For his work on Operation Musketeer – Suez – Gourlay was appointed OBE. The official documents detailing what he did are among those "closed" for 60 years.
After another spell as an instructor, Gourlay became second-in-command of 42 Commando from 1959 until 1961, then was GSO1 at HQ Plymouth Group until 1963, when he became 42 Commando's Commanding Officer until 1965. The route to the top progressed via a post at the Ministry of Defence, following which Colonel Gourlay was Commander, 3rd Commando Brigade until 1968. He was Major-General, Royal Marines, Portsmouth until 1971, and Commandant-General, Royal Marines, with the rank of Lieutenant General until 1973, when he became the second-last full General to hold the post.
On retirement in 1975, Gourlay was head-hunted by Mountbatten to take over the director-generalship of the international educational organisation, the United World Colleges, to be "chief of staff" for his beloved great-nephew Prince Charles, to whom he was about to hand over the presidency. "As Colonel Commandant of the Royal Marines, I knew that the best Commandant General the Royal Marines had ever had was going to retire as a four-star General at a very early age," Mountbatten told ADC Peterson, author of Schools across Frontiers: the Story of the International Baccalaureate and the United World Colleges (1987). "So I persuaded him to come at a salary about half what he would have got in industry."
Fifteen years later, on Gourlay's retirement, after he and his wife had travelled the world promoting the UWC, Prince Charles paid him tribute: "Hand-picked by my great-uncle, Lord Mountbatten, he sustained the momentum of the organisation with a selfless sense of commitment... I shall miss his enthusiastic presence in the office."
Gourlay transformed the skills learnt in war to the pursuit of peace. "He was a really skilled boss," a former colleague said. "His ability to persuade you to do something was quite subversive."
The UWC, which had one college at the start of his leadership there, had seven by its end. Gourlay's notes are remembered as felicitously worded, and he was capable of witty verse. An early riser, he cat-napped to keep going. After stepping down as D-G, Gourlay became vice president for life. His wife, son and daughter survive him.
Anne Keleny
Basil Ian Spencer Gourlay, soldier: born Chorlton, Lancashire 13 November 1920; MC 1944, MBE 1948, OBE 1956, KCB 1973, CVO 1990; married 1948 Natasha Zinovieff (one daughter, one son); died London 17 July 2013.
Register for free to continue reading
Registration is a free and easy way to support our truly independent journalism
By registering, you will also enjoy limited access to Premium articles, exclusive newsletters, commenting, and virtual events with our leading journalists
Already have an account? sign in
Register for free to continue reading
Registration is a free and easy way to support our truly independent journalism
By registering, you will also enjoy limited access to Premium articles, exclusive newsletters, commenting, and virtual events with our leading journalists
Already have an account? sign in
Join our new commenting forum
Join thought-provoking conversations, follow other Independent readers and see their replies