Isabelle Caro: Anorexia sufferer who appeared in a global campaign against the disorder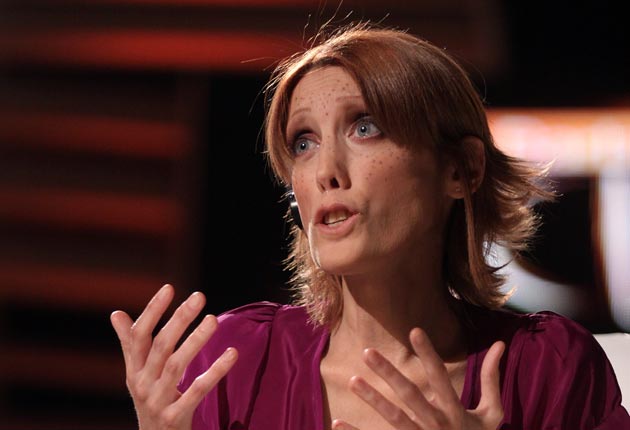 In the last three years of her short life, Isabelle Caro was usually described as an "actress and model". In truth, she never had any success as either, until she became a naked poster child for the ravages of anorexia nervosa.
As "the woman in the No-L-ita poster" she became world famous and much in demand for television documentary and chat-show appearances or for occasional, small, acting roles, in which she played very sick or anorexic women.
Caro, born in Marseilles in 1982, became a victim of anorexia at the age of 13. She died on 17 November, aged 28, following a severe respiratory illness. Her death was not made public until late last month.
She became an instant celebrity after she appeared skeletally naked in 2007 in a shock poster campaign for the Italian clothes company No-L-ita under the slogan "No Anorexia". At the time, she was a drama student and would-be model who could get no work because she was too thin.
After her death, friends and colleagues paid tribute to Caro as a "heroine" and a "fighter". With her frequent television appearances, her autobiography and her blog, she did much, they said, to alert girls and young women to the dangers of anorexia and to arouse at least the glimmering of a conscience about the use of over-thin models in the global fashion industry.
Some anti-anorexia campaigners and support groups have been more doubtful about Caro's influence. By achieving celebrity for being an anorexic, they say, she became an unwitting icon for "militant anorexics" and for the "pro-ana" websites on the internet. After news of her death was leaked to a Swiss newspaper, one pro-anorexia site posted a tribute showing Caro's large blue-green eyes and her infantile upper arm. The caption was "die young, stay pretty."
The celebrity photographer who took the pictures for the No-L-ita campaign in 2007 also stirred controversy by refusing to praise Caro. Oliviero Toscani, who is best known for his series of shock poster campaigns for Benetton, said: "I don't have happy memories of Isabelle. She was very selfish and full of herself, right up to her death. She could never grasp that she was not a model. She was a sick young woman. She thought that she was a successful actress... but her only talent was to be anorexic."
The comments may appear harsh, but they do point to the manipulative power which anorexia – primarily a mental disease – holds over even its apparently unwilling victims.
Caro, born on 12 September 1982, had what she called a "troubled childhood". She became anorexic at the age of 13. Before becoming a drama student, Caro spent some time living on the streets; at the age of 20, she was taken to hospital in a coma, but recovered.
In 2006, just before her celebrated ad campaign, her weight fell tojust 25kg, or 3st 13lb, for a height of 1.65m or 5ft 5in. At the time of herNo-L-ita picture, showing a young woman with the wizened body of an old woman, she weighed 27kg. Recently, she had boasted that she had pushed her weight up to 33kg (5st 3lb).
Sylvie Fabregon, Caro's theatrical agent, said that her client had at first "wanted at all costs to be a model", but added: "We told her it was out of the question. We didn't want sick people in our model catalogue. I told her that she could perhaps work as an actor, but only by playing sick people." A few weeks later Fabregon was asked to find a "very thin girl" for the No-Li-ita poster campaign. A modern legend was born.
The posters shocked and fascinated people all over the world. Caro was invited to take part in chat shows and documentaries in France, Britain, the US and Japan. In 2008 she wrote a book called The Little Girl Who Didn't Want to Get Fat.
"Thinness generates death," she once said. "It is everything but beautiful." She said that she hoped her naked picture would show girls the "morbid reality" hidden beneath the "beautiful costumes and hair-styles" of the fashion magazines.
"The message is clear," she said. "I have dry, sore skin, sagging tits, the body of an old woman."
The 2007 poster campaign, and the death of an anorexic Brazilian model in 2006, produced, briefly, a crisis of conscience in the global fashion and magazine industries. Only in Spain, however, has legislation been introduced to ban models with dangerously low body-weights.
The fashion industries in France, Britain and the US have introduced voluntary charters and declarations but have resisted all legal constraints. In 2008, the organisers of London Fashion Week abandoned plans for international health certificates for models because industry executives refused to cooperate.
Fabregon said that she feared that her client had become too much of a celebrity for her own good. Three years after the No-L-ita campaign she was still in constant demand for TV chat programmes and documentaries. Just before her death, following a long spell in hospital with respiratory problems, she had been filming a series in Japan with a television production company.
"I shouted at them," said Fabregon. "I said it was dangerous to make her run all over the world like that. She was a very fragile person."
The precise cause of Caro's death has not been revealed. In her blog she described herself as a "little flake of invisible snow, invisible in the middle of a heatwave, which is fighting – fighting to live at last."
Isabelle Caro, model: born Marseilles, France 12 September 1982; died 17 November 2010.
Join our commenting forum
Join thought-provoking conversations, follow other Independent readers and see their replies