Jack Lyons: Financier and philanthropist convicted for his part in the Guinness share-trading scandal
Wednesday 20 February 2008 01:00 Comments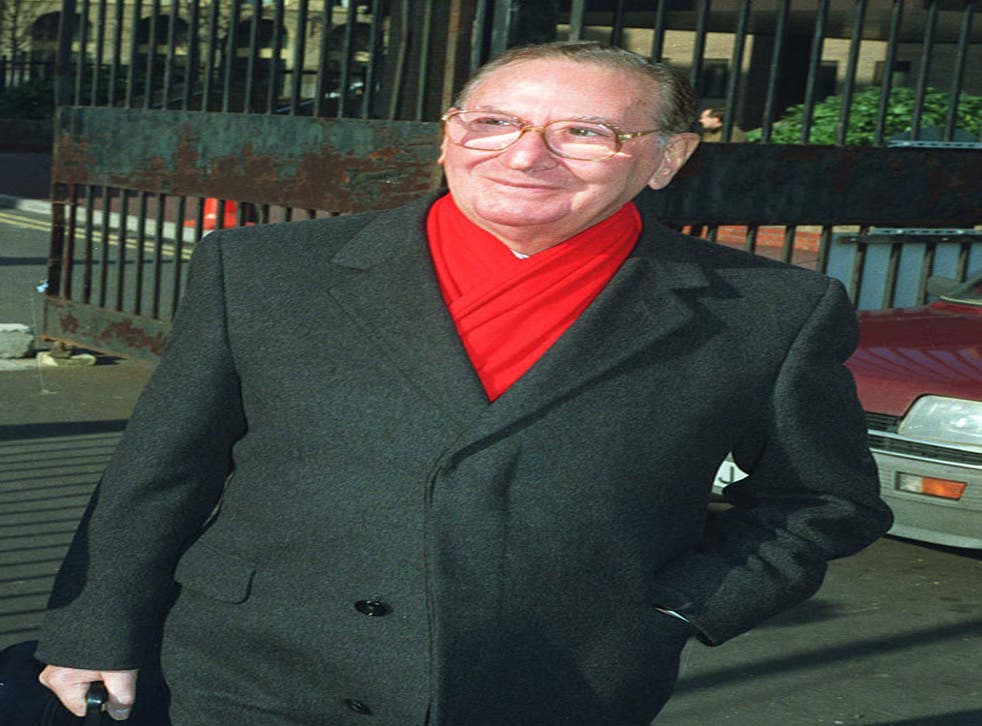 The death of Jack Lyons at the age of 92 ends more than 15 years of exile for a man once highly regarded for his philanthropy and the influence he wielded in high places. In 1987 Lyons was accused, along with Ernest Saunders, Gerald Ronson and Anthony Parnes, of illegally supporting the price of shares in Guinness during its bid for Distillers the previous year. All four were convicted of theft, conspiracy and false accounting, and Lyons was fined £3m and stripped of the knighthood he had been awarded in 1973 for charitable works and services to the arts.
Born in 1916, Isidore Jack Lyons was the younger son of a prosperous member of the Jewish community in Leeds. Educated at Leeds Grammar School, he joined the family business aged 16, but in 1938 was sent to Columbia University in New York. He joined the Canadian Army when the Second World War broke out, but poor eyesight prevented him from fighting; instead, he organised uniforms for the military. He also met his future wife, Roslyn Rosenbaum, the daughter of a Canadian surgeon and a keen musician.
After the war, Lyons returned to England with his wife and first of four children and went back to work for the family business, a men's clothing manufacturer named Alexandre Ltd. In due course Jack and his brother Bernard took over management of the business, which continued to flourish.
In the mid-Fifties they were asked to help restore the fortunes of United Drapery Stores, a group with a long and troubled history which John Collier, the eponymous owner of a chain of high street men's clothing shops, was struggling to revive with the help of the company doctor Sir Edward Mountain. Alexandre was sold to UDS for £2m in a reverse takeover and Bernard and Jack Lyons ran the enlarged group with varying success for more than two decades, twice attempting to take over Burtons – one bid nearly succeeded, but for a reference to the Monopolies Commission.
During these years, Jack Lyons established himself, with his wife's encouragement, as a generous supporter of the arts. He helped rescue the Leeds Music Festival in 1955 and was a joint founder of the Leeds International Piano Competition. He also chaired the 1964 exhibition celebrating Shakespeare's 400th anniversary, became a trustee of the bard's birthplace, joined the executive committee of the Royal Academy of Dance, and gave generously to the London Symphony Orchestra. He endowed concert halls at York University and the Royal Academy of Music in London.
Lyons played an equally active role in the Jewish community, including chairing the Federation of Jewish Relief Organisations between 1958 and 1986, and becoming a vice president of the Joint Jewish Appeal in 1972. He was made a fellow of the Royal Academy of Music in 1972 and of the Royal Society of Arts the following year.
His cultural philanthropy brought him wide social, political and business contacts. Harold Wilson appointed him CBE in 1967 and he was given a knighthood in 1973. But Jack Lyons was also a friend of Edward Heath and enough of a Tory to become a member of the Carlton Club.
In March 1980 Lyons retired as a director of UDS. But he continued to put his network of friends and acquaintances to good use as UK consultant to the management consultants Bain & Co, for whom he procured introductions to, among others, Margaret Thatcher, Douglas Hurd and Ernest Saunders.
Guinness rapidly became Bain's largest UK client, with one of its staff, Oliver Roux, appointed the drink group's finance director. Lyons also introduced the stockbroker Anthony Parnes to Saunders and boasted later that a letter he wrote to Thatcher was directly responsible for the Office of Fair Trading's decision not to refer Guinness's bid for Distillers to the Mergers and Monopolies Commission in 1986.
The full extent of Lyons's involvement in fixing Guinness's share price has never been revealed. All that is known is that his private company, J. Lyons Chamberlayne, invoiced the group for £300,000, while he personally received £3m in "advisory fees'. His inclusion in the group of four brought to trial in 1990 was a result of his confessions to inspectors from the Department of Trade and Industry, who used powers conferred on them in the 1985 Companies Act to compel him to answer their questions. And it was the transcripts of these interviews that persuaded Mr Justice Henry to condemn Lyons for dishonesty on a major scale.
Lyons was spared a prison sentence due to his age and frail health, but his humilation was complete. He sold his Kensington home to pay the fine and moved to an apartment in Switzerland, where he lived until he died. But the biggest blow was the loss of his
knighthood, in 1991, on the advice of Downing Street. It was little consolation when the Court of Appeal found him not guilty of one count of conspiracy in 1995 and sent him a cheque for £500,000, made out to "Sir Jack Lyons". He felt the disgrace keenly, for himself and his wife. "Lady Lyons is a great asset," her husband said in an interview published in The Times late in January 2001. "There is no question in her mind that I could have done anything wrong."
Lyons's long silence on the matter, though, suggested that the question remained unanswered in his own mind. But the interview with The Times, the first he had given since his trial, may have shown that he felt, at last, able to justify himself. Ernest Saunders successfully appealed to the European Court of Human Rights in 1996 that the use in his trial of information extracted under the 1985 Companies Act breached his common-law right to silence.
It took five years, but in 2001 Lyons's conviction, along with those of Parnes and Ronson, was sent back to the Court of Appeal by the Criminal Cases Review Commission, raising the possibility that they, too, would eventually have their convictions overturned. However, by November 2002 the last avenue of appeal had been rejected by the House of Lords.
Berry Ritchie
Isidore Jack Lyons, financier and philanthropist: born Leeds 1 February 1916; director, UDS Group 1955-80; joint founder, Leeds International Pianoforte Competition 1961; joint chairman, London Symphony Orchestra Trust 1963-70, chairman 1970-91, trustee 1970-2008; CBE 1967; life trustee, Shakespeare Birthplace Trust 1967; Kt 1973 (knighthood annulled 1991); joint chairman, Southwark Rehearsal Hall Trust 1974-95; advisory board, Bain Capital 1981-87; Adviser for Guinness plc, Bain & Co 1981-87; adviser, Cranbury Group 1981-89; chairman, J.E. London Properties Ltd 1986-2008; chairman, Natural Nutrition Company 1989-91; married 1943 Roslyn Rosenbaum (two sons, two daughters); died Geneva, Switzerland 19 February 2008.
Register for free to continue reading
Registration is a free and easy way to support our truly independent journalism
By registering, you will also enjoy limited access to Premium articles, exclusive newsletters, commenting, and virtual events with our leading journalists
Already have an account? sign in
Join our new commenting forum
Join thought-provoking conversations, follow other Independent readers and see their replies