Jack Twyman: Basketball player famed for his loyalty
Thursday 21 June 2012 21:59 Comments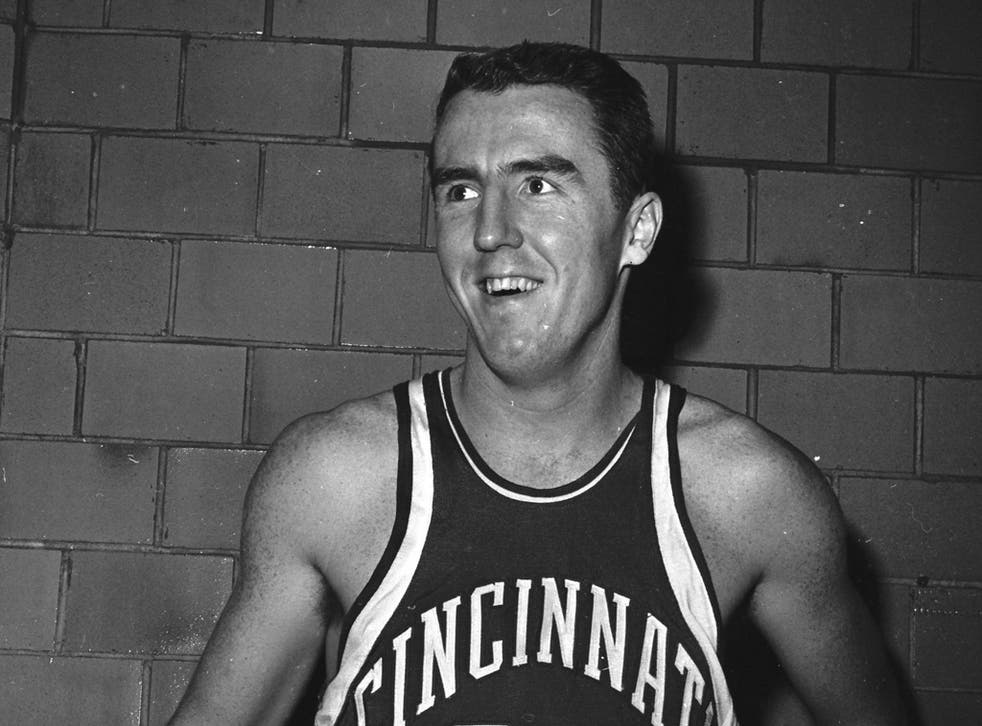 Jack Twyman played in six National Basketball Association All-Star Games, and was elected to the Hall of Fame in 1983. But his enduring legacy is tied to the tragic story of his team-mate Maurice Stokes. Twyman and Stokes had much in common. Twyman was born in 1934 in Pittsburgh, where his father was a steel mill foreman. Stokes also came from Pittsburgh, where his father worked in a mill. They joined the NBA's Rochester Royals together in 1955.
There were also differences. As youths they met on the playgrounds, but Stokes, who was black, attended Westinghouse High, while Twyman, who was white, went to Central Catholic. Twyman starred for the big-time University of Cincinnati, while Stokes played at little St Francis College, in nearby Altoona. When their colleges met, in the third-place game of the 1955 National Invitational Tournament, Cincinnati won 96-91. "I outscored him, 27 to 26, and never let him forget it," Twyman joked.
The Royals chose Stokes with the second pick of the NBA draft, then took Twyman with their second-round pick, eighth overall. At 6ft 6in and barely 210lb, Twyman was a classic white small forward; skinny, competitive, hard-working inside, with a phenomenally accurate shot from long-distance. Stokes, however, was ahead of his time: 6ft 7in and 235lb, strong enough to muscle taller men inside, but athletic enough to handle the ball in transition. He could rebound and pass, and did whatever it took to make his team-mates better.
When the Royals moved to Cincinnati, Twyman became a local hero in what was essentially a southern town, with race relations in a state of flux. Stokes set a rebounding record in his second season; they formed arguably the league's best forward pair. But in the last game of their third season, Stokes took a hard fall, and was knocked unconscious. He was revived, finished the game, and opened the play-offs in Detroit. On the flight home he collapsed, and when the plane landed in Cincinnnati was rushed to hospital in a coma. He awoke paralysed, suffering from post-traumatic encephalopathy. He would never walk again.
As Twyman asked, "How would you like to be one of the premier athletes in the world on a Saturday? Then, on Sunday, you go into a coma and wake up, totally paralysed, except for the use of your eyes and brain. I mean, can you imagine anything worse?" Knowing his friend had no means to support himself, he took an unusual step, becoming Stokes' legal guardian. He organised a charity game at Kutsher's, one of the many resorts in the Catskills where college players worked and played in summer leagues. The proceeds helped with medical costs, and the game evolved into today's Maurice Stokes-Wilt Chamberlain charity golf tournament. With his wife Carole, he set up the Maurice Stokes Foundation which continues to help ex-NBA players in need. At first Stokes communicated by blinking, as Twyman went through the letters of the alphabet. Eventually, with therapy, Stokes was able to type, paint, and use a wheelchair.
On court, without Stokes, Twyman had to up his game, and in 1959-60 he and Chamberlain became the first players to average over 30 points per game. Altogether, Twyman played 11 seasons, but the Royals never won an NBA title.
Twyman became a commentator for ABC Sports, and had two of the early signature moments of televised basketball. In 1969, he famously asked Boston Celtics' player-coach Bill Russell how he felt about the team's unlikely championship win. Russell began "Well, Jack," then was unable to continue. In the final game of the 1970 NBA championship, Twyman spotted the injured New York Knicks centre Willis Reed hobbling out of the tunnel towards the court. "I think we see Willis coming out," he said simply, and on one leg Reed inspired the Knicks to defeat the Los Angeles Lakers for the crown.
In 1970, Stokes died of a heart attack at 36. Inspired by the success of a 1971 TV movie Brian's Song, about the friendship between a dying white football player and his black star team-mate, the film Maurie was released in 1973, with Bo Svenson as Twyman and Bernie Casey as Stokes.
In 1972 Twyman left basketball and started a wholesale food business; he sold it for $3m in 1996. In 2004, after years of Twyman's lobbying, the Basketball Hall of Fame inducted Maurice Stokes; Twyman accepted the award. "That's what friends are for," he said.
Michael Carlson
Jack Twyman, basketball player: born Pittsburgh, Pennsylvania 21 May 1934; married Carole (one son, three daughters); died 30 May 2012.
Register for free to continue reading
Registration is a free and easy way to support our truly independent journalism
By registering, you will also enjoy limited access to Premium articles, exclusive newsletters, commenting, and virtual events with our leading journalists
Already have an account? sign in
Join our new commenting forum
Join thought-provoking conversations, follow other Independent readers and see their replies