Jacob Stein: Watergate lawyer who represented Monica Lewinsky following Bill Clinton affair
He was at the centre of two of the most significant whirlwinds to hit the White House in decades
Emily Langer
Tuesday 23 April 2019 11:54 Comments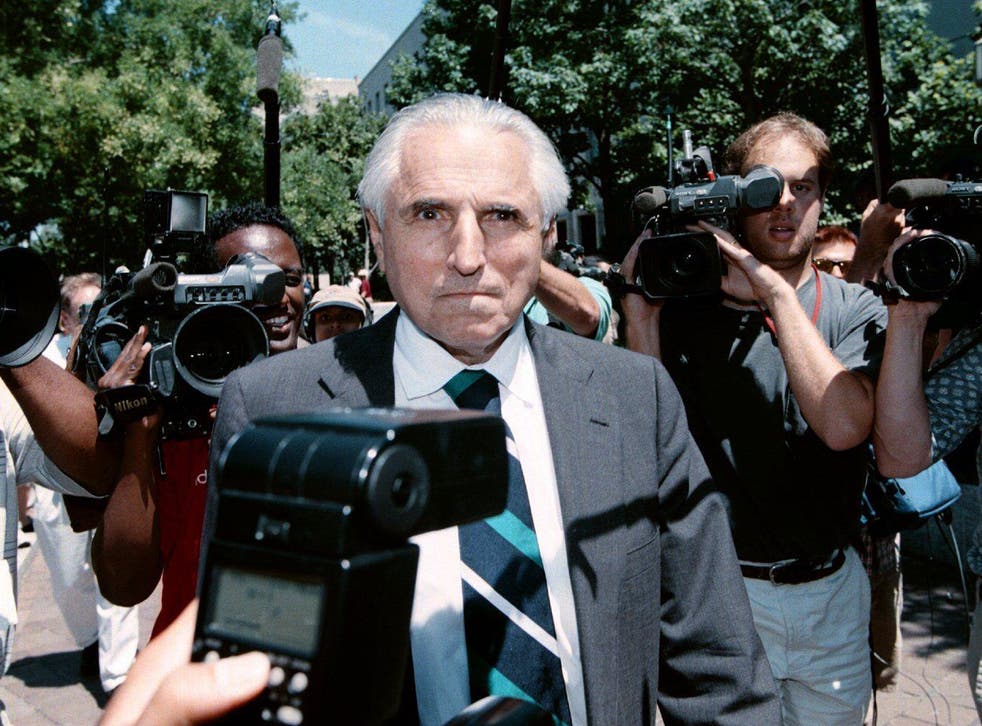 Jacob Stein was the Washington lawyer who secured the only high-profile acquittal in the Watergate affair and who decades later helped obtain immunity for Monica Lewinsky following her affair with Bill Clinton.
Considered a dean of lawyers in DC, a litigator skilled in criminal as well as civil law who provided steady and savvy counsel to his clients, Stein, who has died aged 94, brought an old-world elegance to the bar in America.
His sartorial tastes ran to two-tone shoes, double-breasted suits and bow ties, and earned him comparisons to the Great Gatsby.
His windowless office teemed with books – not only legal texts but also the works of 18th- and 19th-century literature into which he retreated during his afternoon "siestas", when he took no phone calls.
John Sirica, the federal judge who presided over the trials stemming from the Watergate burglary and cover-up that drove President Richard Nixon from office, once described Stein as "one of the finest attorneys in Washington".
Stein represented Kenneth Parkinson, a lawyer for the Committee for the Re-election of the President (Creep) who was tried in 1974 alongside high-ranking Nixon aides HR "Bob" Haldeman, John Ehrlichman, John Mitchell and Robert Mardian. Only Parkinson, who was charged with conspiracy and obstruction of justice, was acquitted.
During the trial, Stein presented Parkinson as an unwitting pawn of White House and campaign officials. Courtroom spectators noted that Stein physically separated his client from the other defendants and himself from their attorneys, as if to demonstrate Parkinson's distance from their unlawful doings. In his closing argument, Stein, on melodramatic form, asked the jury to consider "what is good character worth?"
Should it be "cynically tossed out in favour of the testimony of confessed perjurers?" he said. "Doesn't a lifetime where you built it up grain by grain weigh against that?"
Notable deaths in 2019

Show all 30
Stein next found himself in the national news during the Reagan administration, when he was appointed independent counsel to investigate Edwin Meese, Reagan's adviser and prospective attorney general. Among other matters, questions had arisen about a $15,000 interest-free loan that Meese omitted from financial disclosure forms as well as federal jobs received by nine people who had helped Meese financially.
In his six-month investigation, Stein interviewed more than 200 witnesses and concluded in 1984 that there was "no basis" for federal prosecution. Meese went on to serve as attorney general.
During the Clinton administration, Stein found himself on the other side of an independent counsel investigation, and in the highest-profile case of his career, as an attorney for Lewinsky, the White House intern at the centre of a scandal that threatened to bring down Clinton's presidency.
Stein and Plato Cacheris, another prominent Washington lawyer, joined Lewinsky's legal team in June 1998 after Lewinsky fired William Ginsburg, a family friend and California medical malpractice lawyer who, in the judgment of many observers, hurt her case with his flamboyant media appearances.
The arrival of Stein, who displayed in his office a mounted bluefish with a sign reading "If I'd kept my big mouth shut, I wouldn't be here," represented a conspicuous departure from that style. His experience as an independent counsel was said to have elevated him in the estimation of Kenneth Starr, who served as the independent counsel investigating Clinton.
Stein advised Starr that he was prepared for a fight – "I have one good trial left in me," Stein said he told him, "and I'm going to put it at Monica's disposal."
Within weeks, Stein and Cacheris obtained for Lewinsky an immunity deal that allowed her to testify about her relationship with the president without fear of prosecution for perjury over previous statements she had made denying their affair.
"There was nothing to celebrate," Stein said after the deal was announced, and as the America was still reeling from revelations of Clinton's indiscretions. "None of this called for a party. This is a tragedy."
Jacob Stein – he later added the middle initial, A, his daughter said – was born in Washington on in 1925. His father was a lawyer, and his mother was a homemaker.
"My father had a good practice, but he hated controversy," the younger Stein once said. "He quit before I started. He couldn't stand people fighting each other."
Stein enrolled at George Washington University, where he received an associate degree in 1945, a bachelor's degree in 1947 and a bachelor of law degree in 1948.
Support free-thinking journalism and attend Independent events
Stein's other major clients included Dwight Chapin, Nixon's appointments secretary who was convicted of perjury in 1974 for lying to a Watergate grand jury. Later, Stein represented James Brady, the White House press secretary who was grievously wounded during the 1981 assassination attempt on Reagan, in civil lawsuits related to the attack.
Stein's wife of nearly six decades, the former Mary Margaret Simeon, died last year. He is survived by his daughter Julie and son Jacob Stein.
Jacob Stein, lawyer, born 15 March 1925, died 3 April 2019
© Washington Post
Register for free to continue reading
Registration is a free and easy way to support our truly independent journalism
By registering, you will also enjoy limited access to Premium articles, exclusive newsletters, commenting, and virtual events with our leading journalists
Already have an account? sign in
Join our new commenting forum
Join thought-provoking conversations, follow other Independent readers and see their replies