Jan-Michael Vincent: Star of Eighties series Airwolf who struggled with drink and drugs
Despite a string of good jobs, appearing alongside names such as Burt Reynolds and Kim Basinger, he failed to extend his TV appeal to the big screen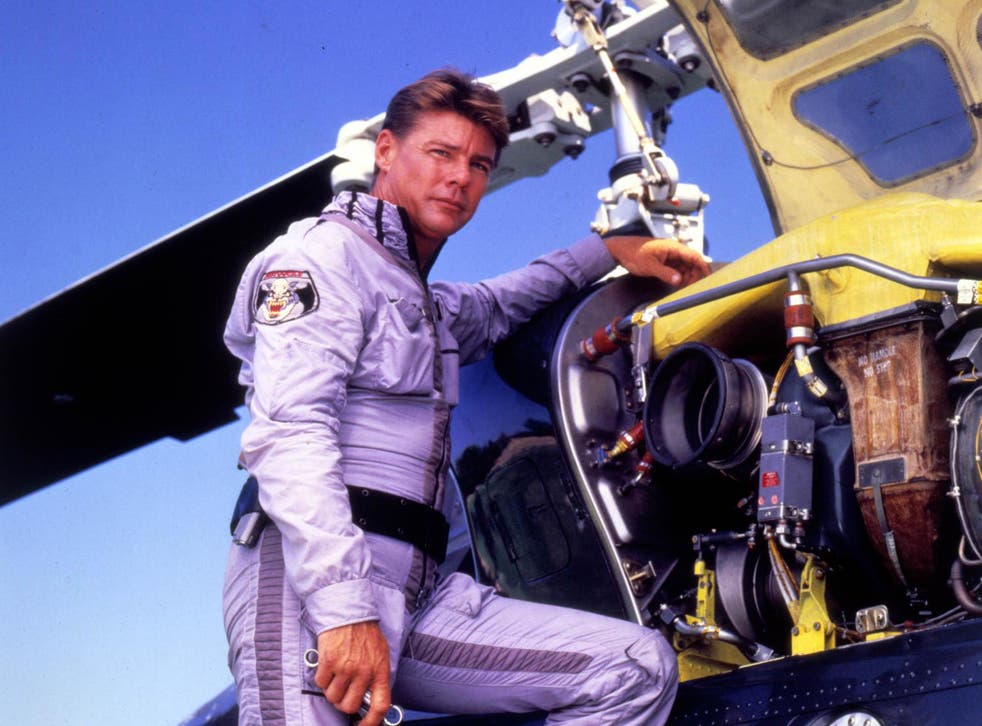 As the reclusive pilot of the hi-tech helicopter in the American television series Airwolf and Robert Mitchum's son in the epic serial The Winds of War, baby-faced Jan-Michael Vincent became known to audiences worldwide after establishing a promising career in films. The hellraising actor, who has died aged 73, was always surrounded by controversy in his private life, however, as he dabbled in drink and drugs and was arrested on assault charges.
Born Michael Vincent in Denver, Colorado, in 1944, son of an army pilot who went on to run a billboard advertising agency, Vincent grew up on a 20-acre farm in Hanford, California, after his father Lloyd decided to return to his home town, in the San Joaquin Valley. He studied art at Venture City College but left before the course finished to enjoy the life of a surfer for six months in the small Mexican fishing village of San Blas, on the country's west coast.
Vincent did service as a helicopter mechanic with the US army's national guard, then, back in California, worked in his father's sign shop, painting and silk-screening, until a friend of his father's who ran an advertising agency suggested that he might be able to finance his return to college by appearing in commercials and introduced him to theatrical agent Dick Clayton, who took him to Universal Studios for an audition. There, he met actor-director Robert Conrad, who was about to start production on The Bandits (1967), and Vincent was soon on his way back to Mexico to shoot the film, about three cowboys saved from the hangman's noose by a Mexican whom they then accompany on adventures south of the border.
As a result, Vincent signed a six-month contract with Universal and made Journey to Shiloh (1967), alongside other up-and-coming actors James Caan and Michael Sarrazin. He also appeared in the television film The Hardy Boys (1967), based on the books of the same name, and acted in episodes of the popular series Dragnet (1967) and Bonanza (1968, 1969), before winning a starring role in a series called Danger Island (1968-70), part of The Banana Splits Adventure Hour, as well as The Survivors (1969-70), in which he played actress Lana Turner's son Jeffrey Hastings.
Vincent changed his professional name to Jan-Michael Vincent after making the film The Undefeated (alongside John Wayne and Rock Hudson, 1969). He then received rave reviews for his role of a hippy flower-child facing a tough Marines drill instructor (Darren McGavin) in the television film Tribes (1970), which was released in European cinemas under the title The Soldier Who Declared Peace (1970).
He also gave an acclaimed performance as the son of wife-killer Robert Mitchum in the film Going Home (1971) and followed it with a string of pictures, including The Mechanic (with Charles Bronson, 1972), The World's Greatest Athlete (1973), Buster and Billie (1974), Bite the Bullet (1975), Baby Blue Marine (1976), Vigilante Force (with Victoria Principal, 1976), Shadow of the Hawk (1976), the surfing drama Big Wednesday (1978), Hooper (with Burt Reynolds and Sally Field, 1978) and Defiance (1980).
Then, with Hard Country (1981), he finally cast aside his reputation for acting clean-cut, all-American kids by taking the role of Kim Basinger's boyfriend in what he described as "the first rugged, virile, masculine type of character I've ever gotten to play on the screen".
Throughout this time, he had been guest-starring in television series such as Dan August (1971), Gunsmoke (1971) and Marcus Welby, MD (1973), and played Swat-team leader Yates in the series Police Story (1973-77). But his biggest roles on television were still to come, first as Byron Henry in the 18-hour, $40m Second World War series The Winds of War (1983), in which he shared torrid love scenes with Ali MacGraw. His father was again played by Robert Mitchum, and former Alias Smith and Jones star Ben Murphy acted his brother Warren.
He followed this by starring in Airwolf (1984-86) as Stringfellow Hawke, the cello-playing pilot of the supersonic, hi-tech helicopter of the title. The series proved to be an international success.
However, Vincent never fulfilled the promise he had shown and, instead of keeping star status on television or getting better cinema roles, he worked constantly, but in a couple of dozen television films and second-rate features such as the political thriller Last Plane Out (1983), Born in East LA (1988), Hit List (1988), Deadly Embrace (1989), Alienator (1990), Raw Nerve (1991), Animal Instincts (1992), Sins of Desire (1993), Indecent Behavior (1993), Codename: Silencer (1995) and The Ice Cream Man (1995).
In September 1996, he suffered a broken neck in a car crash. His last film role was in White Boy (2002).
Vincent had two unsuccessful marriages, to Bonnie Poorman, then Joanne Robinson, and was wont to fall foul of the law. He had a history of drink and drug offences, and faced four assault charges. This sometimes brought him into conflict with producers. He is survived by his third wife, Patricia Ann (nee Christ), and his daughter with Poorman, Amber.
Michael Vincent (Jan-Michael Vincent), actor, born 15 July 1944, died 10 February 2019
Register for free to continue reading
Registration is a free and easy way to support our truly independent journalism
By registering, you will also enjoy limited access to Premium articles, exclusive newsletters, commenting, and virtual events with our leading journalists
Already have an account? sign in
Register for free to continue reading
Registration is a free and easy way to support our truly independent journalism
By registering, you will also enjoy limited access to Premium articles, exclusive newsletters, commenting, and virtual events with our leading journalists
Already have an account? sign in
Join our new commenting forum
Join thought-provoking conversations, follow other Independent readers and see their replies