Javier Methol: Businessman who survived for 72 days in the Andes after his plane crashed in 1972
Methol lived for almost 43 more years after his harrowing ordeal
Phil Davison
Sunday 14 June 2015 13:06 Comments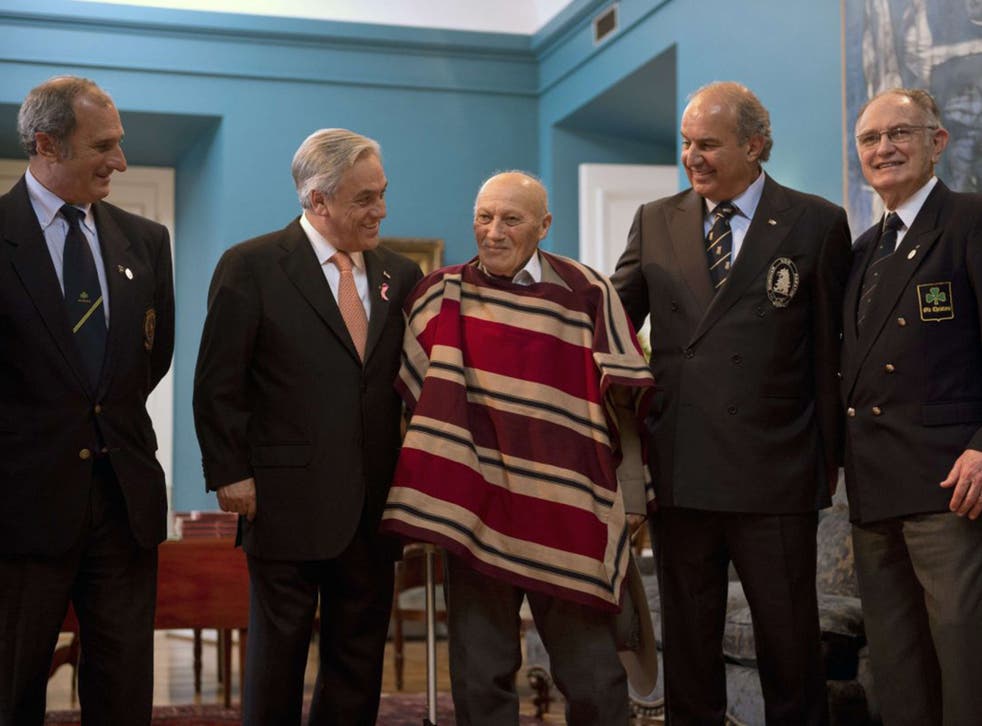 Javier Methol was one of 16 miraculous survivors of an aircraft carrying a leading Uruguayan rugby team which crashed into the Andes in October 1972 with 45 people on board. Having lost its wings and tail, the fuselage careered down the mountain on its belly like a toboggan before thudding to a rest in deep snow. As the days passed without rescue or food, Methol and his wife Liliana were the last of the survivors to hold out against eating the flesh of their friends and relatives who had perished.
After 10 days, telling himself that the God of his devout Catholic faith would want him to see his four children again, 36-year-old Javier succumbed and ate flesh preserved by night-time temperatures of minus 40C, thawed by the sun, carved into slivers and rationed to make them last. Liliana Methol, 35, who had nursed the survivors "like a mother and a saint", reluctantly partook of the flesh after she was told to see it as "a kind of Holy Communion." She did not have to eat it for long. She died in an avalanche which hit the crash site on 29 October, killing eight of the original survivors. She was the last of the five women passengers to die and the surviving males agreed hat her body should remain untouched. She and Javier had been the oldest people on the plane and the most devout, while the team were late teens to mid-twenties.
Having survived 72 days on the mountain, partly sheltered by the shell of the fuselage, Javier Methol lived for almost 43 more years before dying of cancer. He was the first of the 16 survivors, who remained like brothers for the rest of their lives, to die. They became national heroes in Uruguay, forgiven by relatives of the dead and by the Catholic church for eating human flesh to survive. Javier re-married and had a further four children but said Liliana remained in his heart for ever. The survivors' story was told in the 1974 book Alive by Piers Paul Read and a 1993 Hollywood film, Alive: the Miracle of the Andes, starring Ethan Hawke, with Sam Behrens playing Methol.
There were 40 passengers, five of them women, and five crew on board the Uruguayan Air Force Fairchild FH-227D twin-engine turboprop as it flew over the Andes on that ill-fated Friday 13 October 1972 with the flight number 571. It had been chartered by the Old Christians' Rugby Club of Montevideo, past national league champions, to carry them and their relatives to Santiago for an annual friendly match against the Chilean national side.
The players were alumni of the Stella Maris College in Montevideo, founded by missionaries of the Irish Province of Christian Brothers in 1955. Along with their faith, the Irish brought rugby to a mostly football-crazy nation and so the school's alumni rugby team chose the name Old Christians' Club. With shamrock logos on their shirts they had won the Uruguayan rugby championship in 1968 and 1970 with Methol, a cigarette executive, as part-time coach.
Of the 45 on board, a dozen were sucked out of the back of the plane or died in the impact, eight were buried in the avalanche and nine succumbed to their wounds and the cold. The survivors were rescued after two of them trekked for days through deep snow until they spotted a Chilean peasant on the far side of an uncrossable mountain torrent. He was suspicious of the bearded, bedraggled sunburnt figures – Argentinian spies or terrorists? – until one of them tossed a note wrapped in a handkerchief: "I come from a plane that fell in the mountains." Rescue helicopters, called off eight days after the crash, were soon sent in.
Javier Alfredo Methol Abal was born in Montevideo in 1935. As a teenager he was knocked off his motorbike and run over by a car. He lost his right eye, was in a coma for several months and suffered memory loss. When he was 21, he was working for his family's cigarette production company Abal Hermanos (Abal Brothers), which became part of Philip Morris.
They sent him to Wilson, North Carolina, to study US tobacco production and marketing, but he was found to have tuberculosis and spent five months in a North Carolina sanatorium. Back home, he married Liliana in 1960 and they went on to have four children. After the crash he returned to the cigarette industry, retiring as sales and corporate affairs director.
He travelled in Uruguay and beyond giving motivational speeches on how he and his comrades survived by dint of their Christian faith. "On the mountain, I spoke with God," he said. "His love increased my faith in Him, in me and in those around me. He made me lose my fear of death. Whoever lives in fear, every day lives one day less."
Rescuers eventually set fire to the fuselage, buried the remains of the dead at the site and erected a cross and a sign saying "Nearer my God to Thee". Methol, who died in Montevideo's British Hospital, is survived by his second wife Ana Maria and four sons and four daughters from his two marriages.
Javier Alfredo Methol Abal, air crash survivor, company director and public speaker: born Montevideo, Uruguay 11 December 1935; married 1960 Liliana Beatriz Navarro (died 1972; three daughters, one son), secondly Ana María de Amorrortu (one daughter, three): died Montevideo 4 June 2015.
Register for free to continue reading
Registration is a free and easy way to support our truly independent journalism
By registering, you will also enjoy limited access to Premium articles, exclusive newsletters, commenting, and virtual events with our leading journalists
Already have an account? sign in
Join our new commenting forum
Join thought-provoking conversations, follow other Independent readers and see their replies