Jayaben Desai: Trade unionist who shot to national prominence during the bitter Grunwick dispute of 1976-77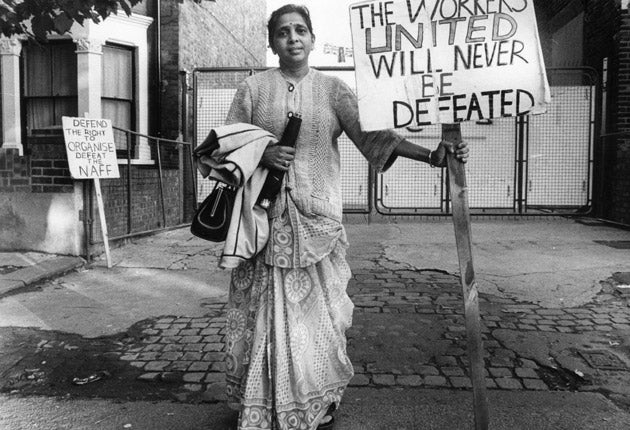 Jayaben Desai was an unlikely and reluctant star of the British trade union movement.
As one of the sacked women workers employed by Grunwick, a film-processing firm based in north London, she fought for better pay and conditions during the hot summer of 1976 and 1977 on behalf of 137 sacked, poorly paid Asian women. She and her fellow workers were not in a trade union, and after a visit to the Trades Union Congress she was advised to join the white-collar union Apex, an industrially weak trade union. It is probable that the male-dominated TUC thought that that would be the end of the affair, with the ladies brushed under the carpet because they belonged to an ineffectual union.
But Desai was inspirational, and her cause was quickly taken up by union activists quick to spot an opportunity to champion the cause of union recognition and support for lowly paid immigrants. Once the dispute had taken wings, Desai and her colleagues slowly disappeared from the headlines, but she was prominent at rallies where colleagues relayed her views, and at one stage even started a hunger strike on the steps of TUC headquarters. Her fight, during which she toured the country enlisting support from unionists and workers everywhere, was slowly taken over by the TUC hierarchy in the shape of the General Secretary Len Murray and the TGWU's Jack Dromey.
Union chiefs supervised what they thought was a winnable fight for union recognition. After all, it was a decade of industrial strife, involving twonational miners' strikes that sawthe defeat of Prime Minister Ted Heath, and umpteen other successful official stoppages. But the blue-collar union leaders who thought theywere unbeatable did not reckon on Grunwick's managing director George Ward and the Tory MP Margaret Thatcher, who saw herself as the next Prime Minister.
To get national support from other workers, and the necessary publicity, there had to be mass picketing – and eventually tens of thousands turned up outside Grunwick; the right-wing press dubbed it the "Ascot of the Left". It was the place to be seen if you wanted to impress the union shop floor. Thatcher, however, saw it as a golden opportunity to discredit what she regarded as trade union power and gave Ward her full sympathy and support.
I had failed to persuade the Daily Mirror hierarchy to support the strikers with sympathetic coverage in my newspaper, but that lack of space was soon resolved when policemen's helmets started flying, pickets were badly injured and Arthur Scargill was arrested within minutes of arriving with his bus-loads of pickets. In the midst of all this mayhem Desai, only 4ft 10in, was the model of charm, tact and diplomacy. She had been arrested after the Grunwick strike started for allegedly assaulting a 6ft manager, a story which nobody believed, and she continued behaving like a female Gandhi.
She had known the good life in Africa. She was born in the Indian coastal state of Gujarat, in the south of what is now Pakistan, and married Suryakant Desai, a tyre-factory manager from Tanganyika. In 1965 they were east African Asians in Tanzania, with a comfortable lifestyle, but that ended abruptly with the "Africanisation policy", and they emigrated to Britain. After a stint as a sewing machinist at a Harlesden sweatshop, she joined Grunwick in 1974; she did not relish the life of low pay and compulsory overtime.
The Grunwick dispute could have been a historic victory for Mrs Desai and the TUC, because the pickets had managed to turn back a busload of strike-breakers (known unfraternally as "scabs"). And they had the sympathy of the Tory shadow Employment Secretary Jim Prior. The Scarman Inquiry (called by an embarrassed Prime Minister Jim Callaghan, supported by an equally embarrassed Murray) had recommended reinstatement and union recognition, but Ward, backed by the right-wing National Association for Freedom, defiantly rejected the inquiry's conclusions.
Like the miners' strike seven years later, the Grunwick dispute drifted into ignominious failure and ended on 14 July 1978, with the Left accusing the TUC of betrayal. Murray, an avuncular man, told me months later that the dispute had got "out of hand" and had been taken over by the Left fanatics. He said: "There were calls for us to blacklist Grunwick's post forever, drive the company out of business, and even turn off Mr Ward's gas, water and electricity. All very illegal and very unacceptable to the majority of moderate British people."
Thatcher hailed Ward as a "champion of freedom" while taking great care never to condemn the women strikers, and praised the courage of the police.
Desai's health slowly failed after the strike and she had a gall-bladder operation. She passed her driver's test at the age of 60, travelled in retirement to many countries, and pioneered an Asian dressmaking-course at Harrow College. Dromey paid tribute, saying she was a fighter who championed the cause of women workers and forced the TUC to take up the cause of immigrants' pay and conditions.
Jayaben Desai, union activist: born 2 April 1933; married Suryakant Desai (two sons); died 23 December 2010.
Join our commenting forum
Join thought-provoking conversations, follow other Independent readers and see their replies