Jeni Le Gon: The first black woman to sign for a major Hollywood studio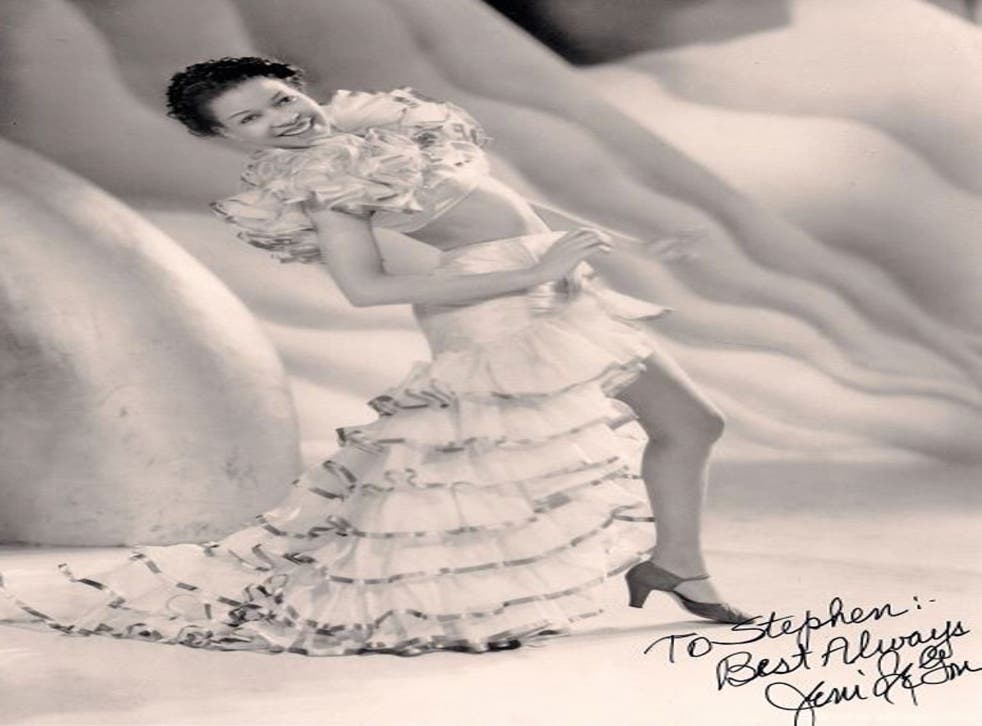 In 1987, America's Black Filmmakers Hall of Fame honoured an artist who should have gone further in Hollywood movies. They gave the tap dancer Jeni Le Gon their Oscar Micheaux Award, even though Hollywood in the 1930s hadn't taken full advantage of her musical talents. In 1935, Le Gon had become the first African American woman to sign a contract with a major studio (MGM), but she later reflected: "I never had a good working contract with MGM because they never really had anything for me to do."
Le Gon was born Jennie May Ligon in Georgia (according to the 1920 US Census) in 1916. She discovered on a visit to London in 1935-36 that she was descended from General Henry Beauchamp Lygon (1784-1863), the 4th Earl of Beauchamp, through her father, Hector Ligon, a "Geechie" from the Georgia Sea Islands.
After moving with her family to Chicago, Le Gon attended Mary Bruce's School of Dancing. At the age of 16, she embarked on a professional career after successfully auditioning for the chorus of the Count Basie Orchestra. After arriving in California in the mid-1930s, Le Gon's energetic and expert dancing skills were noticed by Earl Dancer, a black producer and talent scout. Dancer took Le Gon under his wing and he was instrumental in bringing her to the attention of various Hollywood studios.
She made her film debut in RKO Radio's Hooray for Love (1935), in a lively musical sequence in which she was teamed with Bill "Bojangles" Robinson and Fats Waller. The trio's rendition of "I'm Livin' in a Great Big Way" was sensational and, after Hooray for Love, Fats Waller employed Le Gon as a vocalist and dancer with his band. Le Gon explained to his biographer, Alyn Shipton, how Waller helped to shape her stage act: "I danced like a boy – I did flips and knee drops and toe stands and all that sort of business so, when I had to sing after I'd danced, he gave me these cute little numbers so that I could talk-sing." In 1984, referring to her toe stands, and to Michael Jackson, Le Gon commented: "That Michael fella, they say he invented it. All the girls from my era did that."
Following her screen debut, the vivacious Le Gon was signed by MGM and paid the huge sum of $1,250 a week. They gave her a role in Broadway Melody of 1936 but, she said, "MGM hosted a party for the mayors of various cities and the cast of Broadway Melody of 1936 entertained them. Eleanor Powell, the famous tap dancer from Broadway, had also been signed for the movie and after I stopped the show on performance night at the mayors' party, MGM decided they couldn't have two tap dancers in the picture and I was dropped from the studio. If I had been white, they would have kept me because I could have developed into something, but they let me go. While I was at MGM I was told I wasn't allowed to eat in the main dining room. Here, they were paying me $1,250 a week and telling me I wasn't good enough to eat in their dining room. But Hollywood was no different to the rest of the country in that respect."
Le Gon was warmly received in Britain when she opened at London's Adelphi Theatre on 4 February 1936 in CB Cochran's revue Follow the Sun. Later that year, she was featured as a cabaret dancer in the British film Dishonour Bright. She said: "I experienced being a real person for the first time. On board the ship and in Europe I was referred to as Miss Le Gon and that had never happened to me before."
On her return to America, Le Gon combined occasional appearances in independently produced, black-cast films such as Double Deal (1938) and While Thousands Cheer (1940) with small roles in Hollywood. She played maids to Maria Montez in Arabian Nights (1942), Ann Miller in Easter Parade (1948) and Betty Hutton in Somebody Loves Me (1952). Tiring of maid roles, Le Gon faced humiliation in 1950 when she joined a group of black actors to call on Ronald Reagan, then president of the Screen Actors Guild. They raised their concerns about the stereotyping of black actors, but Reagan showed no interest: "We tried to get him to intervene for us, but he wasn't the least bit sympathetic. He didn't even lie about it."
After she quit Hollywood in 1953, Le Gon's interest in African and Caribbean music led to a serious study of percussion instruments. Eventually she formed a band and performed her own style of music, which she called Jazz Caribe. On a tour of Canada in 1969 she found herself in Vancouver and agreed to hold a few workshops during the two days she was there, "but the students began lining up before we had even rented space. In Vancouver, I found out I was a person. Period. I didn't have to worry about going somewhere and hearing somebody say, 'No, you can't come in.' That's one of the reasons I stayed in Canada."
Almost 50 years after Follow the Sun, Le Gon returned to London in 1985 with Toronto's Pelican Players Neighbourhood Theatre with whom she worked as a choreographer and dancer. Britain's Temba Theatre Company showcased Le Gon and the Pelican Players in a black performing arts festival at the Battersea Arts Centre and Edinburgh Festival. During her stay here, Le Gon made several guest appearances on BBC radio, including an edition of Start the Week, with fellow guests Kenneth Branagh and David Hockney.
After making a new life for herself in Vancouver, Le Gon did not make another appearance in America for 20 years, when she agreed to appear on stage with the legendary Nicholas Brothers in the revue Jazz Tap! (1989). She told a reporter: "I made a living as a tap dancer when I was a youngster. And now it looks like I'm going to be earning my living again at tap. It's come full circle." In 1999 the National Film Board of Canada released the documentary Jeni Le Gon: Living in a Great Big Way.
Jennie May Ligon (Jeni Le Gon), dancer: born Georgia 14 August 1916; married twice; died Vancouver 7 December 2012.
Register for free to continue reading
Registration is a free and easy way to support our truly independent journalism
By registering, you will also enjoy limited access to Premium articles, exclusive newsletters, commenting, and virtual events with our leading journalists
Already have an account? sign in
Register for free to continue reading
Registration is a free and easy way to support our truly independent journalism
By registering, you will also enjoy limited access to Premium articles, exclusive newsletters, commenting, and virtual events with our leading journalists
Already have an account? sign in
Join our new commenting forum
Join thought-provoking conversations, follow other Independent readers and see their replies