Jim Kelly: Actor best known as Williams in 'Enter The Dragon'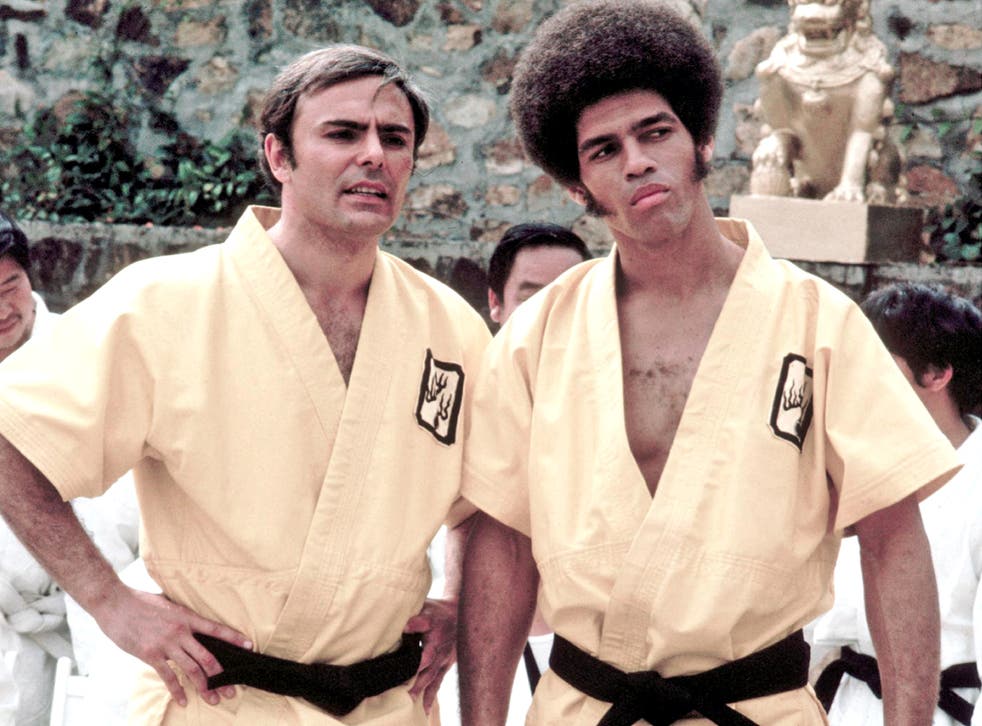 A karate champion with a formidable Afro haircut and a laid-back countenance that suggested barely-channelled aggression, Jim Kelly enjoyed a brief career as a star of B movies, caught in a perfect storm between the twin booms in kung fu and blaxploitation. Kelly made his name alongside fellow martial arts expert Bruce Lee and actor John Saxon in the 1973 cult hit Enter The Dragon. Asked by the Dr No-like villain Han, if he fears his inevitable defeat, he says, "I don't waste my time with it. When it comes I won't even notice... I'll be too busy looking good."
Kelly's character, Williams, was an inner-city karate instructor who stood proudly in the face of abuse from "the man", the white police. In reality Kelly did run a karate school, in Los Angeles' Crenshaw neighbourhood. But he had made a conscious effort to break into the movie world, because, as he explained, he needed to "make a lot of money... be very famous... and be motivational for kids.'
Kelly grew up in Millersburg, Kentucky and in San Diego, where his father rented lockers to sailors at the naval station. A three-sport star in high school in Millersburg, he earned a gridiron scholarship to the University of Louisville but left after one season, reportedly when he clashed with a coach who was racially abusing a team-mate. He began studying karate and moved to Los Angeles to train in Okinawan karate under Parker Shelton. After opening his own school, and winning four tournaments, including the middleweight title at the Long Beach International Karate Championships in 1971, he was hired to train the actor Calvin Lockhart for the 1972 film Melinda, in which he made his acting debut as a martial arts instructor.
He landed the role in Enter The Dragon when Rockne Tarkington dropped out at the last minute, and producer Fred Weintraub was told to visit Kelly's studio. As an actor, Kelly was so self-controlled and deliberate he could make Lee look like Al Pacino, but he called the martial arts star, who died soon after Enter The Dragon was released, "just incredible, absolutely fantastic. I learned so much from working with him."
Signed to a non-exclusive three-film contract with Warner Bros, Kelly appeared in 10 movies in the next six years. The biggest was Three The Hard Way (1974) directed by Gordon Parks, Jr, in which he starred with ex-gridiron stars Jim Brown and Fred "The Hammer" Williamson. The three teamed up again, along with Lee Van Cleef, in the 1975 western Take A Hard Ride. Kelly played Black Samurai in a 1977 film based on the Marc Olden series of novels, and twice played Black Belt Jones. But after he starred in Death Dimension (1978) and playing a small part in The Amazing Mr No Legs (1979) his film appearances were rare, although he said he received "at least three scripts a year, but most of them don't put forth a positive image."
Instead he became a tennis pro, playing on the USTA senior circuit and opening his own tennis schools, first in West Los Angeles and later in the San Diego area, as well as taking the occasional acting role. He wasn't cast in I'm Gonna Get You Sucka (1988), where Steve Jones played a character called Kung Fu Joe, clearly based on Kelly, alongside Jim Brown as Slammer and Isaac Hayes in the Fred Williamson role as Hammer. In the 1990s he had small parts in two straight-to-video releases directed by Cirio Santiago.
Prompted in part by Quentin Tarantino's success, blaxploitation made a comeback, and although Kelly didn't rejoin Brown and Williamson (and Pam Grier) in Original Gangstas (1997), he did film a cameo, cut out of the finished film, for Undercover Brother, which used some file footage of him. He took part in the 2004 documentary about blaxploitation films, Macked, Hammered, Slaughtered and Shafted, and that same year acted in a Nike commercial, "Chamber of Fear", opposite basketball star LeBron James. He made his final acting appearance in a bit part in Afro Ninja (2009).
Kelly was a popular guest at comic book conventions, especially the huge San Diego Comic Con, where he was often asked to repeat another line from Enter The Dragon, said to an opponent who flashes his moves: "Man, you come right out of a comic book!" He died in San Diego of cancer.
James Milton Kelly, martial artist, actor and tennis player: born Millersburg, Kentucky 5 May 1946; married Marilyn Dishman (marriage dissolved; one daughter); died San Diego, California 29 June 2013.
Join our new commenting forum
Join thought-provoking conversations, follow other Independent readers and see their replies