Jimmy Armfield, footballer: England captain and Blackpool star who later shone as a pundit
He made a record 627 appearances for Blackpool before taking Leeds to new heights as a manager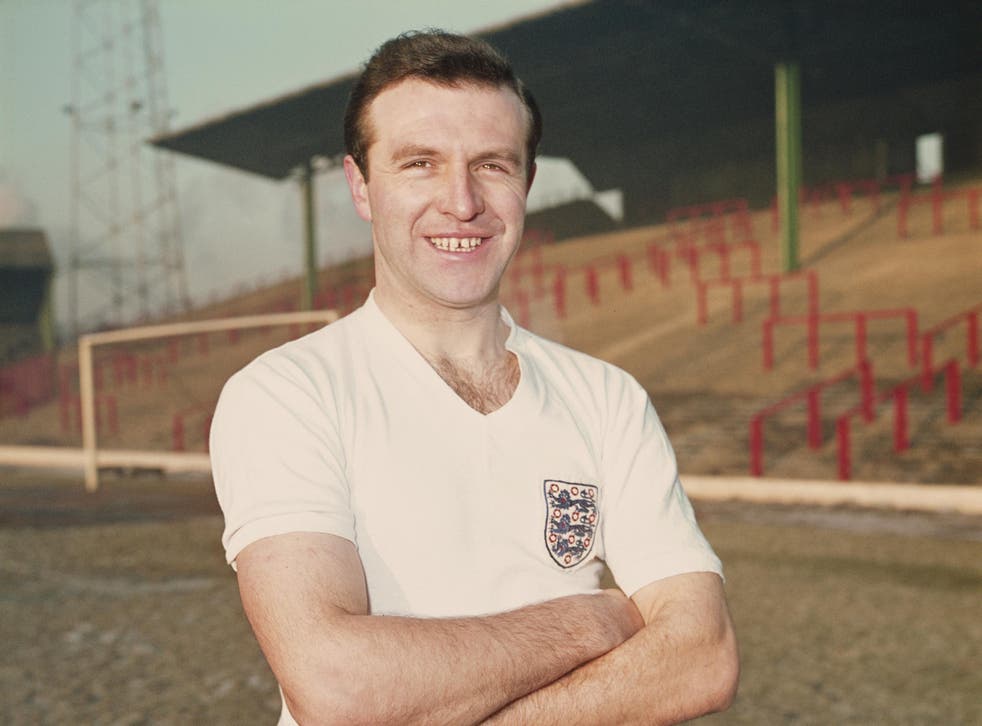 The scene was the press-room at Sunderland's ground, the occasion a post-match press conference after a home defeat. The Wearsiders' manager, Howard Wilkinson, was irritated by journalists questioning his tactics and decisions. "How many England caps have you got?" he asked the assembled media. From the back, the BBC radio pundit piped up. "Forty-three, actually, Howard."
The voice belonged to Jimmy Armfield and the incident, which prompted Wilkinson to join in the laughter, encapsulated much of what was memorable about him. For this was a man who not only represented his country with distinction and became a revered broadcaster, but also one who gave his local club, Blackpool, loyalty beyond the call of duty and came close, with Leeds United, to becoming the first English manager to reach the European Cup final.
Armfield, who has died of cancer aged 82, was born at Denton, near Manchester, his family moving to Blackpool when he was four to escape the wartime bombing. He excelled at cricket, athletics and rugby union at school but set his heart on becoming a footballer and joining Stanley Matthews in an outstanding Blackpool side. Playing right-back, he succeeded in impressing the management and made his First Division debut at Portsmouth at Christmas in 1954.
Blackpool finished runners-up to Manchester United in 1955-56, during which time Armfield undertook National Service in the King's Own Royal Regiment. He maintained his form while in the Army and in 1957 Matt Busby tried to buy him for United. The Scot received short shrift from Joe Smith, the 'Pool manager, and Armfield later reflected that if he had joined the Busby Babes he might have perished alongside many of them in the Munich air disaster.
Besides, he loved Blackpool, town and club, going on to play in the first team until 1971. Being with a relatively unfashionable club did not prevent his becoming an international, his first appearance coming in a 2-0 defeat by Brazil in Rio de Janeiro's Maracana stadium before 160,000 spectators. Armfield had to play left-back and his first touch was to fish the ball out of the net when the winger he was marking, Julinho, scored inside three minutes.
In 15 of his England games, Armfield skippered the team. After the 1962 World Cup, held in Chile, journalists voted him the best right-back in the world (he is described in the National Football Museum Hall of Fame as "the first overlapping full-back"). Injuries cost his place in Alf Ramsey's team during the build-up to the 1966 tournament, which England won, but as a member of the 22-man squad he was finally awarded a winner's medal in 2009.
After retiring as a player in 1971 following a club-record 627 appearances, Armfield became manager of Bolton Wanderers, steering them to promotion from the Third Division two years later. He took over at Leeds at 1974 when the English champions dispensed with Brian Clough after 44 days of seismic upheaval. The Leeds team had grown old together and Clough had sought to make rapid radical changes. His pipe-smoking, church-organist successor opted for continuity and stability, taking the side built by Don Revie to the European Cup final in 1975.
Bayern Munich defeated them 2-0 but only after Leeds had a goal controversially disallowed and were refused what looked a clear penalty. Armfield's undemonstrative manner led to one player, Duncan McKenzie, quipping that "the manager's indecision is final". Yet he bought shrewdly after letting the household names of the Revie era go.
Leeds sacked him in 1978. Armfield was invited to work for the Daily Express sports desk in Manchester, having cut his journalistic teeth by reporting for Blackpool's Evening Gazette in the 1980s. He stayed until 1991, after the paper's Manchester office closed. The BBC then asked him to join their fast-expanding commentary set-up. For Radio 2 and later on 5 Live, he proved an insightful, articulate, humorous and respected summariser for nearly 30 years.
A warm, modest character, Armfield also served the Professional Footballers' Association and, as consultant, the Football Association, recommending Terry Venables and Glenn Hoddle to coach the England team. In 2000 he was awarded the OBE for services to football and in 2010 received the for services to his community in Lancashire. He treasured them but was as proud to be vice-president of Blackpool FC and have a statue in his honour and stand named after him.
He is survived by his wife Anne and sons Duncan and John.
James Christopher Armfield, footballer, football manager, journalist and broadcaster, born 21 September 1935, died 22 January 2018
Join our new commenting forum
Join thought-provoking conversations, follow other Independent readers and see their replies