Jimmy McIlroy: Burnley's greatest ever footballer and Northern Ireland World Cup hero
Capped 55 times for his country, the elegant inside-forward spent 12 years with the Clarets and helped them to a dramatic last-day league title triumph in 1960
Ivan Ponting
Monday 20 August 2018 15:41 Comments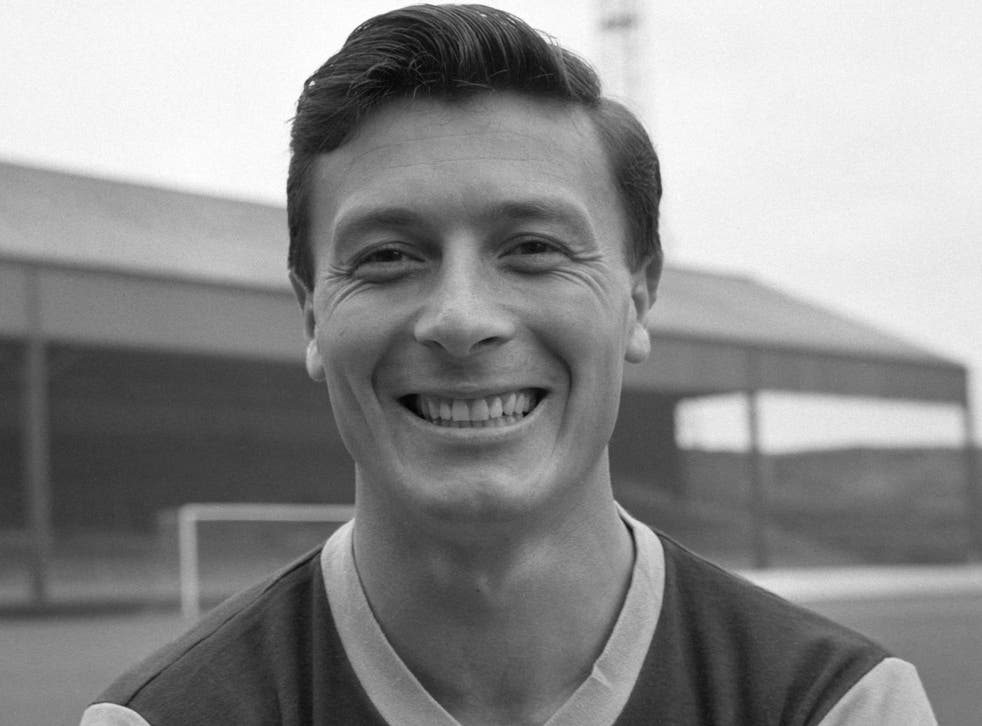 The illustrious career of Jimmy McIlroy, who died on Monday at the age of 86, stands as a vivid monument to an era when footballers from smallish-town clubs could achieve virtually anything without moving to one of the game's cash-gorged giants.
At Burnley the elegant Ulsterman, an inside forward of enchantingly perceptive wiles, earned a league championship medal in 1959-60 and reached the FA Cup final two years later. He expressed himself eloquently on the international stage, too, his delightfully subtle promptings proving hugely instrumental in Northern Ireland fighting through to the last eight of the World Cup in Sweden in 1958.
In the modern age, it has all changed. Now a performer of McIlroy's exquisite ability starting out in the relatively modest surroundings of Turf Moor – and no disrespect is intended here to a fine club with a proud tradition – would be spirited away, probably long before he attained his prime, to become a youthful multimillionaire at the likes of Old Trafford, Anfield or Stamford Bridge.
The difference is that in the 1950s when the teenage Irishman was making his way, every club controlled its players with inflexible, iniquitous rules which prevented them from leaving against their employer's will, even when their contracts had expired. In addition, the authorities – consisting largely of club officials with a vested interest in the continued oppression of the "soccer slaves" – enforced a rigid maximum wage, meaning that Burnley and their ilk paid as well as, for example, Manchester United.
Since the fetters were removed in the 1960s, the balance of power has shifted, gradually but inexorably, so that star footballers now rule the roost as comprehensively as did the club chairmen in the past.
All of which is a world away from the prospects facing the schoolboy prodigy McIlroy as he grew up in Lambeg, a small village south of Belfast, before and during the Second World War.
Football was in his blood, his father Harry having been a part-timer with Distillery and his uncle Willie having represented Portadown, but despite being blessed with bountiful natural gifts, playing in a team of 14 year olds at the age of 10, he was offered no easy pathway to the heights of his calling.
He was a skinny child but somehow his parents found the means, in a time of shortages and rationing, and with five daughters to keep, to provide him with the extra food necessary to build up his physique to withstand the rigours of the game. Thus admirably supported in the home, McIlroy himself supplied the enthusiasm, spending countless hours honing his skills by kicking a tennis ball against a wall, and duly he made a major impact on the local amateur scene.
Still, he did not graduate instantly to the professional ranks, leaving school at 15 to take a series of labouring jobs, including one as an apprentice bricklayer, before being spotted by one of the top Belfast clubs, Glentoran, who signed him for the price of a fish-and-chip supper.
After making his debut for the Glens in the spring of 1949, McIlroy shone so brightly in his one full season at The Oval that he became a magnet for a posse of English scouts and in May 1950 he was transferred to Burnley for £8,000, in those days a considerable investment for an unknown Ulsterman.
At Turf Moor there was an initial notion to convert the Irish youth international into a wing-half, but that happened instead to a callow northeasterner name of Jimmy Adamson, another cultured playmaker with whom McIlroy was destined to form a productive club pairing for some 13 years.
From the moment the rookie from Lambeg was pitchforked into First Division action at Roker Park, Sunderland, four days short of his 19th birthday in October 1950, he came a regular in the side, first at inside-left in place of future Clarets boss Harry Potts, then more lastingly at inside-right.
At first there was scathing criticism of the club supplanting a mature performer with a raw boy, but that soon dissipated as McIlroy struck up an effective right-wing partnership with Billy Gray, then a brilliant one with John Connelly.
From 1952-53 onwards Burnley were ensconced in the top half of the division, culminating in a dramatic championship triumph in 1959-60, when they pipped Stan Cullis's powerful Wolverhampton Wanderers side by one point, topping the table for the only time when it really mattered, on the last day of the season.
Despite carrying a debilitating groin injury for much of the campaign, McIlroy's contribution was immense as he coordinated the work of a memorable forward line comprising Connelly, himself, Ray Pointer, Jimmy Robson and Brian Pilkington.
Burnley were a prodigiously industrious and efficient team rather than a stylish one, but with the composed maestro McIlroy at its creative core they were invariably attractive to watch. He tantalised opponents with his deft footwork and lacerated defences with his probing distribution, his distinctive combination of sumptuous touch and incisive vision being topped off with the intelligence of a born strategist.
Occasionally he was accused of virtuosity without bite, but that was unfair because as well as setting up myriad goals for others, he netted plenty of his own, too, more than 130 in nearly 500 senior outings for the club. In addition, though no physical leviathan, he was eminently capable of taking care of himself when confronted by the numerous unscrupulous cloggers who sought to intimidate an artist such as he.
Internationally, too, McIlroy flourished, collecting the first of his 55 caps in 1951, striking a sensational goals against Italy in a crucial 1958 World Cup qualifier, then starring in Northern Ireland's glorious if unexpected progress to the quarter-finals. He formed a sharply inventive midfield duo with Danny Blanchflower, the two men complementing each other ideally, with their technical expertise, their shrewdness, and their unflappable approach both on and off the field.
Though McIlroy was quieter, perhaps a little more self-deprecating than his captain, his sense of humour was only slightly less acerbic than the Tottenham Hotspur man, and he matched the free-thinking Blanchflower's refusal to be brow-beaten by authority.
At a time when it was unusual for footballers to speak out about the unfairness of the prevailing employment system, he was willing to criticise the status quo, in terms of the players' rewards, the hidebound nature of many administrators and the poor quality of much modern coaching.
McIlroy, who represented Great Britain against the Rest of Europe in a 1955 showpiece game to mark the 75th anniversary of the Irish Football Association, belied his essentially equable temperament by lobbying spiritedly for higher wages, and there was even talk of a transfer away from Turf Moor in 1957.
No such move materialised, however, and he replicated his excellence during the title-winning campaign for nearly three more seasons, producing a succession of masterful displays as Burnley went agonisingly close to lifting the League and FA Cup double in 1961-62, finishing as championship runners-up to Alf Ramsey's Ipswich Town and losing at Wembley to Spurs.
That term, too, he was narrowly beaten to the Footballer of the Year accolade by his colleague Adamson, and although he was in his early thirties, McIlroy remained his club's most influential figure in the spring of 1963.
Hence the outrage among many members of the close-knit Burnley community when he was sold to Second Division Stoke City for £25,000. A lot of fans vowed never to set foot inside Turf Moor again, and they have kept their promise, maintaining that the club has never been the same since the Irishman's shock departure more than four decades ago.
The precise reason for his exit was not satisfactorily explained, though there was a theory that the autocratic chairman, Bob Lord, objected to the player's friendship with another of the club's directors and decided, with typical abruptness, to fracture it.
Whatever, Stoke supporters were not complaining as McIlroy linked up with a bevy of fellow eminent veterans, including Stanley Matthews, Dennis Viollet and Jackie Mudie, to inspire the Potters to the Second Division crown within ten weeks of his arrival.
He proved to be the final ingredient in manager Tony Waddington's title mix, contributing the winning goal in a tense confrontation with fellow promotion aspirants Chelsea at Stamford Bridge, and then confirmed his niche in Victoria Ground folklore by helping to consolidate Stoke's place among the elite.
McIlroy was prominent, too, as the Potters reached the first major final in their history in 1964, though they failed to secure the League Cup, losing 4-3 over two legs to Leicester City.
In January 1966, having garnered his final cap during the previous November, the 34-year-old made a £5,000 move to Third Division Oldham Athletic as player-manager. Chairman Ken Bates gave him a five-year contract and although he had not intended to play first-team football, the side was so poor that he changed his mind, helping them to scrape clear of demotion at the end of that season.
Thereafter the Latics lingered mainly in mid-table, though McIlroy made his mark by bringing in many new players and securing the club's first Lancashire Senior Cup triumph for 60 years.
In August 1968 he returned to Stoke as chief coach, but resigned in 1969, then took over as chief coach and assistant boss to Nat Lofthouse at Bolton in the autumn of 1970. Soon Lofthouse became general manager and in November McIlroy assumed charge of team affairs at Burnden Park, though his reign proved both short and turbulent, ending with resignation after 18 days because the board demanded that he sell key players. He refused to submit to such constraints and had no alternative but to withdraw.
McIlroy, who ran a menswear shop in Burnley during his playing days, went on to become a journalist with the Blackburn Evening Telegraph, then the Burnley Express, enjoying as much golf as possible and taking up painting and sketching in later years. His wife Barbara died in 2002 and the couple are survived by their son Paul and daughter Anne.
In 2011, he was made an MBE for services to football and to charity, deciding to receive the honour at Turf Moor – in front of the Jimmy McIlroy Stand – instead of travelling to Buckingham Palace.
He loved the town of Burnley from the moment he arrived, and in 2005 he was still living in the same house he had occupied as a player – an appropriate and somehow moving demonstration of loyalty from the man referred to as "our greatest ever player" in a club statement reacting to his death.
Asked in a Sunday Life interview in 2008 whether he ever wished to have had the opportunity of playing elsewhere, McIlroy's answer was typically forthright.
"The fact that I've lived in Burnley since 1950 answers that I think. Maybe it's a case of being a big fish in a small pond, I don't know, but I've always felt at home here.
"I remember meeting the manager of Italy's Sampdoria football club the morning of the FA Cup final in 1962 when we played Spurs. He promised me all sorts – a villa overlooking the Mediterranean, an international school for my children, wages way beyond what I was getting in England. But when I went back to the hotel and told my wife she said to me, 'What would we want to leave Burnley for?'
"I even had a chance to go to South America, River Plate in Argentina at the age of 31 when I went on tour with Stoke there. Again I rang my wife and said there's good money here, etc, and she just said, 'Sure what would we want to leave Burnley for?' I've never regretted it. From the moment I arrived it felt like home and it has been home."
James McIlroy, footballer, born 25 October 1931, died 20 August 2018
Register for free to continue reading
Registration is a free and easy way to support our truly independent journalism
By registering, you will also enjoy limited access to Premium articles, exclusive newsletters, commenting, and virtual events with our leading journalists
Already have an account? sign in
Join our new commenting forum
Join thought-provoking conversations, follow other Independent readers and see their replies