JJ Cale: Singer, songwriter and guitarist whose easy, laidback style proved hugely influential
Eric Clapton referred to him as 'one of the most important artists in the history of rock'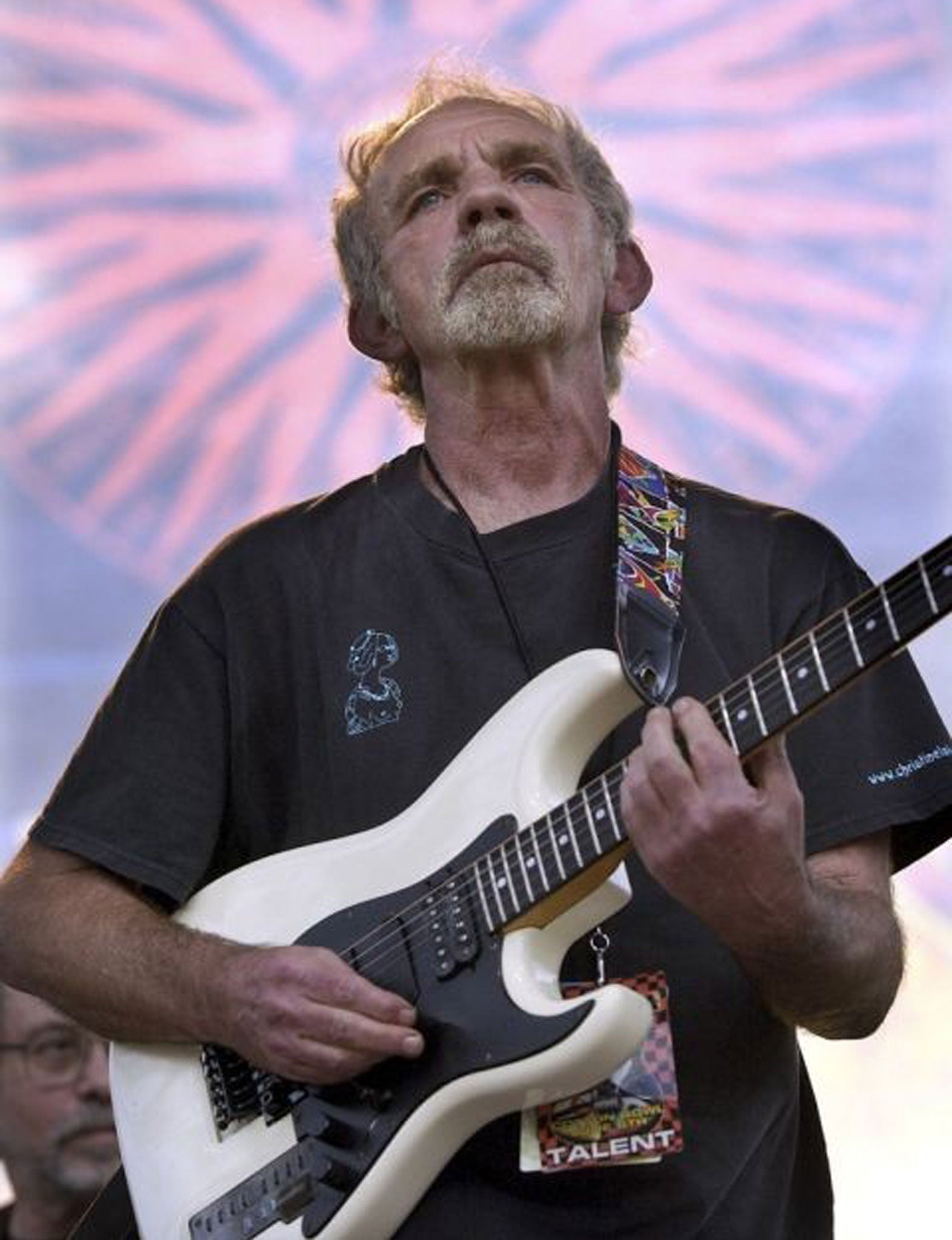 On the surface, there didn't seem to be much to the laidback music of JJ Cale, a pot pourri of blues, jazz, rockabilly, country and western swing that reflected his background and taste as well as the central location of his home town of Tulsa, Oklahoma, within the US. Yet this was a deceptive trick, as the guitarist, singer and songwriter spent a considerable amount of time perfecting the easy, distinctive sound of the 14 studio albums he released between 1972 and 2009. His recordings got under your skin and formed the soundtrack of the lives of many music aficionados who were first exposed to his superlative catalogue in the 1970s via performers like Eric Clapton, Captain Beefheart or Lynyrd Skynyrd. In his 2007 autobiography Clapton called Cale "one of the most important artists in the history of rock, quietly representing the greatest asset his country has ever had."
Clapton cut the Cale composition "After Midnight" in 1970 on his first solo album, which was produced by Delaney Bramlett and featured the Oklahoman musicians Leon Russell and Carl Radle. All three were Cale devotees and gave Clapton a copy of "After Midnight", the last of three limited-run singles he had recorded for the Liberty label while based in Los Angeles in the mid-'60s. The success of Clapton's version – his first solo hit in the US – turned Cale's fortunes around. "Once you get national exposure, even though your name is in small print as the songwriter, people want to record you because they think maybe you've got another one of those," said Cale, who had returned to Tulsa and was considering quitting music.
Indeed, he wrote several more enduring songs, including "Cocaine", covered by Clapton on 461 Ocean Boulevard, the 1974 album he considered "an homage to JJ Cale", "I'll Make Love To You Anytime'' (on Backless, 1978) and "Travelin' Light'' (on Reptile, 2001). The two became friends and eventually teamed up for The Road To Escondido, which won the Grammy Award for Best Contemporary Blues album in 2008. They collaborated again on the 2010 album Clapton, cut the title track of Cale's final album, Roll On, in 2009, and the Cale composition "Angel'' on Clapton's current album Old Sock, while Cale included a version of Clapton's "Golden Ring'' on his 2007 collection of out-takes, Rewind.
"That was the biggest compliment he could have paid me," said Clapton. "He has been an incredible inspiration to me. His records are really minimal, light, it's all about finesse. It's almost like he's whispering in your ear but you hear everything single word. I don't know how he does it. It's such a cunning technique."
Cale also penned "Call Me The Breeze'', recorded by Lynyrd Skynyrd and Johnny Cash, "Sensitive Kind'', revisited by Donovan and Santana, and "Same Old Blues'', cut by Beefheart and Bryan Ferry, and he also influenced Neil Young, Tom Petty and Jason Pierce of Spiritualized as well as Dire Straits. "Mark Knopfler didn't cut any of my songs, but I think he listened to a couple of my early albums and he got that groove," remarked Cale, who enjoyed his relative anonymity and only toured occasionally, mainly with musicians he had known since the late 1950s, and his wife of 16 years, the guitarist and songwriter Christine Lakeland.
"I was always a background person. I didn't want to be the show. It took me a couple of years to adjust to the fact that people were looking at me," he admitted in To Tulsa And Back: On Tour With JJ Cale, Jörg Bundschuh's excellent 2005 documentary.
Born John Weldon Cale in Oklahoma City in 1938, he was one of two siblings and grew up in relative poverty in Tulsa. He became interested in music with the advent of rock'n'roll and played in Russell's bar band The Starlighters, the originators of the "Tulsa Sound". After graduating from high school in 1956 he worked as a lift operator for $1.25 an hour before being drafted. He joined the air force and became interested in electronics during his technical training.
In 1964 he followed Russell to Los Angeles and served as his recording engineer on various sessions, but despite hooking up with the producer Snuff Garrett, for whom he cut the Liberty singles and an album of psychedelic covers, A Trip Down The Sunset Strip, he struggled to make a living as a musician. He was renamed JJ Cale by the Whisky a Go Go entrepreneur Elmer Valentine, who booked him to replace Johnny Rivers for the occasional gig and wanted to avoid confusion with John Cale, the bassist and violist with the Velvet Underground: "I said if you give me a job, you can call me anything you want to call me. They put my new name up on the marquee on Sunset Boulevard."
He had another lean spell in Nashville, where he met the publisher Audie Ashworth, who encouraged him to make an album "on spec" to capitalise on the exposure Clapton's success with "After Midnight" had given him. Using friends like Radle, down time at two Tennessee studios and pioneering the use of drum machines to keep costs down, Cale developed his trademark sound as he painstakingly assembled his Naturally debut. "I'd always played loud rock'n'roll guitar until that time. I did a 180 degree turn and played behind the beat and didn't turn up the volume, didn't use too much production and it worked," he recalled of the album which included a reworking of "After Midnight'', "Call Me The Breeze'' and his only US hit, "Crazy Mama'', the name he gave the studio he built in Nashville in the mid-1970s.
Ashworth struggled to place Naturally with a label until Russell and the British producer Denny Cordell signed Cale to their Shelter label in 1972. Even then, Cale wouldn't play ball, refusing to appear on Dick Clark's American Bandstand if it meant lip-synching to "Crazy Mama", and putting a racoon on the cover of Naturally, when solo artists traditionally introduced themselves to potential fans with a photo. Cale kept himself out of the picture for the albums Really and Okie as well as Troubadour, 5, Shades and Grasshopper – which all charted in the UK thanks to Shelter's distribution deal with Island and another upsurge in popularity via ''Cocaine''.
Cale admitted modelling the song on the jazz pianist Mose Allison. "I wrote it in a kind of cocktail jazz, old style swing style. Audie [Ashworth] thought I could make it a little bit more commercial, a little more rock'n'roll. I went back and recut it. That's the version you heard," he said of the composition Clapton always thought contained "a subtle element of disapproval" about the drug. "Some of my songs are really true from experiences I've had or seen other people have," said Cale. "Music comes from life. Life don't come from music."
The elusive Cale lived for several years in a trailer without access to a telephone, though he enjoyed using the latest technology in his home studio and drew inspiration from recording pioneers like the guitarist Les Paul. "Ninety-five per cent of my records is me manipulating the sound," he explained. "People like that natural sound, but a lot of that is me manipulating it to make it sound like a back-porch record. There's a bunch of technology that's been made to sound kinda funky, natural."
In the 1980s he left Tennessee for southern California, broke with tradition and appeared on the cover of the Number 8 album (1983) before taking five years off. Over the last three decades he had continued to operate at his own pace. In October 1994 he performed two memorable concerts at the Hammersmith Apollo in London, his bluesy shuffles sounding as fresh and as easy as ever. His last UK appearance was on Later ... With Jools the following year.
"I'm not really laidback," said Cale, who died of a heart attack. "My music is laidback, that's how I like my music. Billie Holiday is probably the biggest exponent of laidback there is. She always sang behind the beat and I loved that. Pausing gives you a different kind of sound from when you're playing right on the beat. Many musicians play that way, I didn't invent it. Somebody stuck that 'laidback' label on me as a marketing tool and it worked. I had no plan. I was just trying avoid work. Music I never considered work."
John Weldon Cale, singer, guitarist, songwriter and producer: born Oklahoma City 5 December 1938; twice married; died La Jolla, California 26 July 2013.
Join our commenting forum
Join thought-provoking conversations, follow other Independent readers and see their replies