Joe Frazier: Boxer forever remembered for his epic fights against Muhammad Ali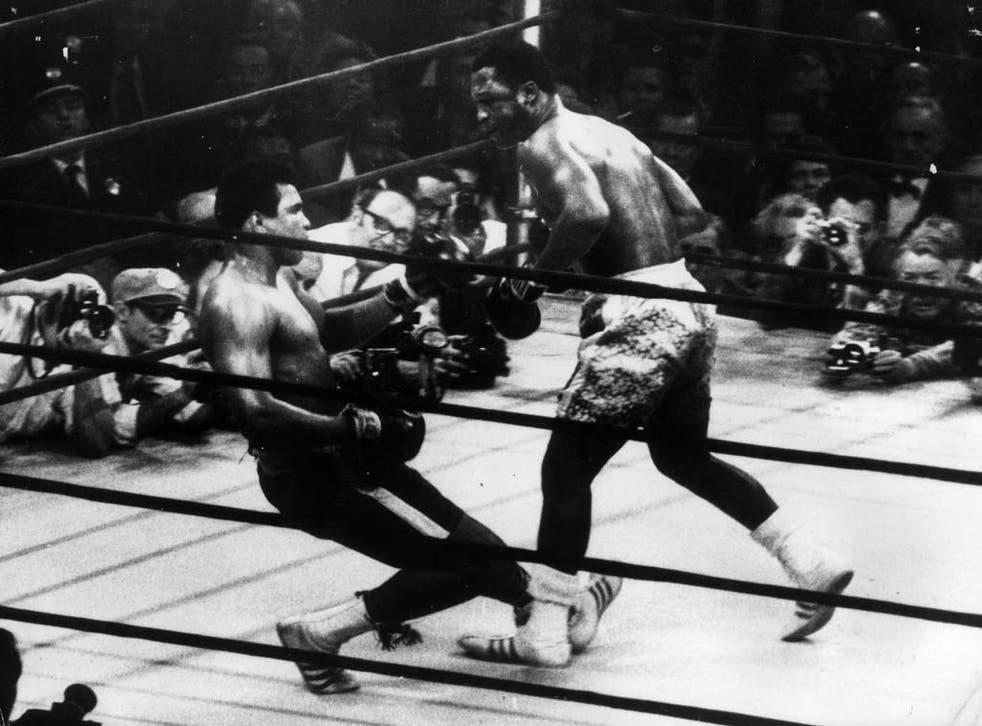 Joe Frazier – "Smokin' Joe" – will be remembered as one of the finest heavyweight champions, a fighter of rare will and commitment who played a leading role in what is regarded as the greatest period of heavyweight history, the early- to mid-1970s, in which he held centre-stage with the man with whom his name will be forever linked, Muhammad Ali. In three epic encounters, beginning in 1971 and culminating four years later in "the Thrilla in Manila", Frazier and Ali redefined the term "champion", proving that titles and belts often have little bearing on a fighter's claim to greatness. As Ali put it, "I couldn't be what I am without him and he couldn't be what he is without me."
Born in Beaufort, South Carolina, in 1944, the 12th child of poor farmers, Joe Frazier's interest in boxing was sparked by a relative's pronouncement that he would one day be "another Joe Louis." His strength built by farm labouring, "Billy Boy", as he was known, spent hours with a makeshift punch-bag: "And from the git-go, the left hook was my weapon of choice. Boom-boom-boom: I'd throw it like a wrecking ball against that burlap sack and feel a tingle from head to toe from the impact it made."
After leaving for New York in 1959, Frazier settled in Philadelphia and found work in a slaughterhouse, where he would practise his punches on frozen sides of beef, a routine later immortalised by Sylvester Stallone in Rocky. Under the tutelage of trainer Yancey "Yank" Durham, he made rapid progress through the amateur ranks, winning a place on the US Olympic team when Buster Mathis withdrew through injury. In the 1964 Tokyo Games, Frazier, fighting with a broken thumb, beat his German opponent in the final to win the heavyweight gold medal.
The following year, backed by a consortium of Philadephia businessmen, Frazier turned professional, stopping his first 11 opponents before surviving two knockdowns to win a 10-round decision over future contender Oscar Bonavena in 1966. At just under six feet tall and with short arms, Frazier's style was all-out-attack, a tactic encouraged by Durham, whose exhortations to "make smoke come from those gloves" gave rise to Frazier's nickname. A fourth-round stoppage of the tough Canadian George Chuvalo in 1967 propelled Frazier into the front ranks of a heavyweight division thrown into chaos by the decision to strip Ali of the title following his refusal to be inducted into the army.
In 1968, having boycotted the World Boxing Association's elimination tournament to determine Ali's successor, Frazier fought Buster Mathis for the New York State version of the title, which he won by an 11th-round knock-out. He defended his title four times before facing Jimmy Ellis, the winner of the WBA tournament, for the unified title in New York in 1970. A fourth-round knock-out brought Frazier recognition as undisputed champion but many, including Ali, regarded his claim as invalid until he faced the former champion.
A Supreme Court decision cleared the way for what was immediately described as "The Fight of the Century" – the first heavyweight fight between two undefeated champions. Although Frazier had publicly supported Ali during his exile, he now found himself on the receiving end of Ali's gamesmanship, denounced as an "Uncle Tom" and "the white man's champion". Both vicious and untrue, the slurs only strengthened Frazier's resolve, while laying the groundwork for the bitterness he would feel towards Ali.
The fight, at Madison Square Garden on 8 March, 1971, lived up to its billing. In front of a crowd filled with celebrities and the sharpest-dressed denizens of Harlem, Frazier, always a slow starter, fell behind before gradually working through Ali's stinging punches to land his left-hook combinations. With Ali producing his best work in the ninth, Frazier ground inexorably on, gradually closing the points gap, until in the 15th and final round, he launched the best left hook of his life, knocking Ali to the canvas and effectively winning the fight. Gracious in defeat, Ali said, "Joe's the champ. I call him champ now. Not before but I do now."
A rematch was inevitable, but while Ali worked his way back into contention, Frazier underlined the message he embodied – "Smokin' is bad for your health" – by crushing two over-matched challengers, Terry Daniels and Ron Stander, in 1972. The following year, he defended his title against his successor as Olympic heavyweight champion, George Foreman, in Kingston, Jamaica. Although firm favourite, Frazier was brutally dethroned inside two rounds, during which he suffered six knockdowns—one punch actually lifting him off the canvas. Three years later, in a non-title fight, Foreman repeated the drubbing over five rounds, in what was Frazier's last serious contest.
Following a points win over Joe Bugner in London later that year, Frazier fought Ali again, in January 1974, for the largely irrelevant North American Boxing Federation title. It was keenly contested but less intense than their previous encounter, Frazier losing the decision over 12 rounds. With the seemingly invincible Foreman installed as champion, it seemed as though Frazier had run out of options, but following Ali's victory over Foreman in "the Rumble in the Jungle", Frazier re-established himself as the leading contender with wins over Jerry Quarry and Jimmy Ellis.
And so the stage was set for the third and final meeting between Frazier and Ali, in the exotic setting of Quezon City, in Manila, on 30 September 1975. Bankrolled by President Marcos, the bout saw Frazier earn a purse of $3 million dollars against Ali's $6 million (both fighters had earned $2.5 million for "The Fight of the Century"), but was not expected to reach the heights of their first encounter. Again, Ali humiliated Frazier in the run-up to the fight, declaring it would be " a killa, a chilla, a thrilla when I get the gorilla in Manila."
In suffocating heat and humidity, the fight unfolded in a familiar pattern, Ali building up an early lead before Frazier came on strong. Like many observers, Ali had felt that Frazier's best days were gone, but the relentless challenger bobbed and weaved forward, pounding his fists together before launching yet another combination. "They told me you was washed up," said Ali. "They lied," replied Frazier.
Eventually, however, Frazier's left eye started to close and Ali was able to land punches at will, a right-hand in the 13th sending Frazier's gum-shield flying across the ring. As concern mounted in both corners about the toll being exacted on each fighter, Ali dominated the 14th round but was on the point of collapse when he returned to his stool. By then, however, Frazier's trainer, Eddie Futch, had seen enough and refused to let Frazier out for the final round. "Sit down, son," he told him, "It's all over. But no one will ever forget what you did here today."
Frazier would make one ill-advised comeback after the second Foreman fight, earning a disputed draw against Jumbo Cummings in 1981. He later trained and managed fighters in his Philadelphia gym, including his son, Marvis, whom he guided to a title fight against Larry Holmes. His bitterness against Ali, which was not unjustified, surfaced periodically, most harshly when his old foe was chosen to light the Olympic flame at the 1996 Games. But it seems fitting to leave the last word on Joe Frazier to Ali, spoken after their epic encounter in Manila – "Joe Frazier is a real, real fighter. He is the toughest man in the world ... If I'd taken the punches he took in there I'd have quit long before he did. He is a man."
Joseph William Frazier, boxer: born Beaufort, South Carolina 12 January 1944; married 1963 Florence Smith (divorced 1985; five children); at least two other children; died Philadelphia 7 November 2011.
Register for free to continue reading
Registration is a free and easy way to support our truly independent journalism
By registering, you will also enjoy limited access to Premium articles, exclusive newsletters, commenting, and virtual events with our leading journalists
Already have an account? sign in
Register for free to continue reading
Registration is a free and easy way to support our truly independent journalism
By registering, you will also enjoy limited access to Premium articles, exclusive newsletters, commenting, and virtual events with our leading journalists
Already have an account? sign in
Join our new commenting forum
Join thought-provoking conversations, follow other Independent readers and see their replies