Joe Gilmore: Head barman of the Savoy Hotel's American Bar who mixed Neil Armstrong's first drink back on Earth
A man of great civility and kindness, he loved horse racing and did the pools each week with the Duke of Marlborough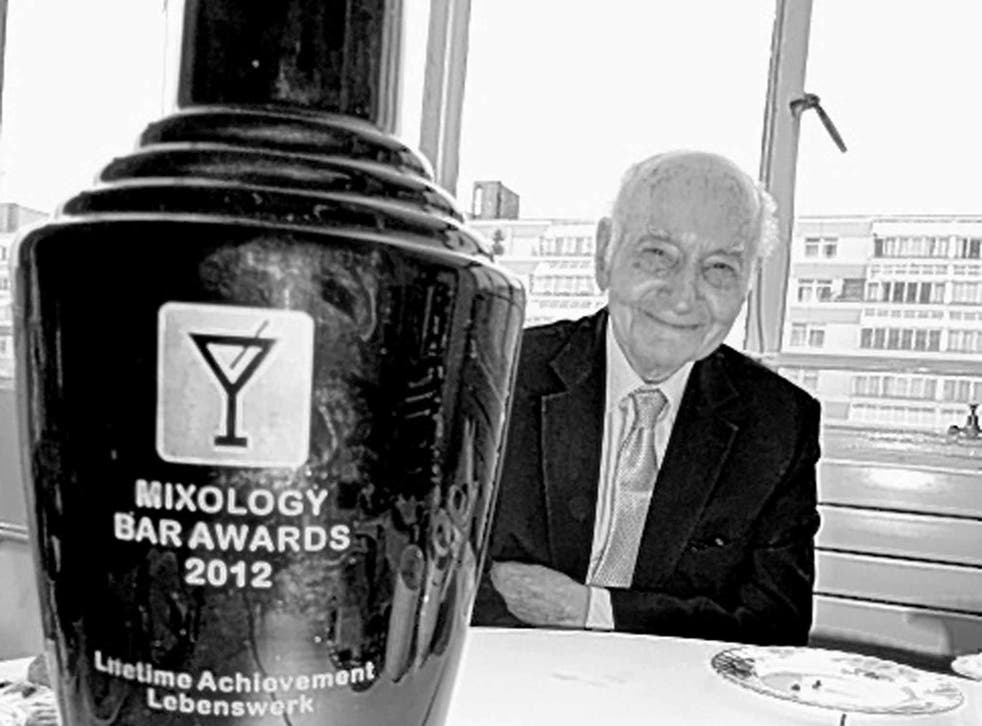 Joe Gilmore mixed drinks for film stars and royalty, prime ministers and presidents during an extraordinary career as one of the world's most celebrated barmen. The genial Irishman, who set out for London in search of adventure aged 16, became a confidant of the rich and famous as head barman at the Savoy Hotel's American Bar.
All the film greats, from Chaplain to Grace Kelly, Marlene Dietrich to Olivier, were served with his legendary cocktail shaker. There were Whisky Sours for Joan Crawford; White Ladies for Laurel and Hardy. Vodka was a rarity, but a single bottle was set aside for Errol Flynn, to be served with red pepper. Frank Sinatra would stop by for a Dry Martini before his shows. "Set 'em up, Joe," he would say, just like his famous song.
Winston Churchill was another frequent visitor, keeping his own large bottle of Black & White whisky behind the bar. When Gilmore created a cocktail in his honour, Churchill gave him one of his famous cigars. "It didn't last long," he said. "I didn't smoke it. But I kept on showing it to guests, and it soon turned to sawdust."
He served generations of British royalty and hosted many of their private functions: Princess Margaret flew him to Mustique for parties on the Caribbean island. Gilmore also followed the Savoy tradition of creating drinks for special occasions – his Moonwalk, made for the first moon landing in 1969, was sent across the Atlantic in a flask on Pan Am and was the first drink Neil Armstrong had back on Earth.
One of 10 children born to a tobacconist in north Belfast, Joseph Gilmore left for London when he was old enough to cross the Irish Sea and his first job was packing rolls of wallpaper for £1 a week. He washed dishes at a Lyons Corner House in Shaftesbury Avenue before getting bar jobs at La Coquille on St Martin's Lane and The Old Bell at Hurley, where two stylish guests showed him how to make his first cocktail. The gentleman was the millionaire steel baron Kenneth Davies, later to become a close friend; the lady with him was the famous aviator Amy Johnston.
Gilmore started at The Savoy aged 18, earning £3 10s a week as an apprentice to Harry Craddock, who had left America during Prohibition and created the mixologists' bible, The Savoy Cocktail Book. During the Blitz the hotel was home to many celebrated Londoners, and the bar was never short of whisky or gin. He also served De Gaulle, Eisenhower and Clark Gable, sent to entertain the troops.
Gilmore's skill and incredible memory for recipes saw him take over as head barman in 1954. He invented countless cocktails, celebrating royal births and weddings, celebrity guests, and significant events ranging from entry to the Common Market to the opening of stage shows.
His growing celebrity saw him appear regularly on television. When the breathalyser was introduced, he was asked by NBC in New York if it had affected business. "Not here," he said. "All our customers are chauffeur-driven."
Gilmore retired from the Savoy in 1975, but missed his customers and returned a decade later in an ambassadorial role, touring the world. He loved horse racing – every Saturday morning he would ring his sister Elizabeth in Belfast and choose their horses for the day – and did the pools each week with the Duke of Marlborough. He was awful at picking winners. Sir David Davies, son of Kenneth and author of the 2003 tribute Joe Gilmore and his Cocktails, said friends advised: "You wanted to go long on his drinks, but short on his tips."
But by common consent the devout Catholic was a man of great civility and kindness. At his funeral, arranged by A France & Son, near-neighbours in Lamb Conduit Street for more than 50 years, son Anthony said: "Not only was he a legendary barman but a true gentleman of humility and grace."
His granddaughter Francesca also summed up a remarkable life. "I'll never forget walking into Poppa Joe's living room one December afternoon to see him reading some letters," she said. "He handed one to me and I read through it. It was from Princess Diana.
"He then handed me the other letter, I didn't even read this one, instead my eyes instantly dropped to its sender. It was from Neil Armstrong. It was then that I realised how incredible his life really was."
Joseph Patrick Gilmore, barman: born Belfast 19 May 1922; married 1944 Marie Zambelli (three sons); died London 18 December 2015.
Join our new commenting forum
Join thought-provoking conversations, follow other Independent readers and see their replies