John Button: Father of Jenson, the former Formula 1 world champion, who became a much-loved figure in motor racing
He was famous for his Rocket karting engines, which helped youngsters like Lewis Hamilton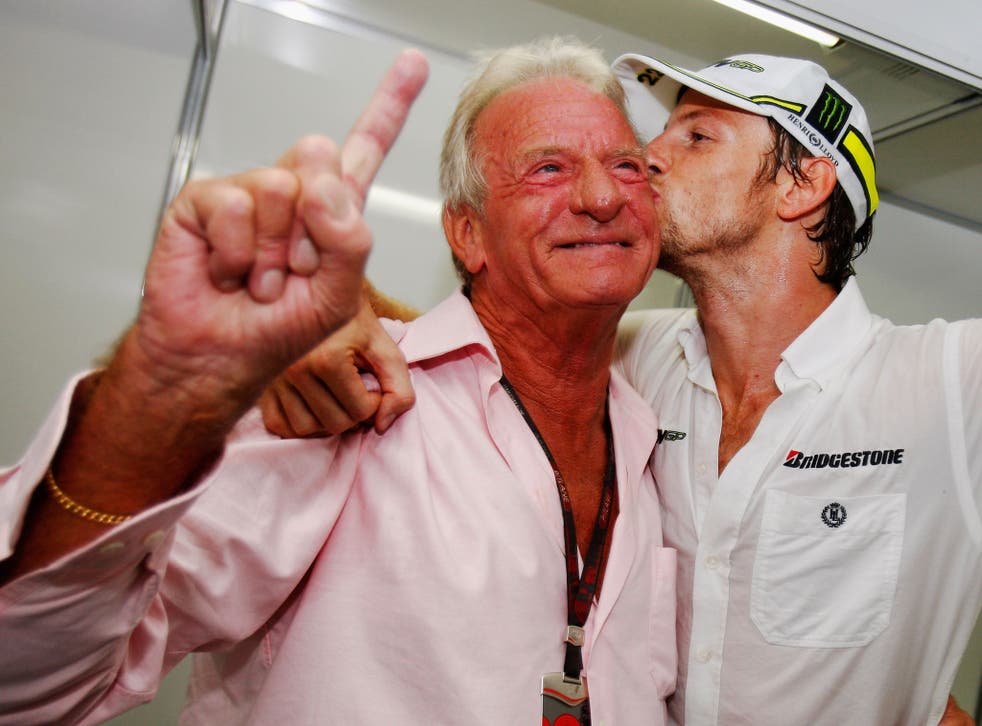 John Button, arguably the greatest "racing dad" Formula 1 has ever seen, died of a heart attack only days before his son Jenson was due to test McLaren's 2014 contender for the first time. An immensely popular figure throughout motor racing, but most especially at McLaren, Button Snr was always there in support throughout his son's career, yet he never made the mistake others did of intruding or interfering with the running of each team he drove for, let alone remonstrating with anyone when things went wrong. He understood exactly how things worked in the sport he loved.
He had many nicknames, notably "Papa Smurf" (because of a blue figurine he liked to photograph at each race), "Papa Grappa" (because of his intake, especially with Japanese engineers in his son's Honda days, of the Italian brandy) and "JB", but for me he was always "Sloop", as in "Sloop John B". Last year in Hungary, when he celebrated his 70th birthday, he was the toast of the vast McLaren Brand Centre in the paddock and the beneficiary of a surprise party his son had laid on for him with his whole family in a local restaurant.
McLaren's team principal Martin Whitmarsh summarised the feelings of many when he said of him: "In my long Formula 1 career, I've encountered many drivers' fathers, but I think it's safe to say that John was perhaps more devoted to his son than any of them. Ever since Jenson was a boy, racing go-karts, his dad has been at his side, helping him, supporting him, finding the money for the next race.
"As Jenson grew older, and continued to win in cars, still John was always there, his most steadfast helper and supporter. And, even now, in recent years, during which Jenson has become the consummate Formula 1 world champion that he is and the most experienced driver on the grid, still John has been ever-present, as loyal and as loving as ever, a benign and popular member of Jenson's small and intimate entourage.
"This coming season will be Jenson's fifth as a McLaren driver. I believe John has attended every grand prix over the past four seasons, and over that period he's become a unique and, I think it's fair to say, irreplaceable part of the McLaren 'family'."
Button Snr understood racing because he had competed himself with distinction, in rallycross. He started trading cars in London in the 1960s, which is where he first met Bernie Ecclestone, who recognised in him a kindred spirit. And it was while running a Volkswagen garage called Autoconti in Trowbridge, Wiltshire, that he began campaigning a distinctive VW Beetle in the offroad sport.
Its distinctive colour scheme earned it the title "Colorado Beetle", and he was delighted at a race last year when somebody handed him a magazine that contained a photo of it. In 1976 he finished runner-up in the Embassy/RAC-MSA British Rallycross and TEAC/Lydden Rallycross championships. He also became famous in karting for the performance of his must-have Rocket engines in the Cadet class, where he helped many up-and-coming youngsters, including a kid from Hertfordshire called Lewis Hamilton.
He was happy to retire from driving as Jenson became ever more proficient in his own racing career, and little was sweeter for him than when his son walked out of a meeting in Spain in January 2000 with Sir Frank Williams, in which the Williams team owner had made his decision who should race his second car, and greeted him with the words, "Dad, I'm a Formula 1 driver!" Later, John was there to hug him when Jenson clinched the 2009 World Championship after a gritty drive in the Brazilian Grand Prix.
Never one to boast about his son's successes (though quick to defend him against criticism), he was happy to travel the world doing what he loved – watching his son racing and spending time with people he liked in the paddock. He was hugely charismatic and kind, and a fund of great anecdotes and jokes, the person you first sought out when it was time to unwind and have a cuppa and a laugh. And he was always the life and soul of the many parties he rigorously enjoyed. Truly, he was a man who filled every minute of a busy life.
He bestowed his trust and respect like a badge of honour, but the hysterical stories he would have told in the autobiography on which we were to collaborate when the time came will now forever remain untold. Instead, the passing of the man in the trademark pink shirt leaves a massive void in the paddock that will not be filled.
John Button, rallycross driver: born London 27 July 1943; married Simone (marriage dissolved; one son and three daughters); died Èze, France 12 January 2014.
Register for free to continue reading
Registration is a free and easy way to support our truly independent journalism
By registering, you will also enjoy limited access to Premium articles, exclusive newsletters, commenting, and virtual events with our leading journalists
Already have an account? sign in
Register for free to continue reading
Registration is a free and easy way to support our truly independent journalism
By registering, you will also enjoy limited access to Premium articles, exclusive newsletters, commenting, and virtual events with our leading journalists
Already have an account? sign in
Join our new commenting forum
Join thought-provoking conversations, follow other Independent readers and see their replies