John Chilton: Trumpeter and admired jazz historian who made his name as leader of the Feetwarmers, supporting George Melly
Saturday 27 February 2016 01:12 Comments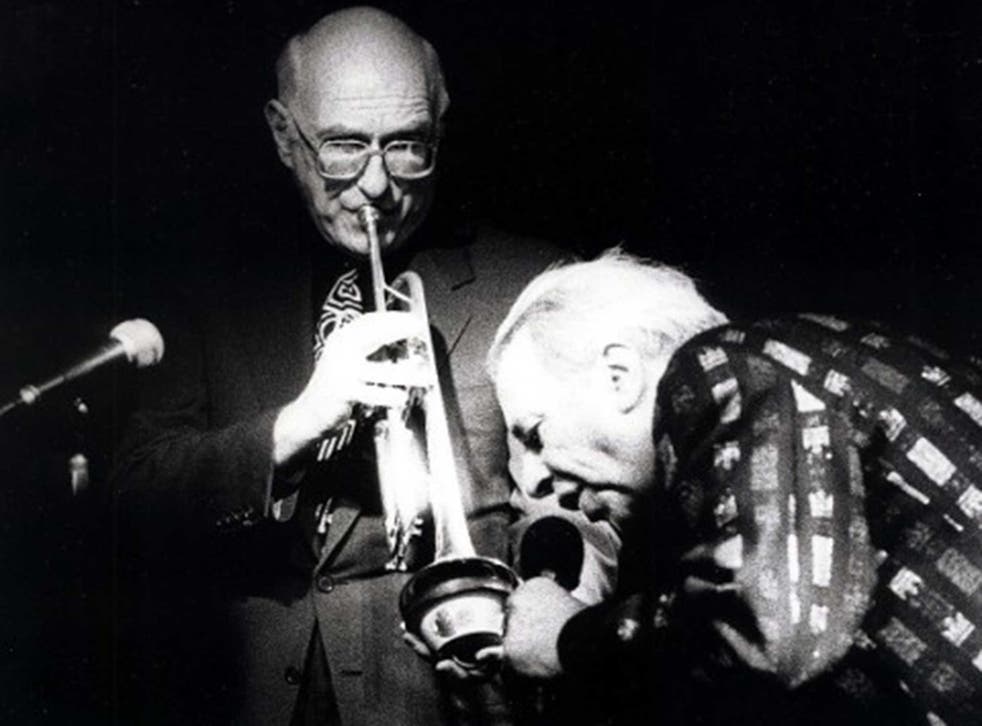 John Chilton, who has died after a short illness, was a fixture on the British entertainment scene for 30 years as the bandleader for singer George Melly. But he also had an international reputation as a scrupulous researcher into jazz history, and published several authoritative biographies and two widely used reference books.
Given his diligent approach to music and its documentation, the partnership with the flamboyant Melly seemed chalk and cheese. But Melly was deeply enmeshed in the sounds and stories of early jazz, and Chilton was equally enamoured of vintage humour from Will Hay onwards. Chilton's accurate description of their "strange mixture of frivolity and a passionate devotion to improvised music" encompassed authentic revivals of ancient jazz records and the "hoary old [comedy] routines favoured by unsuccessful double-acts of the 1930s."
Chilton's musical interest was captured at the age of 12 when, evacuated to Northamptonshire from his family's London council flat, he accidentally heard on the radio a record by Jelly Roll Morton and Sidney Bechet. He began a jazz scrapbook, while the couple he lodged with helped him to buy a second-hand cornet, later exchanged for a trumpet when he started playing casual gigs in his late teens. National Service followed, then he joined Bruce Turner's jazz group from 1958-63. During this period, he married jazz fan and professional photographer Teresa Kendall, whose idea it was to open the Bloomsbury Bookshop in tiny premises on Great Ormond Street in 1967.
To support his wife and children after leaving the Turner band, Chilton did publicity work for the promoter Jim Godbolt, who managed the Swinging Blue Jeans pop group and also set up tours by US jazz musicians such as Buck Clayton and Ben Webster. Chilton formed a part-time band, The Swing Kings, which played with some of the visitors, and also took the opportunity to check his now-bulging scrapbook information on these Americans. The veteran journalist Max Jones, interviewing the touring musicians for Melody Maker, saw how initial wariness about having their back stories related in such detail turned to admiration for the accuracy of Chilton's research.
This led to collaboration with Jones on a small publication called Salute To Satchmo (1970), and then on a full-size book, Louis: The Louis Armstrong Story (1971), for which their subject co-operated wholeheartedly. Chilton's first solo book, Who's Who of Jazz (Storyville to Swing Street) (1972), was basically an exhaustive tabulation of his information on early jazz musicians, self-published by Bloomsbury Bookshop before being picked up by major imprints.
A series of biographies of American greats followed, beginning with Billie Holiday (Billie's Blues) in 1973, the year after the sensationalist Diana Ross film, and continuing until his 2002 book on the trumpeter Roy Eldridge (Little Jazz Giant). His Who's Who of British Jazz first appeared in 1997.
What was initially a continuation of Chilton's semi-pro career had seen him in 1969 become joint leader with the clarinettist and cartoonist Wally Fawkes of a group they named the Feetwarmers, after Bechet's famous recording band. Their popular Sunday pub sessions were frequently joined (unpaid) by visiting Americans and by the then-retired singer George Melly. The buzz surrounding these performances engendered Melly's popular album Nuts (1972), largely recorded live at Ronnie Scott's, where they began a series of annual residences. Melly and Chilton then took the Feetwarmers on tours that eventually included Australia, New Zealand, China and America, which facilitated further biographical researches.
Chilton was musical director of the package (and editor of the comedy routines) and created several songs for Melly such as "Good Time George", which became the title of their television series in 1983-84. Another of these songs, "Give Her A Little Drop More", was picked up for the 1985 Hollywood film St Elmo's Fire.
By the time of his autobiography, Hot Jazz, Warm Feet (2007), Chilton's writing had developed into a flowing style that married factual detail with effortless humour. At the end of 2002, aged 70, he disbanded his touring group and proudly noted that on its formation in 1974 Fawkes had estimated its likely lifetime as six months. He began playing locally again, including with Fawkes, and said he would "only work where the London red buses go."
In recent years, he had suffered from Parkinson's disease, but the honours he received included two awards for Historical Recorded Sound Research from the US Association for Recorded Sound Collections. While still on tour with Melly, he received the freedom of the city of New Orleans for his books on his hero, Louis Armstrong, and his first inspiration, Sidney Bechet, and he earned a Grammy for his liner notes to a Bunny Berigan reissue.
The distinguished American scholar Dan Morgenstern described Chilton as "a writer who understands jazz and knows its musical and social history, [and] has the patience and diligence to find new information and use it well." His work with Melly did much to create new audiences for jazz, and he will be remembered with affection by all those who saw him in action.
BRIAN PRIESTLEY
John James Chilton, trumpeter, bandleader and author: born London 16 July 1932; married Teresa Kendall (one daughter, two sons); died 25 February 2016.
Register for free to continue reading
Registration is a free and easy way to support our truly independent journalism
By registering, you will also enjoy limited access to Premium articles, exclusive newsletters, commenting, and virtual events with our leading journalists
Already have an account? sign in
Join our new commenting forum
Join thought-provoking conversations, follow other Independent readers and see their replies