John Esmonde: Sitcom writer who with Bob Larbey created TV favourites including 'The Good Life' and 'Please Sir!'
Thursday 14 August 2008 00:00 BST
Comments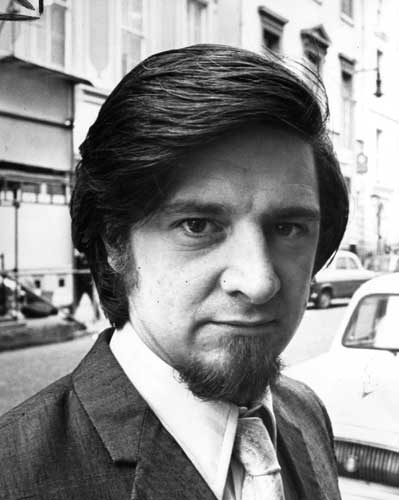 In 30 years as half of a writing duo with Bob Larbey, John Esmonde shared in creating more than a dozen television sitcoms. The most popular was The Good Life (1975-78), which went beyond the bland, archetypal domestic setting of many such programmes by adding the twist of its leading characters opting out of the rat race to seek self-sufficiency in their middle-class, suburban home.
It was written as a vehicle for Richard Briers, who played Tom Good, giving up his job as a draughtsman as he turned 40 and, with his wife Barbara (Felicity Kendal), digging an allotment in the front garden of their house in The Avenue, Surbiton, Surrey, and moving pigs, hens and a goat into the back garden. Inevitably, this was met with consternation by the couple next door, Jerry Leadbetter (Paul Eddington) and his toffee-nosed wife Margo (Penelope Keith).
This original idea evolved from the writers' own thoughts about turning 40 and they saw the urban setting, rather than a rural smallholding, as crucial. "Placing them in The Avenue, where a number of Margos and Jerrys lived up and down the road, not just next door, provided the abrasiveness," explained Esmonde.
Amongst all these smart houses lived the Goods, with a front garden packed with leeks, and the back full of pigs. It made for a more interesting show having the neighbours as friends. Tom had been a pal of Jerry's at the office and you don't stop being mates because one of you seems to have gone slightly mad!
Although this eventually proved to be a winning formula, regularly attracting up to 15 million viewers, the programme took a while to build up audiences. It was particularly notable for gaining a loyal following among the middle classes at whom it poked fun. "It wasn't until the third series that it became huge," Esmonde recalled.
But those were the days when, instead of taking the show off, the BBC would say, "No, keep going, you've got something here." They gave you the opportunity to fail as well as learn, which was so valuable to writers.
In 2004, three decades after its original transmission, The Good Life came ninth in a BBC poll of viewers' favourite sitcoms.
Born in Battersea, south London, in 1937, Esmonde attended the Henry Thornton School, in Clapham, where one of his fellow pupils was Bob Larbey and they shared a similar schoolboy humour. After National Service in the RAF, Esmonde worked in the offices of a paint company, then as a journalist writing about food processing and packaging, while Larbey had a job in a foundry.
Still friends, they met regularly for lunch and chatted about local revues and their favourite radio shows. As a result, Esmonde and Larbey started writing sketches themselves and sent them to the BBC, which eventually accepted one for a programme that included Cyril Fletcher and paid them a joint fee of two guineas.
Their breakthrough came with the idea for a radio sitcom, Spare a Copper (1965-66), featuring the Carry On film star Kenneth Connor as a bungling policeman – and enabled them to become full-time writers, although at times Esmonde was kept afloat only by his wife Gina's job selling books in offices and door-to-door.
The pair followed it with two further radio series, You're Only Old Once (1969), with Clive Dunn as a lively pensioner, and Just Perfick (1969-71), adaptations of H.E. Bates's Larkin family stories.
By then, Esmonde and Larbey had established themselves in television, having begun with sketches for The Dick Emery Show, which started in 1963. They landed their own series with Room at the Bottom (1967), which followed a BBC "Comedy Playhouse" pilot the previous year. Set among the maintenance workers at Saracens Manufacturing Company, the comedy revolved around the confrontations between their leader, Gus Fogg (Kenneth Connor), and the company's personnel director (Deryck Guyler), but it did not prove a success.
However, the writing team's next idea became one of television's most popular sitcoms. Turned down by the BBC, Please Sir! (1968-72) was snapped up by ITV and became a favourite with 20 million viewers. It was set in Fenn Street Secondary Modern School, with John Alderton as Bernard Hedges, the fledgling teacher trying to keep order among the unruly pupils of Class 5C.
Although in the mould of a number of raucous comedies broadcast by the commercial channel at the time, it benefited from the ensemble cast playing the teachers – Noel Howlett as the headmaster, Cromwell, Joan Sanderson as the assistant head, Miss Ewell, Richard Davies as the stereotypical Welshman Price and Erik Chitty as the elderly Smith. They were joined by Deryck Guyler, playing the caretaker, Potter, and there was a 1971 film spin-off.
Another spin-off was the sitcom The Fenn Street Gang (1971-73), following the fortunes of pupils on leaving the school, which itself spawned the prequel Bowler (1973), starring George Baker as a wide-boy villain, who had been seen as one of the school-leavers' bosses in the previous series.
Alongside The Good Life on the BBC, Esmonde and Larbey had another ITV hit, the RAF sitcom Get Some In! (1975-78), featuring Tony Selby as the drill instructor Corporal Marsh barking orders at National Service recruits in the 1950s and based on the writers' own experiences (Larbey had been in the Army).
When The Good Life was nearing its end, they wrote The Other One (1977-79), again starring Richard Briers, this time with Michael Gambon, playing two loners dependent on each other's friendship. Despite Esmonde and Larbey's fondness for it, viewers were not so enthusiastic, perhaps feeling uncomfortable with Briers in the role of an unscrupulous character.
However, the writing duo created two more series for Briers. In the popular and long-running Ever Decreasing Circles (1984-89), he was back in suburban surroundings as the fusspot and know-it-all do-gooder Martin Bryce, with Penelope Wilton as his ever-suffering wife, Ann. Then, in Down To Earth (1995), Briers played Tony Fairfax, an expatriate struggling to adapt after returning to Britain from South America – but, again, viewers did not find his character sympathetic.
In between, Esmonde and Larbey enjoyed success with Brush Strokes (1986-91), starring Karl Howman as a womanising painter and decorator, and Gary Waldhorn as his boss. Howman also took the title role in Mulberry (1992-93), playing the manservant of the crotchety old spinster Miss Farnaby (Geraldine McEwan).
Having decided that Down To Earth would be their last series together, Esmonde and Larbey went their separate ways. Esmonde retired to the coastal village of La Herradura, in the Granada province of Spain, and concentrated on writing novels. "I haven't had one published yet, but being rejected makes me feel young again," he said.
Anthony Hayward
John Gilbert Esmonde, television scriptwriter: born London 21 March 1937; married 1960 Gina Barton; died 10 August 2008.
Join our commenting forum
Join thought-provoking conversations, follow other Independent readers and see their replies