John Gardner: Composer whose strong melodic sense defied the modernists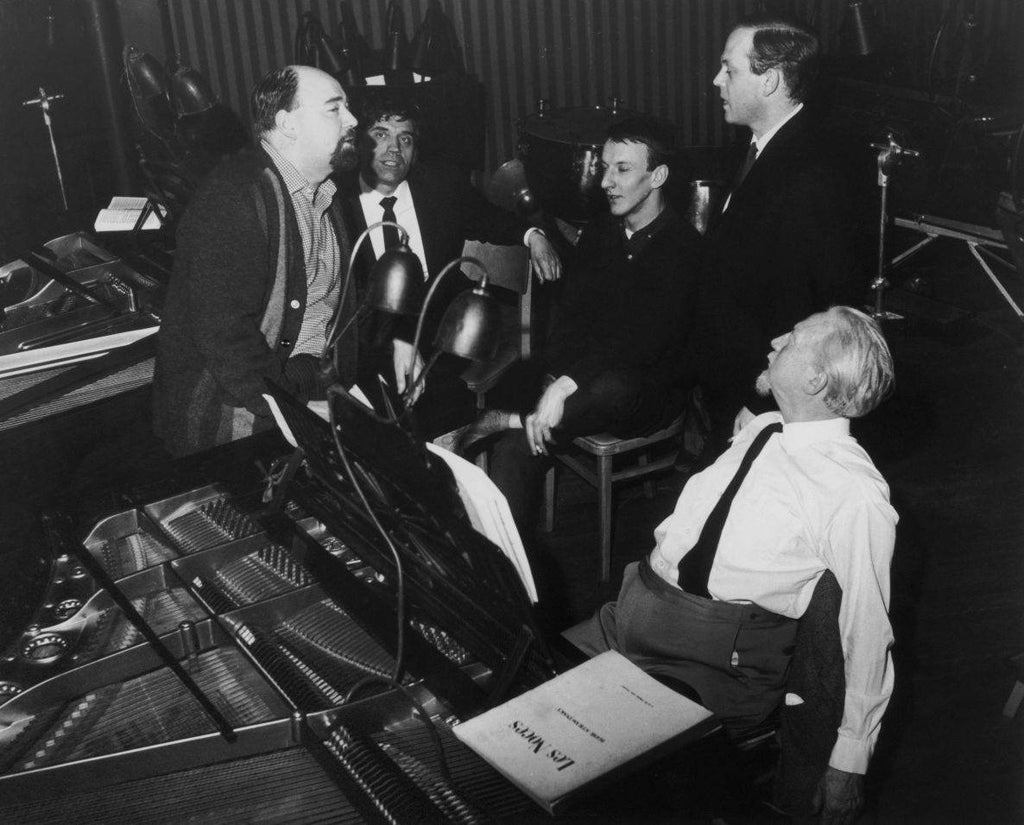 A runaway success can be a mixed blessing for a composer: Rachmaninov grew to resent his C sharp minor Prelude, and Enescu his Romanian Rhapsodies, which distracted attention from the rest of their output. John Gardner's dangerous hit was the short choral piece "Tomorrow Shall Be My Dancing Day", the second of his Two Carols of 1965, which choristers around the world have been singing for almost five decades.
It deserves its success: its catchy alternation of time signatures and the big-hearted harmonies of its closing verse mean it lives on in the memory long after its two minutes are over. But Gardner wrote over 300 works – his opus list reaches 249, and there are other pieces he didn't number – and they have had less ready access to the public ear. It's the public's loss: Gardner was one of the best composers Britain has produced in the past century.
He first came to general notice in 1951, when Sir John Barbirolli conducted his First Symphony in Cheltenham – and by then he had already lived a full enough life to satisfy most biographers. Gardner came from a family of doctors: his father, killed in the dying months of the war, had been a passionate amateur composer, as had John's grandfather, and John himself began composing in boyhood. "I've got a composition I wrote at the age of seven," he later recalled; "It's illiterate, but it still is an attempt at music." He was also a fine cellist and excellent pianist.
An early enthusiasm for jazz was put aside for classical music at school, at Eagle House and Wellington College in Berkshire. By his mid-teens he was promising enough a composer for Hubert Foss, head of music publishing at Oxford University Press, to take him under his wing and an Intermezzo For Organ appeared in print in 1936.
The organ was to prove an important element in Gardner's life: in 1936 he won an organ scholarship to Exeter College, Oxford and the music of his maturity contains many fine works for the instrument. But Gardner had little time for his formal education at Oxford: "they weren't lessons in composition. It was how to pass B. Mus. exams".
One compensation was becoming friends with Theodor Adorno, then a Jewish refugee and later an influential music theorist; he and Gardner enjoyed playing piano duets together. From Oxford, Gardner went to Repton College as music master. But war had broken out, and he spent only two terms there before enlisting in the RAF as a bandmaster and dance-band pianist. His interest in jazz, revived at Oxford, became an enduring enthusiasm, and conducting popular music became part of his duties: "As Bandmaster i/c Fighter Command Band, I was often called upon to accompany showbiz stars who were visiting RAF stations to entertain the men. Among those I collaborated with were Flanagan and Allen, Tommy Handley, Teddy Brown (the 26-stone xylophonist), Monsewer Eddie Gray (an idyllic juggler), Florence Desmond, Harry Lauder and, best of all, Beatrice Lillie." He also founded a swing band, and later saw action as a navigator with Transport Command.
On demobilisation in 1946 Gardner joined the music staff of the Royal Opera House, Covent Garden, as a répétiteur. War's end brought another change: Gardner took the drastic decision to reject his previous compositions –including two ballets, some cabaret songs for the new medium of television and a set of orchestral Variations on an Old German Chorale which one contemporary, who heard Gardner conduct the premiere in Cape Town in 1944, described as "a wonderful piece of music".
He began again with a new Op. 1, three songs for women's voices and piano. His earlier works ended up "stacked at home; I haven't thrown them away, but they're not worth performing". Older composers' views on their earlier works are notoriously unreliable; it's entirely possible that these stacks of old manuscripts contain music that still deserves a place in the repertoire.
That might explain why the First Symphony, Op. 2 in Gardner's new worklist, shows such maturity and structural control for a rookie symphonist; the musical language is also secure – he had found an individual voice. The success of the First Symphony brought in commissions and in 1952 Gardner was able to resign his post at the opera house and live from his compositions for a while. Two of the biggest commissioned at this time were the seven-movement choral work Cantiones Sacrae for the 1952 Three Choirs Festival and the opera The Moon and Sixpence, premiered at Sadler's Well in 1957.
But the musical climate was changing, and Gardner's strong melodic sense and assured handling of tonality were old hat. Teaching now became an important supplement. A quarter-century association with Morley College began in 1952, and in 1956 he joined the staff of the Royal Academy of Music as professor of harmony and counterpoint (he was a master of both), remaining on the staff for three decades. In 1962 he took up the part-time post of director of music at St Paul's School and stayed until 1975. His blunt humour made him a popular teacher and, ever the practical musician, he composed for the forces at his disposal.
Even though Gardner was being cold-shouldered by the British musical establishment, musicians recognised the quality of music and continued to ask him for more. He continued to compose prolifically, choral music especially, until he reached that Op. 249 – a bassoon concerto, written in 2005. America took a fondness to his music, with the conductor Philip Brunelle in Minneapolis commissioning a number of substantial pieces.
Until a couple of years or so ago, Gardner seemed impervious to age, his film-star physique topped with brilliant white hair, his diction precise, his voice deep and gravelly, his air-force manner courteous but direct with a touch of professorial absent-mindedness. And unlike Rachmaninov and Enescu, he never resented the success of his hit, "Tomorrow Shall Be My Dancing Day".
John Linton Gardner, composer: born Manchester 2 March 1917; CBE 1976; married 1955 Jane Abercrombie (died 1998; one son, two daughters); died Liss, Hampshire 12 December 2011.
Join our commenting forum
Join thought-provoking conversations, follow other Independent readers and see their replies