John Hope Franklin: Pre-eminent scholar of black American history who played a vital role in the fight for civil rights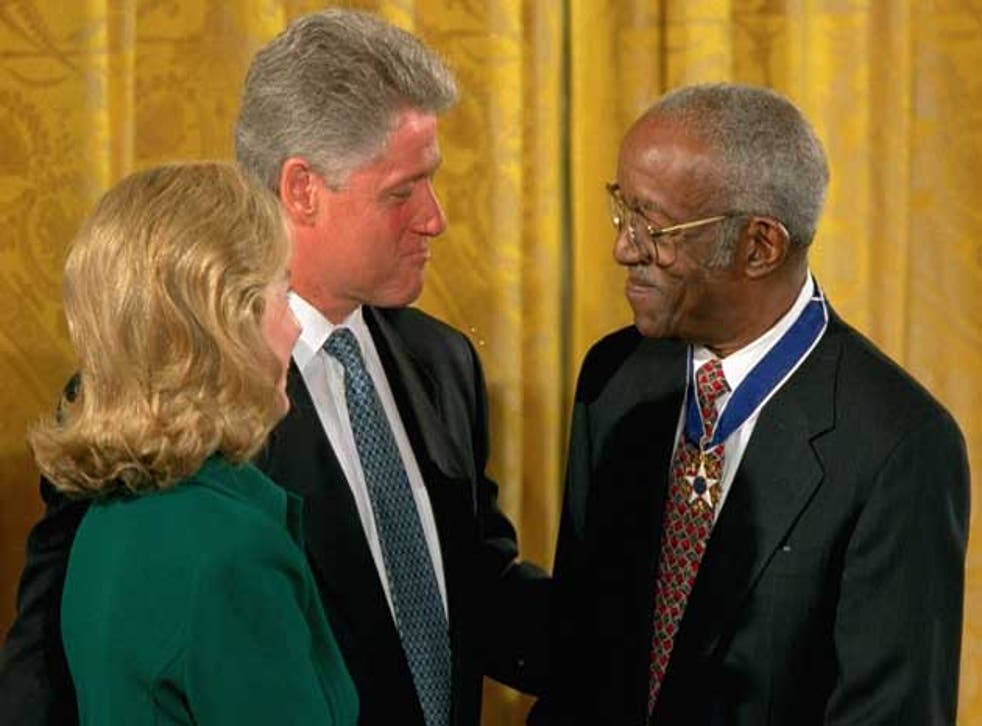 If America's agonising but ultimately uplifting racial journey found expression in a single person, it was John Hope Franklin: participant, teacher, role model, but above all peerless chronicler of the black man's experience in the story of the United States.
His academic achievements alone, spanning more than 70 years, established him as the country's premier black historian, inspiration of a younger generation of scholars like Henry Louis Gates and Cornel West.
His most famous book was From Slavery to Freedom, published in 1947, selling over 3.5m copies and translated into half a dozen languages. It remains a classic, perhaps the classic work of African-American studies, but was just one of a score of books he wrote or edited in a teaching career that took him from his adopted home of North Carolina to Howard University in Washington, Brooklyn College in New York, the University of Chicago, and finally back to Duke University in Durham, North Carolina.
Along the way Franklin collected 130 honorary degrees, and put in shorter teaching stints in more than a dozen other universities in the US and abroad – including Harvard and Cambridge, as well as colleges in China, Australia and Zimbabwe. Everywhere, his first-hand experience of many of the events he wrote about gave his scholarship a unique resonance and edge.
Born in Oklahoma, the son of the first black judge to sit on a state court, Franklin witnessed the 1921 race riot in Tulsa, among the bloodiest such incidents in US history, in which at least 39 people, and perhaps as many as 300, were killed.
He might have followed his father into the law, had it not been for Ted Currier, a white professor at the historically black Fisk University in Nashville Tennessee where Franklin graduated summa cum laude in 1935. Recognising the young man's aptitude, Currier persuaded him to pursue history instead, lending him $500 to help pay for postgraduate studies at Harvard, where Franklin was one of a mere handful of black students when he took a PhD in 1941. Two years later his first book appeared, The Free Negro in North Carolina, 1790-1860.
In his early years as a historian, racial discrimination was ever present. Long afterwards, Franklin would tell students how he researched From Slavery to Freedom in segregated libraries in the South, forced to sit at a different table from whites and barred from using the services of female white librarians.
For part of that time, moreover, he lived in Montgomery, the capital of Alabama, giving him a direct personal taste of the state where Jim Crow ruled most ruthlessly. Two decades later, alongside Martin Luther King, he took part in the 1965 march from Selma to Montgomery in support of voting rights for blacks, one of the pivotal moments of the civil-rights struggle.
But well before that, Franklin had rendered perhaps his most precious service to the movement, providing the research that helped the National Association for the Advancement of Colored People and its lead lawyer Thurgood Marshall win the watershed Brown v Board of Education ruling of 1954 from the US Supreme Court, ending racial segregation in America's public schools.
His combination of meticulous scholarship and direct involvement in events made him uniquely able to present the history of slavery and the South for what it really was. As Nell Irvin Painter, professor at Princeton and another leading light of a younger generation of black historians, told The New York Times, Franklin "grasped the complexity of Southern public life as shaped by the horror of personal slavery." He was, she said, "the first American historian to reckon the price owed in violence, autocracy and militarism."
His career, inevitably, was a catalogue of firsts. He was, inter alia, the first black head of department at a predominantly white university (his appointment at Brooklyn College in 1956 was front-page news in The New York Times), and the first black chairman of the history faculty of the University of Chicago. He was the first black president of the American Historical Association, and the first African-American allowed to deliver a paper to the traditionally segregated Southern Historical Association. By then Franklin was akin to a national institution. "Even if I had wanted to," he once reflected, "I could not have avoided being a public activist."
But no first gave him greater joy than the one consummated on 4 November 2008 with the election of Barack Obama as the country's first black president. It was something he had dreamed of with his parents back in Oklahoma but never expected to see, even in a life that lasted 94 years. Obama's victory, he said, was "the closest thing to a peaceful revolution in our entire history."
As perhaps befitted a historian, his hobbies were also of a somewhat reflective variety. He was a keen fisherman and a life-long enthusiast of orchids – so much so that one species of phalaenopsis, or "moth" orchids, is named after him.
But America's legacy of race would be ever present, even when the formal battle for equal rights had long been won. In 1995 Franklin was awarded the Presidential Medal of Freedom, the country's highest civilian honour. The night before he was to receive it from Bill Clinton at the White House, he held a party at the Cosmos Club, a venerable establishment in Washington DC (and of which, it almost goes without saying, he was the first black member).
At one point in the evening, a white woman walked up to him and demanded that Franklin get her coat. He politely demurred, suggesting she ask one of the uniformed attendants. To which she replied, "If you aren't getting my coat, you shouldn't be here." In 2006, three years before he died, Franklin summed up that and a thousand other racial experiences. "Yes, we've come some distance. But we've so much further to go."
Rupert Cornwell
John Hope Franklin, US historian, born Rentiesville, Oklahoma 2 January 1915; married 1939 Aurelia Whittington (one son); died Durham, North Carolina 25 March 2009.
Register for free to continue reading
Registration is a free and easy way to support our truly independent journalism
By registering, you will also enjoy limited access to Premium articles, exclusive newsletters, commenting, and virtual events with our leading journalists
Already have an account? sign in
Register for free to continue reading
Registration is a free and easy way to support our truly independent journalism
By registering, you will also enjoy limited access to Premium articles, exclusive newsletters, commenting, and virtual events with our leading journalists
Already have an account? sign in
Join our new commenting forum
Join thought-provoking conversations, follow other Independent readers and see their replies