John Neville: Shakespearean actor and director who became a theatrical force in Canada
Anthony Hayward
Saturday 26 November 2011 01:00 Comments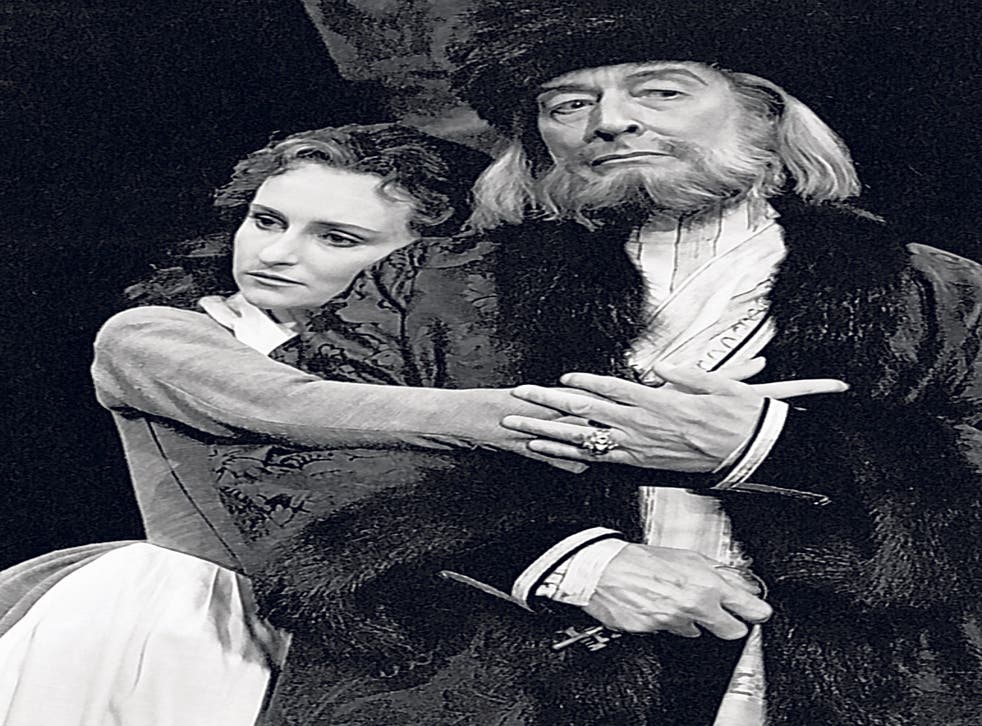 Tipped to be the new John Gielgud after his towering performances at the Old Vic Theatre in the 1950s, the actor John Neville turned his back on the London stage.
He headed for the provinces as artistic director at the Nottingham Playhouse before emigrating to Canada and becoming a leading light in that country's theatre.
On joining the Old Vic company in 1953, Neville quickly emerged as a Shakespearean performer with a striking presence, playing Richard II (1954-55 and 1955-56), Romeo (1955-56) and Hamlet (1957-58, opposite Judi Dench's Ophelia), as well as alternating with Richard Burton in the roles of Othello and Iago in Othello (1955-56). Earlier, he had shown off an impressive baritone voice at the Bristol Old Vic, where he had quickly established himself as a leading man. He starred in his first West End musical in 1959, taking over the role of Nestor in Irma La Douce (Lyric Theatre) from Keith Michell.
But he left London in 1961 to join the Nottingham Playhouse, giving up weekly West End rates of £200 for no more than £50. After a brief return to London for a run in the title role of Alfie (Mermaid and Duchess Theatres, 1963) – taken by Michael Caine in the film version – Neville rejoined the Nottingham company for one of the most exciting post-war events in regional theatre, the opening of its new building.
Attracting big names was part of a strategy to make the company the National Theatre of the provinces. In its first production, Coriolanus (1963), Neville played the title role and Tyrone Guthrie directed, to instant approval. "By the end of the last act I was swearing that this was the most marvellous Coriolanus in every conceivable way that I should ever hope to see," wrote TC Worsley in the Financial Times.
Neville became joint artistic director with Frank Dunlop and Peter Ustinov and stayed until 1967, when he resigned following the Arts Council's decision to freeze its grant for the second consecutive year. In 1972 he moved to Canada, where he carved out a new theatrical career. He enjoyed his time as artistic director of the Citadel Theatre, Edmonton (1973-78), and the Neptune Theatre, Halifax (1978-83), before facing the challenge of running a company facing financial crisis. At the Stratford Shakespeare Festival (1985-99), he turned a large deficit into a profit with his astute but sometimes controversial programming, which included using the main stage for populist musicals.
Television and the cinema showed little interest in Neville until his stand-out performance in the title role of Terry Gilliam's 1988 film The Adventures of Baron Munchausen, leading a gang of misfits on fantastical adventures. "Neville exudes quixotic – and world-weary – charm as the old hero pursuing final glory," wrote one critic. This led to many screen appearances, including that of the besuited Well-Manicured Man, from Somerset, a member of the American governmental organisation The Syndicate in episodes of The X Files (1995-98). He was seen assisting Special Agents Mulder and Scully until being killed off in a car-bomb explosion in the 1998 film spin-off.
Born in the north London suburb of Willesden, the son of a lorry driver, Neville worked as a stores clerk in a garage and served as a signalman in the Royal Navy during the Second World War before training at Rada. He made his London début with a walk-on role in Richard II at the New Theatre (1947) and followed it in other Shakespearean classics at the Open Air Theatre, Regent's Park, the following year.
After rep work in Lowestoft (1948) and Birmingham (1949-50), Neville spent three seasons with the Bristol Old Vic, where he won acclaim for playing Marlow in She Stoops to Conquer, the Duke in Measure for Measure, the title role in Henry V and PC Tom Blenkinsop in the actor's first stage musical, Christmas in King Street.
His star continued to rise at the Old Vic in London, where his other roles included Bertram in All's Well That Ends Well, Ferdinand in The Tempest (both 1953-54), Marc Antony in Julius Caesar, Troilus in Troilus and Cressida (both 1955-56) and Angelo in Measure for Measure (1957-58). With the same company, he played Romeo on Broadway (Winter Garden Theatre, 1956) and directed Henry V in London (1959-60).
After his departure from Nottingham, Neville – despite his own fine performance – had a disastrous return to the London stage opposite Honor Blackman in Mr and Mrs (Palace Theatre, 1968-69), John Taylor's musical of Noël Coward's one-act plays, which received a mauling from the critics.
There were later appearances on the British stage – as Sir Peter Teazle in a revival of The School for Scandal (National, 1989-90), the Captain in The Dance of Death (Almeida Theatre, 1994-95) and the vain music critic in Peter Ustinov's play Beethoven's Tenth (Chichester Festival Theatre, 1996) – but none was significant enough to signal a more permanent return. In Canada, Neville's roles at the Stratford Shakespeare Festival included Don Armado in Love's Labour's Lost (1983), Shylock in The Merchant of Venice (1984) and Henry Higgins in My Fair Lady (1988). He also directed Mother Courage, Othello (both 1987) and The Three Sisters (1989).
His rare television roles in Britain included Robert Browning in The Barretts of Wimpole Street (1961) and the Duke of Marlborough in The First Churchills (1969). He was more prolific on Canadian and American TVguest-starring in series such as Road to Avonlea (1992), Star Trek: The Next Generation (1993) and Queer as Folk USA (2002); he played Uncle Malcolm (1998-89) in the children's series Emily of New Moon.
His film roles included Sherlock Holmes in A Study in Terror (1965, with Donald Houston as Dr Watson), Marmeladov in Crime & Punishment (2002) and a boarding-house resident who befriends Ralph Fiennes' title character, just released from a mental institution, in David Cronenberg's thriller Spider (2002). During his final years Neville suffered from Alzheimer's disease.
John Reginald Neville, actor and director: born London 2 May 1925; OBE 1965, CM 2006; married 1949 Caroline Hooper (three sons, three daughters); died Toronto 19 November 2011.
Register for free to continue reading
Registration is a free and easy way to support our truly independent journalism
By registering, you will also enjoy limited access to Premium articles, exclusive newsletters, commenting, and virtual events with our leading journalists
Already have an account? sign in
Join our new commenting forum
Join thought-provoking conversations, follow other Independent readers and see their replies