John Renbourn: Influential guitarist whose work with Pentangle and on his own made him a leading light of the British folk revival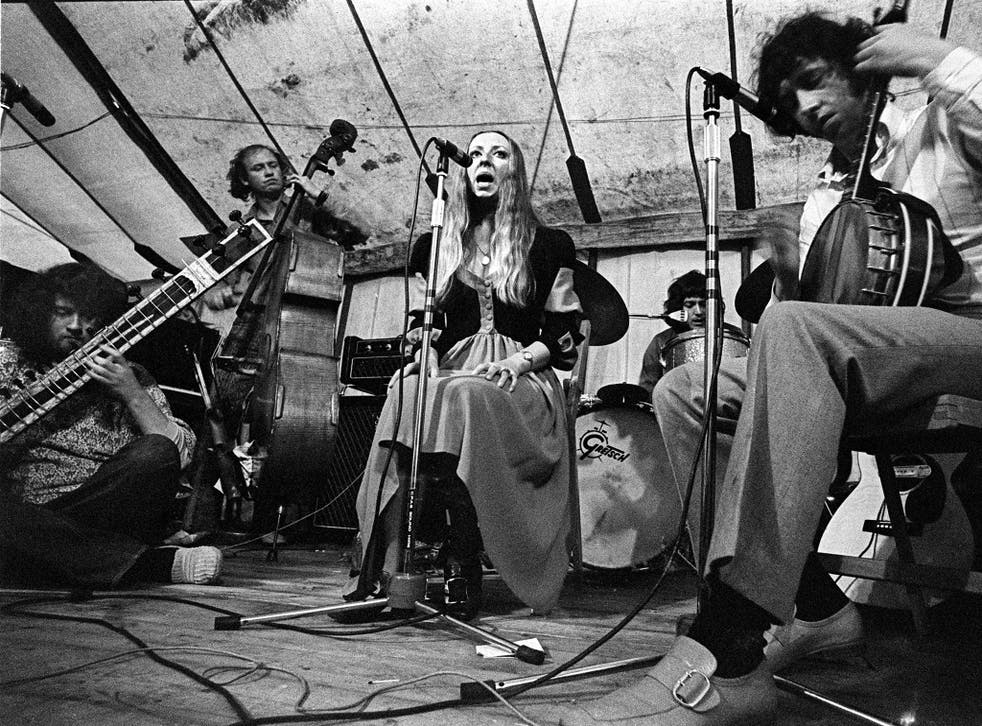 John Renbourn was a central figure in the British folk revival of the 1960s and throughout his career he remained an abiding and exciting figure in the nation's acoustic music scene.
The course of his career went from floor spots in Surrey and South London folk clubs above and behind pubs – and on at least one barge moored on the Thames – to performing at some of the world's biggest and most illustrious venues.
His live work included both solo gigs and with various band permutations, most notably with Pentangle, the folk-jazz-blues hybrid quintet he co-founded with Terry Cox, Bert Jansch, Jacqui McShee and Danny Thompson. Before and after Pentangle, the trajectory of Renbourn's music-making took in important collaborations with the US singer Dorris Henderson, the Scottish musical chameleon Robin Williamson, and guitarists Stefan Grossman, Wizz Jones and Doc Watson.
Renbourn was born in London in 1944. His father, Robert McCombe, died in action during the Second World War, and in 1952 his mother Dorothy (née Jopling) married Edward Renbourn. John took his adoptive father's surname.
In his notes to Pentangle's eponymous debut album (1968), John Peel called Jansch "the owner of the most mispronounced name in Britain" (Peel didn't clarify that the family pronounced its surname with an anglicised "j" rather than a German "y".) More prosaically, whether or not to add a final "e" to Renbourn's surname became a litmus test for folk scholarship – and for sub-editors.
Recalling growing up near Guildford in Surrey, he remembered a house with musical instruments. In 1964 he joined Kingston Art School. He describes this chunk of his life well in Mick Houghton's I've Always Kept A Unicorn – The Biography of Sandy Denny (2015). Denny, later to excite the British folk scene with Fairport Convention, was a contemporary of Renbourn's, and he recalled Denny's later kindnesses when he was washing up at the Coach and Horses pub in Soho: "Sandy used to take me along to a gay joint on D'Arblay Street where she used to sing, and she'd smuggle me free drinks."
By 1960 he had taken up hitch-hiking and had come into contact with musicians slightly older than him, such as Mac Mcleod, the later husband of Dorris Henderson, and he heard of the guitar pioneers, Wizz Jones and Davy (later Davey) Graham, who would cast long shadows over the folk scene and Renbourn's career. In Graham's case, his musicianship came with an early warning about avoiding white powders.
On the back of the Fledg'ling label's 2005 reissue of Graham's Large As Life And Twice As Natural stood note-writer Renbourn's eloquent summary: "Davy was returning from Tangier with musical ideas when the rest of us were still thinking in terms of Brighton Beach and Bert Weedon."
His underprepped and underwhelming debut LP, John Renbourn (1965), opened with "Judy", a song named after his fellow Kingston Art School student girlfriend. She was his first wife by the time its far superior follow-up, Another Monday, was released in December 1966, recorded and engineered like its predecessor by Bill Leader and similarly released on Transatlantic.
Better still was his collaboration with Jansch, Bert And John), one of the must-hear folk albums of 1966 (it was renamed Stepping Stones on its US release by the Vanguard label in 1969). Unfortunately, in this flurry of activity, Renbourn's album with Dorris Henderson, There You Go (1965), a mixture of blues, gospel and folk, became a buried artefact.
Henderson, who had arrived in London in 1965, met Gill Cook of Collet's record shop, who speedily identified her as the Lady Dorris of Lord Buckley's Way Out Humor LP. She would return as a key ingredient on Renbourn's Faro Annie (1971), an album that included another of his vital musical collaborators, the American fiddler Sue Draheim.
At 30 minutes and 52 seconds Pentangle's 1968 debut album – produced by Shel Talmy, who had worked with the Who and the Kinks – it shared the inauspicious honour of being an album of influence that clocked in at around the half-hour mark, marginally beating the Electric Prunes' psychedelic opus Mass in F Minor (1968) at 26 minutes and 26 seconds.
In his book Garcia – A Signpost to New Space (1972), the Grateful Dead guitarist Jerry Garcia would single out Pentangle as something happening – and they were. They were revelatory. Renbourn would remain a key figure, though periodically ducking out, for example to take up a teaching place at Dartington College of Arts in 1988 (in 1982 he had enrolled there as a student in composition, orchestration, early music and instrumental tuition, demonstrating his commitment to musical improvement).
He was with Pentangle playing guitar and sitar on their final tour in August 2011 before Jansch's death that October. Renbourn continued recording, his last album being 2011's Palermo Snow, which matched his guitar work with the clarinet of Dick Lee.
John Renbourn took heed of many of the leads given by Davey Graham, especially excitement. He took and built on, for example, Graham's early-music elements with a deftness and intelligence exceeding his mentor, notably beginning with Sir John Alot of Merrie Englandes Musyk Thyng and ye Grene Knyghte (1968). More importantly, he changed the face of British guitar-playing. "He was," said his manager Dave Smith, "always playing and teaching. That is what he loved doing and he never stopped."
Loyal in the extreme, Renbourn was touring with Wizz Jones when he died. He was found dead at his home, having failed to make their gig at The Ferry in Glasgow.
John Renbourn, guitarist, songwriter and teacher: born Marylebone, London 8 August 1944; married 1966 Judith Blanche Hills (one daughter), 1976 Jo Watson (one son, and one son deceased); died Hawick c. 26 March 2015.
Register for free to continue reading
Registration is a free and easy way to support our truly independent journalism
By registering, you will also enjoy limited access to Premium articles, exclusive newsletters, commenting, and virtual events with our leading journalists
Already have an account? sign in
Register for free to continue reading
Registration is a free and easy way to support our truly independent journalism
By registering, you will also enjoy limited access to Premium articles, exclusive newsletters, commenting, and virtual events with our leading journalists
Already have an account? sign in
Join our new commenting forum
Join thought-provoking conversations, follow other Independent readers and see their replies