John Riggi: Leader of the DeCavalcante crime family – the notorious real-life inspiration for 'The Sopranos'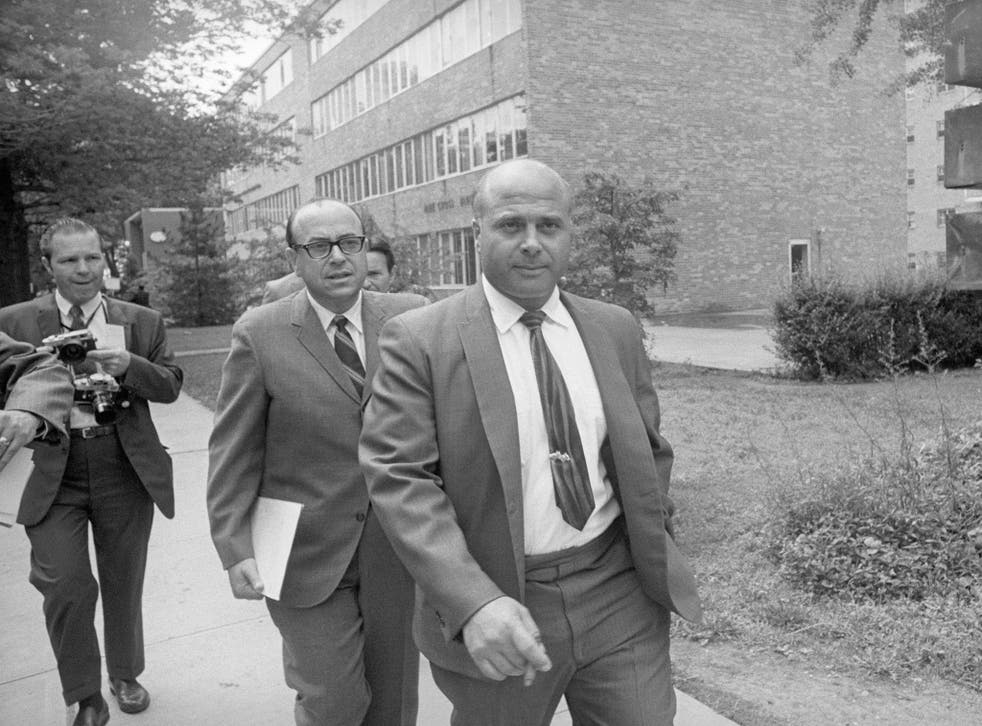 John "The Eagle" Riggi was a mobster, the former leader of the notorious DeCavalcante crime family. For more than 20 years he was responsible for heading up a group involved in murder, racketeering and pornography. Riggi was also said to have been an inspiration for the character of Tony Soprano in the series The Sopranos, created by David Chase, which became a hit on American and British television.
Although not one of the infamous Mafia "Five Families" of New York, the DeCavalcantes worked in close co-operation with them. At first minor players, they grew in status and influence through currying favours with the heavy-hitters. Riggi maintained particularly strong connections with the Gambino family and its notorious leader John Gotti (Independent obituary, 12 June 2002), who received a life sentence for murder in 1992.
Riggi had been the head of the family since 1980, when he took over from Simone "Sam the Plumber" DeCavalcante, an old school "Don" who had himself been leader since 1962. Riggi had previously held power in a temporary capacity when DeCavalcante was imprisoned in the late Sixties. He died in 1997.
The DeCavalcante family made its money by racketeering: controlling a division of the Laborers International Union of North America (LIUNA) in the city of Elizabeth, New Jersey. Through this mechanism of control, the family would ensure its involvement in all purchase of labour and materials for building projects in the area. "Not a nail doesn't go through a wall that we don't get a piece of," Riggi once bragged about his operation. "Any contractor who refused to negotiate with the DeCavalcante family would be subject to violence or attempted violence, and the job site could be shut down or picketed," said the lawyer Peter Vaira at a hearing into the family's control of the union.
In 1989 Riggi and other family members were charged with labour racketeering. Riggi went to jail in 1990. However, despite being incarcerated, Riggi was able to continue to organise the family operations from his jail cell, by sending messages to a nominated ruling panel on the outside.
But jailing the leader was not enough for the FBI. During 1998 they employed DeCavalcante associate Ralph Guarino to work undercover as an informant. By December of the following year they had sufficient evidence to arrest 40 members of the family. The charges included five of murder, eight of conspiracy to murder, gambling, loansharking and extortion. New York FBI chief Barry Mawn said at the time, "The DeCavalcante family plotted and committed killings on the streets of New York while at the same time attempting to make a killing on Wall Street."
In 2003 Riggi admitted that he had ordered a "hit" on the journalist Fred Weiss in 1989. Weiss was shot seven times by DeCavalcante members Vincent Palermo and James Gallo as he got into his car. Riggi had arranged the killing as a favour for his friend John Gotti. Weiss had been involved in illegal dumping of medical waste and Gotti had feared that Weiss might turn informant in exchange for leniency, thus exposing the family. Riggi was given another 10 years in jail, just as he was about to be freed.
Since Riggi's imprisonment in 1990, a string of acting bosses had taken over, five of whom were jailed, murdered or had defected from the Mob, including John "Johnny Boy" D'Amato, who was killed because he was bisexual. "Nobody's going to respect us if we have a gay homosexual boss sitting down discussing La Cosa Nostra business," the killer, Anthony Capo, later testified.
The Sopranos first aired on British television in 1999, with the lead character, played by James Gandolfini (Independent obituary 20 June 2013), said to be based on a pastiche of John Riggi and his predecessor, Simone DeCalvalcante. Clive James penned an admiring retrospective review last year. "In the dark night of the soul, it is often three o'clock in the afternoon on the pool terrace of a mobster's house in New Jersey," he wrote. "The rule of law exists only to be flouted; power to be flaunted; any scruple to be parodied. It's appalling. I love it."
A native of New York, born in 1925, Riggi graduated from Linden High School in 1942 and joined the US Army, where he worked as an engine mechanic. His career in crime began soon after, when he became an associate of Simone DeCavalcante. Riggi had been released from prison in November 2012 and had latterly lived with his nurse.
Lee Seglem, assistant director of New York's State Commission of Investigation, said: "This guy may be the last of the old time Mob bosses for this region. He outlived all the big names."
Marcus Williamson
Giovanni Riggi (John Riggi), professional criminal: born Newark, New Jersey 1 February 1925; died Edison, New Jersey 3 August 2015.
Register for free to continue reading
Registration is a free and easy way to support our truly independent journalism
By registering, you will also enjoy limited access to Premium articles, exclusive newsletters, commenting, and virtual events with our leading journalists
Already have an account? sign in
Register for free to continue reading
Registration is a free and easy way to support our truly independent journalism
By registering, you will also enjoy limited access to Premium articles, exclusive newsletters, commenting, and virtual events with our leading journalists
Already have an account? sign in
Join our new commenting forum
Join thought-provoking conversations, follow other Independent readers and see their replies