John Stewart: Maverick singer-songwriter
Monday 21 January 2008 01:00 GMT
Comments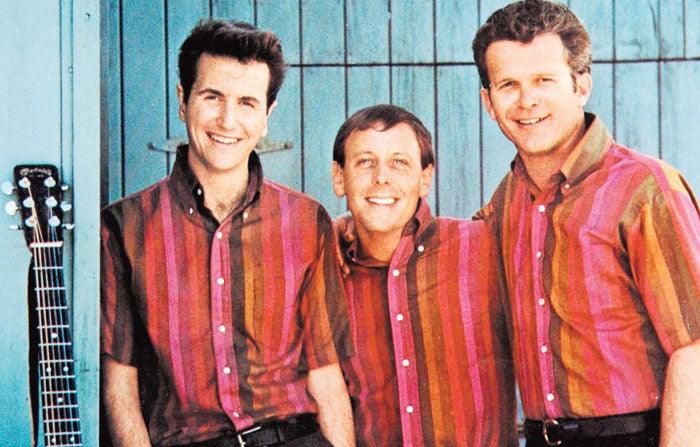 John Coburn Stewart, singer and songwriter: born San Diego, California 5 September 1939; twice married (three sons, one daughter); died San Diego 19 January 2008.
A former member of the Kingston Trio, John Stewart wrote the Monkees hit "Daydream Believer" and secured his own hit with a sceptical song about the music industry, "Gold". These brushes with success were accidents and Stewart, a defiant maverick, said he had no desire to sustain them. Instead, he released album after album on which he chronicled life in contemporary America.
John Stewart was born in San Diego, California in 1939. His father trained racehorses but John's main interest was in music. He fronted a rock'*'roll band called the Furies and in 1957 recorded "Rockin' Anna" for a small label. Then he heard the Kingston Trio, a campus act who made three or four albums a year for Capitol. "I heard these great songs that you could play with a guitar and no amp," he told me in 2000.
The songs were about history and, as I love history, this was tailor-made for me. I played the Kingston Trio some stuff in their dressing room and they did "Molly Dee". They put it on their album Here We Go Again! and my first royalty was for more than my dad made in year. That set my course.
Stewart, playing both guitar and banjo, formed the Cumberland Three, with Gil Robbins (father of the actor Tim Robbins) and John Montgomery. They recorded three albums and had moderate success, but Stewart left in 1961 to join Bob Shane and Nick Reynolds in the Kingston Trio. Mostly, the Trio sang smooth adaptations of old folk tunes but they introduced the world to Pete Seeger's anti-war song "Where Have All the Flowers Gone", Billy Edd Wheeler's "Rev Mr Black", "Seasons in the Sun", an English translation by Rod McKuen of a Jacques Brel song, and Stewart's own "Chilly Winds".
In 1965, the Trio moved to US Decca and achieved a more contemporary sound, with Stewart providing much of the material. He wrote eight of the songs on their fine Children of the Morning (1966) and he is well to the fore on their double-album Once Upon a Time, a live set from Lake Tahoe. Their final concert, recorded at the Hungry i in San Francisco in July 1967, was recently released and you can sense from it that Stewart was desperate to break free from this musical straitjacket.
His liberation was helped by the Monkees turning "Daydream Believer" into an international hit in 1967, but he never gave them another song: "Nothing else I wrote was like 'Daydream Believer': it was a blip on the screen. If I'd tried to write another 'Daydream Believer', it would have sounded like 'Daydream Believer'."
Stewart's first solo album was the critically acclaimed California Bloodlines (1969), produced by Nik Venet for Capitol. It was made in Nashville in the same week that Bob Dylan made Nashville Skyline and is far superior in both material and performance, although it did not meet with the same success.
Many compared Stewart to Johnny Cash. They were tall, imposing figures and they had an element of spirituality in their voices which distracted from any imperfections. Stewart himself disliked the vibrato on his early records but this enhanced his work, especially on the one song central to any discussion of his work, "Mother Country". He displays his love of America by thinking of the past: there are vignettes about old pioneers and the sequence about a blind man riding his horse for the last time is profoundly moving.
Peter Asher produced Stewart's next album, Willard (1970), on which the guest musicians included James Taylor, Doug Kershaw and Carole King. Stewart then moved to Warner Brothers and cut two albums, The Lonesome Picker Rides Again (1971) and Sunstorm (1972), produced by his brother Michael, a former member of We Five.
Over at RCA, Stewart returned to Nashville and recorded his best album, Cannons in the Rain (1973). One song, "All Time Woman", describing the monotony of touring, is one of many he wrote for his wife Buffy Ford. Perhaps the most poignant of these is "Some Kind of Love" from his 1975 album, Wingless Angels:
Some kind of love is like gold
That is the hardest to hold
It catches the eye of each thief passing by
Some kind of love is like gold.
The RSO album Bombs Away Dream Babies (1979) contained Stewart's million-selling "Gold", with harmony vocals from Stevie Nicks. Ironically, this song about not having a hit was his most successful record. "I was so depressed when I had a hit," he recalled.
All my old problems were still there and I had new problems. I had a big-time manager and agent; I had a band and a bus; and I was opening for Chicago and people were throwing frisbees while I sang. I went on the road for three weeks and made $80,000 but for what? I said to the President of RSO, "Now what?" And he said, "Well, you have to do it again."
The next album, Dream Babies Go Hollywood (1980), despite the presence of Linda Ronstadt and Phil Everly and some excellent songs, failed to sell and Stewart's moment of glory was over.
From then on, in those pre-internet days, it became increasingly difficult to keep up with his work. His albums included Blondes (1982), Revenge of the Budgie (1983), Punch the Big Guy (1987) and Bullets in the Hour Glass (1992). For a time he released albums on his own Homecoming label. He loved coming to the UK, even if it was only to perform in the back room of a pub, and among his more esoteric releases is The Essential John and Buffy, recorded at the Turf Inn, Dalry, Scotland, in 1994.
When Buffy contracted a brain tumour, for two years Stewart found he had writers' block. Then, after her recovery, he wrote some of his best songs, including "Waiting for Castro to Die", "The Day the River Sang" and "Who Stole the Soul of Johnny Dreams", although his voice was failing. In 2007, his response to hearing that he had Alzheimer's disease was to write "I Don't Drive Anymore".
Spencer Leigh
Join our commenting forum
Join thought-provoking conversations, follow other Independent readers and see their replies