Johnny Fox: Magician and sword-swallower who wowed festivals across America for 37 years
Copycats could and did attempt to replicate his magic shows but few if any would dare to open wide and turn the sharp end of a sword towards their throat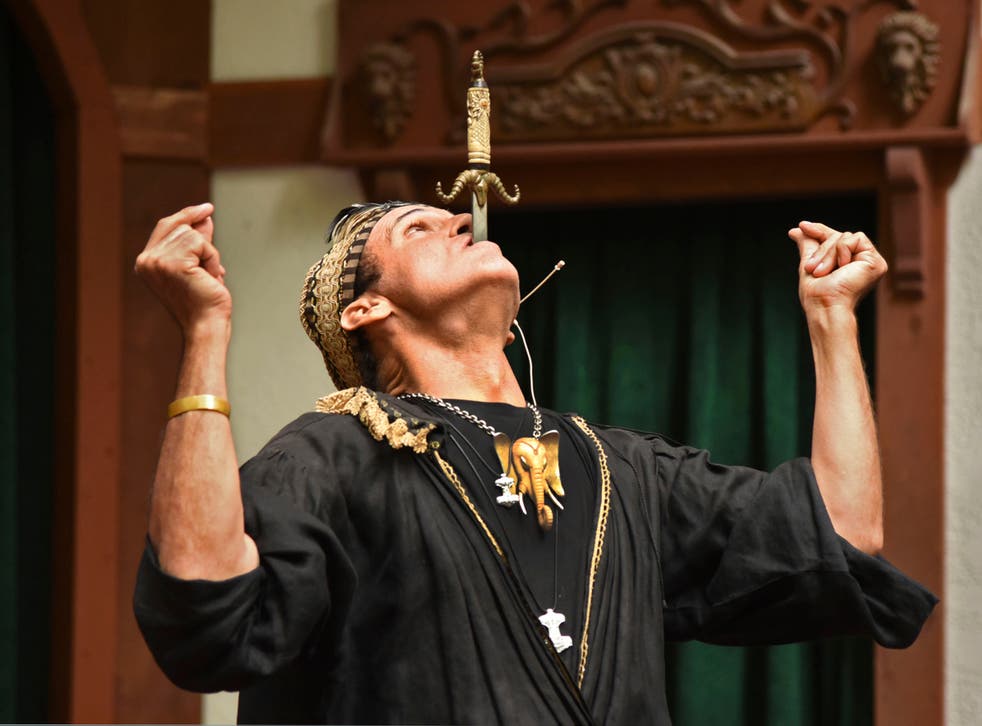 Johnny Fox was professional sword-swallower and magician who entertained audiences across the America to help them, as he said, "forget about the sadness and the madness" in the world.
Fox was by his own count one of around only 20 sword swallowers working in the US – dedicated performers who travel from festival to carnival preserving the traditions of the circus sideshows. He did coin-tricks as well as comedy and was known, according to the organisers of the local Maryland Renaissance festival – where he'd worked for 37 years – to "drive an eight inch spike into his nose" and to swallow five-foot balloons. (Renaissance happen all over the States and recreate Elizabethan England with costumes, jousting and the like.)
The 64-year-old had practiced fire-swallowing until he learned it was detrimental to his health – he died from cancer.
But his calling card was his sword act, which he taught himself for job security when he was in his twenties. Copycats could and did attempt to replicate his magic shows but few if any would dare to open wide and turn the sharp end of a sword in the direction of their throat.
Thousands if not millions saw his act on prime time television shows hosted by the likes of David Letterman. Thousands more watched him perform at Renaissance festivals and other gatherings.
He said the most important trait of a sword swallower was the ability to conquer fear – and that's not to mention the gag-reflex.
"You have to surrender and open up," Fox told the New York Times in 1999. The trick, he continued, is "the ability to relax and dilate your throat, the pharynx and the epiglottis … when we swallow, they both open."
To counter suspicions that he was using a retractable blade, he sometimes employed a glowing sword that made light emanate from his throat. He was said to swallow swords up to 22 inches long, and up to 16 swords at a time.
In another feat, he swallowed a screwdriver.
"Twist it around a couple of times so my butt doesn't fall off," he told NPR in October, "and make sure I do it clockwise, not counter-clockwise,"
Fox was born in Minneapolis in the early fifties. An uncle of his entertained family members by inserting needles into his thumb, the Times reported.
Fox grew up in Connecticut, where he was living when his father took him to the Eastern States Exposition, a New England fair where he saw curiosities including "The Giant From Reykjavik, Iceland, 8-foot-8", "The Lobster Boy, Alive", and The Monkey Girl, Alive".
Such so-called freaks, he told one local newspaper, were his superheroes because they had "the courage to stand in front of the public, hearing people say nasty things."
The fair also provided his introduction to sword swallowing. He recalled his brother's incredulity: "Don't believe it, it's fake."
Fox's father encouraged his boyhood interest in magic, giving him a book about Harry Houdini. Fox began his performing career in Florida but gradually became known around the country. He once appeared in a television commercial that required him to munching on light bulbs.
In New York City, he operated a museum: The Freakatorium, El Museo Loco, that featured such items as a narwhale tusk, a two-headed turtle, conjoined piglets preserved through pickling, and relics billed as clothing having belonged to Tom Thumb; and entertainer Sammy Davis Jr's glass eye. The museum closed in 2005, after five years, due to an increase in rent.
Fox was married and divorced four times. Survivors include his partner of two years, Tammy Calvert, a son from his second marriage, to Susan Kelly; a brother and a sister.
He delighted in providing his audiences with a means of escape from daily life, and the struggle it often entails, with an act that was both difficult to watch and impossible to ignore.
"It's gross and disgusting, I know," he once told The Washington Post. "But you'll watch."
John Robert Fox, born 13 November 1953, died 17 December 2013
© The Washington Post
Register for free to continue reading
Registration is a free and easy way to support our truly independent journalism
By registering, you will also enjoy limited access to Premium articles, exclusive newsletters, commenting, and virtual events with our leading journalists
Already have an account? sign in
Register for free to continue reading
Registration is a free and easy way to support our truly independent journalism
By registering, you will also enjoy limited access to Premium articles, exclusive newsletters, commenting, and virtual events with our leading journalists
Already have an account? sign in
Join our new commenting forum
Join thought-provoking conversations, follow other Independent readers and see their replies