Jon Lord: Keyboard player whose classical training added a unique element to heavy rock gods Deep Purple
Pierre Perrone
Wednesday 18 July 2012 10:21 Comments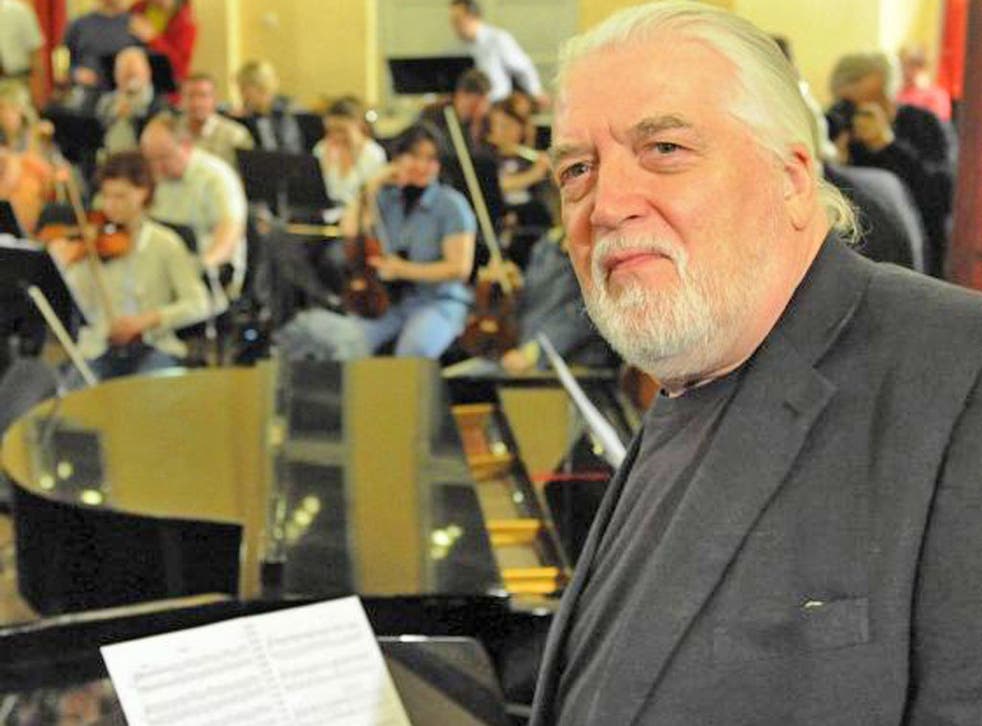 When Jon Lord, the classically-trained keyboard-player with the rock band Deep Purple, told manager Tony Edwards in early 1969 that he dreamt of writing a work that could be performed by the group and a symphony orchestra, he didn't expect him to go ahead and book the Royal Albert Hall. Faced with a September deadline, Lord rose to the challenge and composed the Concerto For Group And Orchestra, which he premiered with his Purple bandmates and the Royal Philharmonic Orchestra conducted by Malcolm Arnold.
"We weren't trying to break down the barrier between pop and classical music," Lord insisted. "If we'd tried that, the evening would have been a disaster." The press coverage and brouhaha saw Purple enter the British album charts for the first time in January 1970 and gave them a new lease of life.
Their previous incarnation had scored three US hits with covers of Joe South's "Hush", Neil Diamond's "Kentucky Woman" and Phil Spector's "River Deep – Mountain High" that owed a huge debt to Vanilla Fudge, but they could now complete their first magnum opus, the influential Deep Purple In Rock. With its Mount Rushmore cover depicting the classic "Mark 2" line-up of vocalist and lyricist Ian Gillan, saturnine guitarist Ritchie Blackmore, Lord, bassist Roger Glover and drummer Ian Paice, and tracks like the barnstorming opener "Speed King" and the Cold War epic "Child In Time", which endeared them to millions of fans behind the Iron Curtain, In Rock defined the heavy music of the day as much as Black Sabbath or Led Zeppelin.
Over the next six years and as many albums – including the high watermarks of Fireball and Machine Head, their second definitive release, featuring not only their signature song "Smoke On The Water", but also the tours de force "Highway Star" and "Space Truckin'" – Purple became one of the biggest bands on the planet, and the loudest according to the Guinness Book Of World Records in 1972. Even Lord's C3 Hammond organ was fed through Marshall amps as he battled with Blackmore's Fender Stratocaster and Gillan's screams for the audience's attention.
The group received numerous gold and platinum awards, travelled on their own plane – The Starship – headlined the California Jam, to a then-record 250,000 paying fans in April 1974, and recorded in Montreux, Munich or Rome to minimise their exposure to British tax. They survived three line-up changes which left Paice and Lord, the two most level-headed members, as the only originals by the time they ground to a halt in 1976.
Following a six-year stint with Whitesnake, the band fronted by David Coverdale, a post-1973 member of Purple, Lord reunited with his Mark 2 Purple colleagues in 1984 for the Perfect Strangers album, his trademark organ driving the title track and "Knocking At Your Back Door". He stayed with them until 2002, when he was replaced by Don Airey, and returned to orchestral work. "Leaving Deep Purple was just as traumatic as I had always suspected it would be, but I wanted to write more and record more and do other things," said Lord, who enjoyed jamming and recording with a coterie of local friends including George Harrison, Jim Capaldi and Ten Years After guitarist Alvin Lee. "I discovered quite a bit about myself. One is the more spiritual side, the connection between spirituality and the ability to make solid something as amorphous as an idea,"
He was born into a musical family in 1941. From a young age he tagged along while his father Reginald played saxophone at local dances and with the Fire Service Band in Leicester. He showed such promise on the piano that his parents sent him for lessons. Another teacher played the church organ and taught him "how to enjoy music and to want to play well."
Lord passed Royal College of Music exams but discovered Elvis Presley, Little Richard and Jerry Lee Lewis: "The first four bars of 'Whole Lotta Shakin' Going On' totally turned my head around. I tried like hell to make the old piano at home sound like that but it wouldn't. That's when I realised there was more to rock and roll than meets the ear." To his parents' dismay he went to work as a clerk in a solicitor's office, lasting two years before being sacked for taking time off to pursue another interest, acting.
Tall and good-looking, with a bearing and gentlemanly demeanour that remained hallmarks, Lord auditioned for the Central School of Speech and Drama in London and was accepted. To supplement his grant he played jazz with the Bill Ashton Combo and rhythm and blues alongside Art Wood, elder brother of Ronnie, in Red Bludd's Bluesicians and eventually the Artwoods. He contributed a simple piano part to "You Really Got Me", The Kinks' début hit, and traded his Lowrey Holiday organ in for a Hammond. The Artwoods appeared on Ready Steady Go! and backed Bob Diddley and Little Walter on their UK visits but they remained a cult band favoured by Mods and the French.
They were also regulars at Eel Pie Island, where Lord picked up some tips and tricks from Graham Bond – like adding a Leslie cabinet to make the most of the Hammond – to complement his other influences: Jimmy McGriff, Jimmy Smith and Booker T. Jones: "It occurred to me that I could use some of my classical knowledge. I tried to fit Bach fugues into what we were playing, not note for note, but just getting the feel of it ... We used Tchaikovsky as an intro to Sam Cooke's 'Shake' for instance."
Lord's love of classical music and penchant for referencing the great composers during his solos made him a pioneer of progressive rock, even if, by late 1967, the more flamboyant Keith Emerson of The Nice seemed about to overshadow him. Another short-lived venture, Santa Barbara Machine Head – a portent of Purple things to come – comprising both Art and Ron Wood alongside Lord, made the freakbeat curio "Rubber Monkey" but floundered and he joined the touring line-up of The Flower Pot Men of 'Let's Go To San Francisco' fame.
In 1968, with Tony Edwards' financial backing, Lord was able to concentrate on Roundabout, a project that experienced a couple of false starts and went through several more names. "It was very nearly Orpheus. Concrete God we thought was a bit radical. Sugarlump was on there. One morning, Deep Purple was on it. After intense interrogation it turned out that Ritchie had put it up. It was his grandmother's favourite song," he said.
Lord felt he wasn't taken seriously enough as a composer in Britain, though in 2007 he premiered his Durham Concerto at that city's cathedral. His 2010 album To Notice Such Things was inspired by and dedicated to his friend Sir John Mortimer, who had died the previous year. Lord himself died of complications from pancreatic cancer.
Jonathan Douglas Lord, keyboard-player, composer and songwriter: born 9 June 1941; married 1969 Judith Feldman (divorced 1981; one daughter), secondly Vickie Gibbs (one daughter); died London 16 July 2012.
Register for free to continue reading
Registration is a free and easy way to support our truly independent journalism
By registering, you will also enjoy limited access to Premium articles, exclusive newsletters, commenting, and virtual events with our leading journalists
Already have an account? sign in
Join our new commenting forum
Join thought-provoking conversations, follow other Independent readers and see their replies