Jon Whiteley: Child star who went on to become an Oxford art historian
After winning an honorary Oscar at 11, he enjoyed a long career as curator at the Ashmolean Museum
Anthony Hayward
Wednesday 03 June 2020 14:09 Comments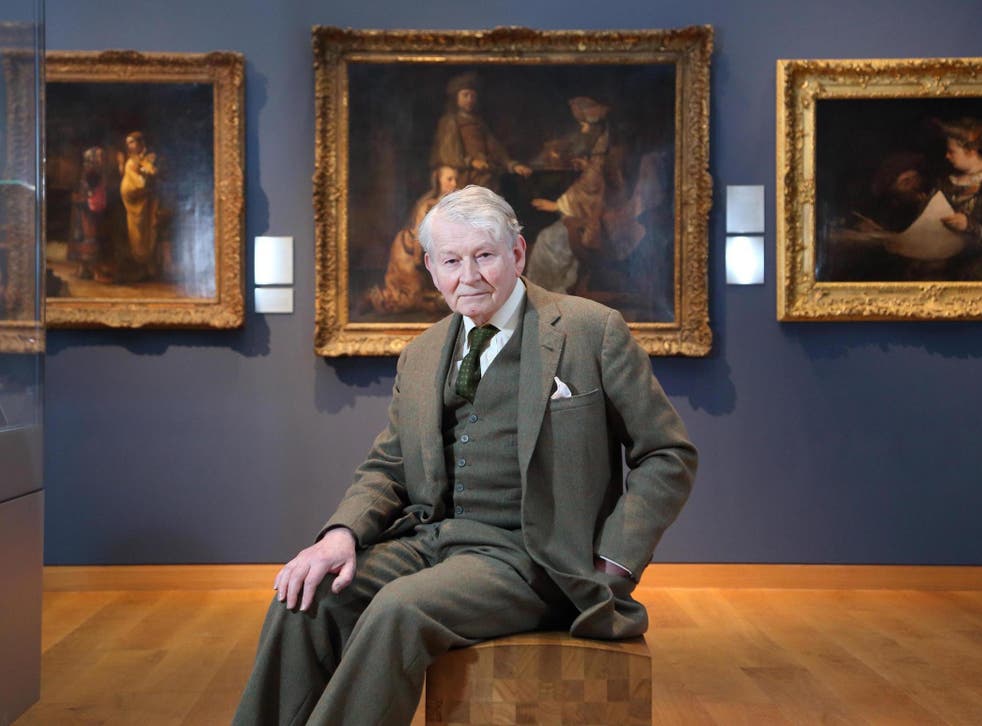 Jon Whiteley, who has died aged 75, was a child actor who appeared in just five films, starred alongside Dirk Bogarde twice, won an honorary Oscar at the age of 11, then left behind the big screen to concentrate on his schooling.
He later became a distinguished art historian enjoying a career as a curator at the Ashmolean Museum, Oxford.
When he was six, a BBC radio Children's Hour producer in Scotland visited Monymusk Primary School in rural Aberdeenshire, where his father was headteacher, to record the children's various talents.
When Whiteley's recitation of Edward Lear's nonsense poem "The Owl and the Pussycat" brought him to the attention of a talent scout, he successfully screen-tested for Hunted (1952), directed by Charles Crichton.
His film debut saw him playing a boy kidnapped by a fugitive (played by Bogarde) on the run after murdering his wife's lover. The boy himself is fleeing after accidentally burning down his foster parents' home.
Whiteley's touching performance, without sentimentality, helped to give a sense of realism to the bond forged between the pair as they head on a trip north through England to Scotland.
He followed it with The Kidnappers (1953), a comedy weepie directed by Philip Leacock. He and fellow Aberdeenshire child actor Vincent Winter both won an Academy Juvenile Award – an honorary Oscar – for their performances as orphaned brothers being brought up by their grandparents in Nova Scotia, putting them among just 12 young recipients of the award, including Shirley Temple, Judy Garland, Mickey Rooney and Hayley Mills.
With Whiteley's parents not prepared to allow him to miss school to travel to Hollywood to receive his award, it came through the post.
Nevertheless, he remained in good company as his screen career continued with Moonfleet (1955), again performing the role of an orphan, in a film starring Stewart Granger and directed by Fritz Lang.
Then, in The Weapon (1956), he played a boy who accidentally shoots his friend with a gun previously used by George Cole's murderer.
He was reunited with Bogarde and director Leacock in The Spanish Gardener (1956), playing the lonely son of a British consul and finding friendship with one of the staff.
The deal with his parents was that he would finish acting by the time his secondary education began, so his film career ended, followed by just one TV appearance in a Christmas episode of The Adventures of Robin Hood the following year.
"I missed the habit of having a chauffeur and being served on hand and foot," he said later, adding with an air of realism: "But I would have fallen flat on my face like a great number of child actors."
Jon James Lamont Whiteley was born in Monymusk, Aberdeenshire, the middle of three children, to teachers, Christine (nee Grant) and Archie Whiteley.
He was educated at Inverurie Academy and Atlantic College at St Donat's Castle in the Vale of Glamorgan, before gaining a first-class degree in modern history from Pembroke College, Oxford, then an MA and a doctorate in the subject after writing a thesis on 19th-century French painting.
His entire career was spent at the University of Oxford, starting in 1976 as assistant curator of Christ Church Picture Gallery. Two years later, he moved to the Ashmolean Museum, the university's home of art and archaeology, as assistant keeper of the Department of Western Art, becoming its senior curator in 1993.
While exuding a charm that persuaded owners to lend their treasures to the museum, he wrote books to accompany exhibitions and shared his immense knowledge by lecturing to generations of history of art students at Oxford.
His special interest in 19th-century French art resulted in the museum acquiring many significant drawings and paintings, and Whiteley himself was one of the world's leading scholars of French drawings.
Particularly satisfying for him was his Claude Lorrain: The Enchanted Landscape exhibition in 2011, featuring the French painter's idyllic landscapes that influenced Blenheim Palace and other English gardens.
He hoped it would revive an interest in Lorrain. "It is true that he has fallen completely out of fashion," said Whiteley at the time. "There is something wrong with the world."
Showing a wide appreciation of art, he was also an expert on furniture and English and French porcelain, and in 2013 mounted a Stradivarius exhibition of string instruments worth hundreds of millions of pounds from the golden period of Antonio Stradivari.
Although Whiteley retired from his job in 2014, he continued to lecture and contributed to exhibition catalogues. His complete catalogue of the Ashmolean's post-1800 French paintings will be published next year.
He was appointed a chevalier (knight) of the French Order of Arts and Letters in 2009.
In 1972, Whiteley married Linda Wilson, an art historian. He is survived by her and their two children, William and Flora.
Jon Whiteley, actor and art historian, born 19 February 1945, died 16 May 2020
Register for free to continue reading
Registration is a free and easy way to support our truly independent journalism
By registering, you will also enjoy limited access to Premium articles, exclusive newsletters, commenting, and virtual events with our leading journalists
Already have an account? sign in
Join our new commenting forum
Join thought-provoking conversations, follow other Independent readers and see their replies