Jonathan Stephenson: Trade unionist and chairman of the SDLP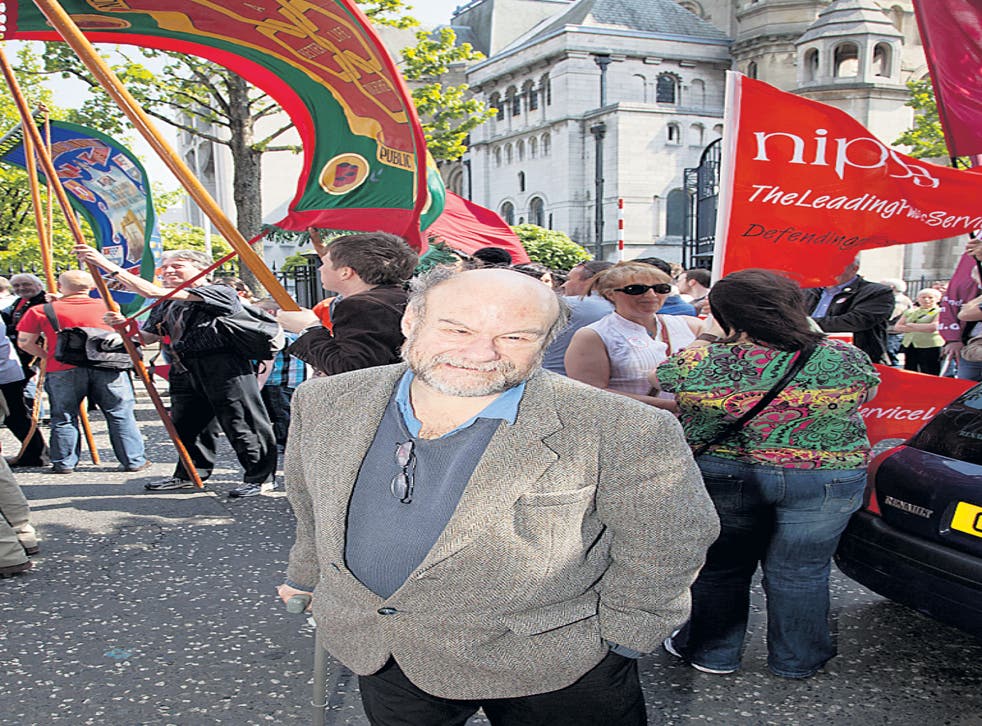 Jonathan Stephenson was born into a family of English diplomats, but the causes he espoused were anything but establishment. He was a spokesman for the trade union movement at a time when the unions were in constant battle with the Thatcher government and, despite the threat of physical violence, went on to become a leading figure in Northern Irish politics, one of the few Englishmen to make such a political commitment.
His grandfather Sir Hugh Stephenson was one of the last heads of the Indian Civil Service in Bengal. His father, another Sir Hugh, was also in the Indian Civil Service, returning to this country in 1947 to join the Foreign Office. As a child, Jonathan, born in 1950, moved with his family as his father served in the British Middle East Office, as Ambassador in Vietnam, Consul General in New York, for the Joint Intelligence Staff in London and then as Ambassador to South Africa. He was in the same room when Prime Minister Verwoerd was assassinated in 1966.
Stephenson, whose elder brother was the journalist Hugh Stephenson, former editor of the New Statesman and now Professor Emeritus at City University, was educated at boarding schools in England. An early disposition to rebellion came when he was expelled from Winchester College, and for some time he dropped out of school. He went to Queen's University in Belfast where he read history and politics, becoming highly politicised by the events around him; for his final year, he studied American politics. From then on, Stephenson would wear an American anorak to watch their elections.
On leaving the university he joined the Northern Ireland Council for Voluntary Action, the first of the many voluntary groups that he was to become involved with. In 1979 he moved to London and joined the staff of the TUC's press office, working for Brendan Barber, the present general secretary. Barber had just become head of the Press and Information Department and as the Labour Party fell into disarray, the TUC was thrust into leading the opposition to the Conservative Government.
A shrewd observer of the political scene, Stephenson was a witty and engaging character with a keen sense of humour and love of the ridiculous. He was also an enthusiastic cricket supporter and organised many matches – something that he would continue to do in Northern Ireland.
Barber remembered a loyal staff member: "Jonathan was a skilled writer, astute observer and intelligent political analyst. He was a trusted colleague in difficult times. Above all he was good company: sociable, likeable and good fun."
On leaving the TUC in 1988, Stephenson, describing himself as "a British-born English Protestant", returned to Belfast. A strong conviction for socialist affairs and concern at what was happening in Northern Ireland made him make a commitment to take an active part in its future. He became the first press officer for the Social Democratic and Labour Party, and would remain active within the party. For Stephenson, the SDLP offered the best vehicle for achieving a political settlement in Northern Ireland as it recognised the very clear divisions of national identity within Northern Ireland. He argued that they could not be ignored, despite unionists and republicans wanting to do so. He supported the SDLP's view to arrive at arrangements to share the counties, and believed that the SDLP should broaden its interests to embrace more Protestants, community groups and young people. He became a Belfast City councillor, representing the Castle area between 1993 and 1997.
In September 1993, Stephenson's house was bombed by the UVF as they targeted several councillors in Belfast. No one was hurt, but he was issued with a gun by the RUC, which – typically of Stephenson – was to remain locked up in a safe. He refused to give in to coercion and in 1995 became chairman of the SDLP, a post he held until 1998. He was elected in 1996 as one of two SDLP regional candidates to the Northern Ireland Forum.
The SDLP Leader and South Belfast MP Dr Alasdair McDonnell recalled: "Jonathan devoted so much of his life to helping people and serving the community in North Belfast during some of the darkest days of the Troubles. He was a diligent press officer for the party, before becoming chair of the SDLP and then answering the call of public representation. He was a good man and will be sadly missed."
In October 1993 Stephenson had joined the Northern Ireland Public Service Alliance as a journalist, running their magazine, a position he was to hold for the rest of his working life. Brian Campfield, its general secretary, became a close friend: "Jonathan was a committed social democrat, committed to social justice; his return to Ireland showed that commitment. He had a sharp wit, and was a great democrat."
In recent years his movement had been curtailed by a leg injury and he had been concentrating on writing his memoirs. "The International" was played at his funeral.
Peta Steel
Jonathan Stephenson, politician, trade unionist and journalist: born Surrey 2 November 1950; married 1992 Marga Foley (divorced 2009; one son, one daughter and one stepson); died Belfast 21 December 2011.
Join our new commenting forum
Join thought-provoking conversations, follow other Independent readers and see their replies