José Férez Kuri: Curator, author and mentor to William Burroughs and Kenji Yoshida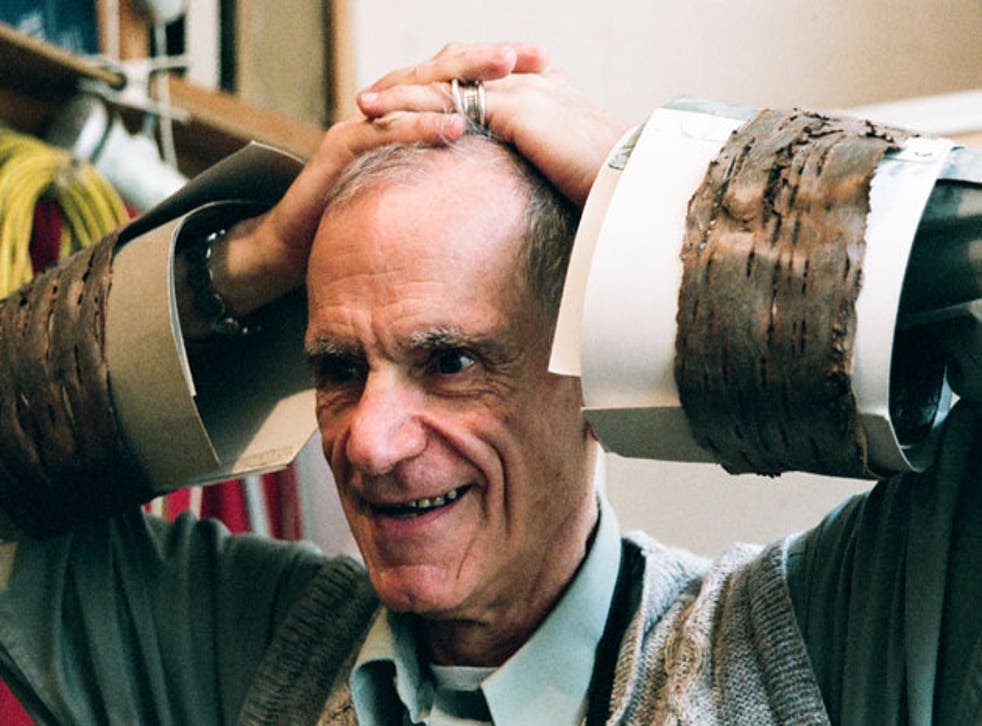 Placed by the coffin at José Férez Kuri's funeral in Père Lachaise cemetery last month were a photograph and a small work of art. The first was of Férez himself, taken at the 80th birthday party of William Burroughs, held in Lawrence, Kansas in 1994. The second was a painting by the artist Kenji Yoshida. Yoshida, an ascetic and happily married ex-kamikaze, devoted his life to peace by making work that mingled the traditions of Japanese and Western art. Burroughs, by contrast, favoured heroin, guns, orgiastic gay sex and cutting up prose with scalpels.That the two men should appear side-by-side says much of Férez, who was the close friend and mentor of both.
The meeting of this unlikely trio had been prefigured, suitably oddly, on the slopes of a volcano. In 1983, the Theatre of All Possibilities (TAP) - an American drama troupe, founded in the 1960s and based on the teachings of Gurdjieff - was performing The Epic of Gilgamesh on Mount Popocatapetl, outside Mexico City. Férez, one of 10 children of a Lebanese-Mexican family, was in the audience. A dance producer in his own right, he decided to throw in his lot with TAP and follow the troupe back to its home on the Synergia Ranch, near Santa Fe in New Mexico.The ranch was, at the time, the centre of a quasi-philosophical group known as the transvangardists. Roughly, these held that an instinct for the avant-garde unites all cultures and forms of artistic and scientific expression.
A child of its time, Synergia was also the headquarters of the Institute of Ecotechnics, a futuristic body dedicated to the integration of technology and ecology. The most spectacular outcome of this was Biosphere 2, a vast, atmospherically sealed structure built in 1991 with an eye to the human colonisation of space. (A mission to live inside the sphere ended in 1994, amid claims of charlatinism and sabotage.) Férez was a keen supporter of all these experiments, appealing as they did to his taste for connections.
In 1979, TAP had opened an artspace in London, which is still in existence, known as the October Gallery. In 1984, Férez left Santa Fe to take over as its director. Among the artists to catch the Mexican's eclectic eye and be signed to the gallery were Burroughs and the one-time surrealist Brion Gysin. Although Gysin was notorious for shooting flame-tipped arrows from the window of Paul Bowles's Paris hotel room, he was also, like Yoshida, a talented Japanese calligrapher. Holed up with the author of The Naked Lunch at the Beat Hotel in Paris, he passed his knowledge on - a lesson that bore fruit in the thick black, Klee-like characters Burroughs drew for the jacket of his book's first edition.
Leaving the October Gallery to set up as an independent curator in 1991, Férez continued his association with all three artists. For Gysin, who died in 1986, he wrote what remains the best book on his work, Thames & Hudson's Tuning into the Multimedia Age (2003).
Férez's links with Burroughs carried on until the latter's death in 1997. It is largely due to shows of his work at the October Gallery in 1988 and 1992 that Burroughs gained a reputation as a visual artist. Always in favour of connection, Férez encouraged his protégé to work with other artists, among them Keith Haring. He also curated an exhibition, Burroughs Live, at the Royal Academy in 2009 which included a cabinet- portrait of the writer by Damien Hirst called, in echo of Burroughs's last words, I'll Be Right Back (2004). The materials for this work - empty amphetamine bottles, spent bullets and the rest - had been given by Burroughs to Férez during his many visits to the writer's house in Lawrence, Kansas.
In all of this, Férez found little time to make work of his own. True to the transvangardists' techno-art creed, he mapped out vast drawings by driving a car through Mexico's Zona de Silencio desert with a GPS system on board, and later flew a light aeroplane in a heart-shaped route over the island of Ireland. His main energies, though, were expended on others. Apparently living on air and running his empire from tiny flats in the shabbier parts of London, Férez, kind and gregarious, was at the centre of a vast group of friends. A series of heart attacks, the last of which killed him a week after his 59th birthday, did nothing to slow him down. He spent his final months packing and archiving the contents of Kenji Yoshida's Paris studio and finding an institution to take them on.
At a memorial service to the artist in February, Férez's exhaustion showed. Tired but happy, he summed up his life thus: "I've done too many drugs, too much drinking and sex, too much of everything. And I've enjoyed it all."
Charles Darwent
José Férez Kuri, curator, author and transvangardist: born Mexico City 19 March 1951; died Paris 25 March 2010
Join our new commenting forum
Join thought-provoking conversations, follow other Independent readers and see their replies