Jose Antonio Reyes: Spanish striker who won a record five Europa Leagues and became an 'Invincible' with Arsenal
An eventful two and a half years in north London saw the gifted young forward win the Premier League and FA Cup, before his return to Spain brought even more silverware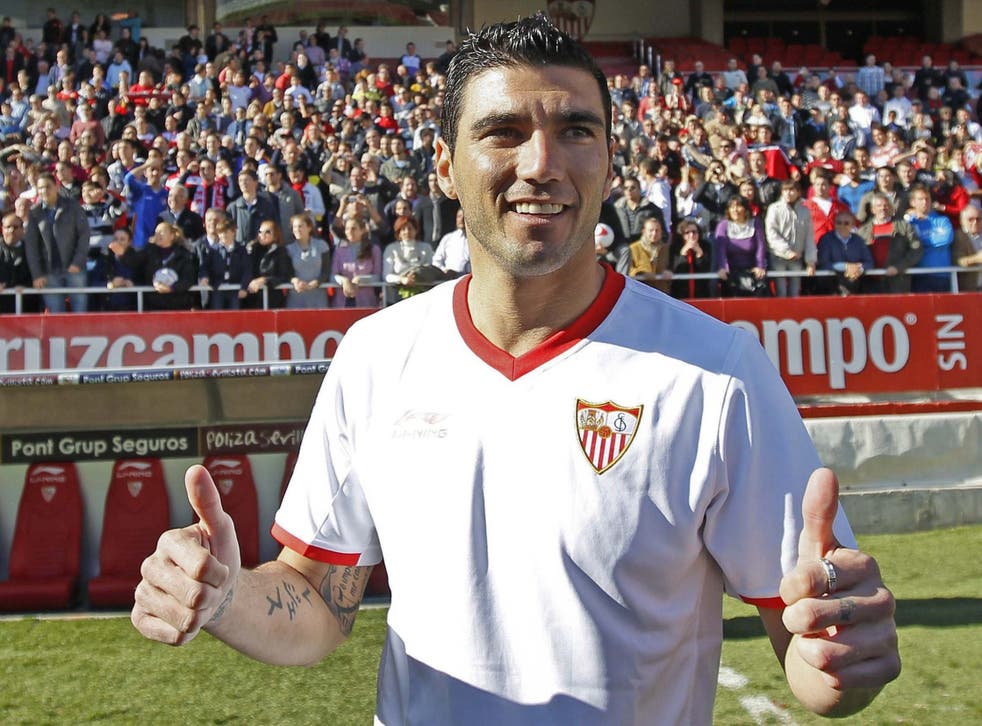 Jose Antonio Reyes was only 20 when he brought his pace, skill and finishing prowess to Arsenal's march on the Premier League title of 2003-04. He became the first Spaniard to win the English championship as Arsene Wenger's team remained unbeaten throughout the season to earn the epithet of "The Invincibles".
Reyes, who died in a car accident near his home town of Utera in Spain at the age of 35, spent two and a half years at Arsenal before embarking on a tour of clubs taking in Real Madrid, Atletico Madrid and Benfica. Yet the striker-cum-left winger created a lasting impression at Highbury with stunning goals and flashes of flair, but also a sense of unfulfilled promise.
Born to poor Romani parents in Andalusia, Reyes's precocious talents saw him attached to Sevilla when he was 10.
His progress accelerated following his first-team debut at 16. He had already represented Spain – scoring twice in his second international – when Wenger brought him to north London in January 2004 for £10.5m (with the potential to rise to a club-record £17m).
Arriving in midwinter, Reyes reportedly declared: "Bloody hell, it's cold." He soon warmed to his new surroundings, scoring twice in Arsenal's FA Cup defeat of Chelsea a month later. With three games remaining and an undefeated league record in sight, he equalised in the closing minutes at Portsmouth and followed up with the only goal at Fulham.
Reyes netted in each of the first five fixtures of 2004-05. During this sequence Arsenal hosted Middlesbrough knowing that if they won or drew they would equal Nottingham Forest's record of 42 successive league games without defeat.
Eight minutes after half-time they trailed 3-1, but 12 minutes later, with the score 3-3, Dennis Bergkamp found Reyes on the left angle of the penalty area. He cut inside, leaving Michael Reiziger on his backside, and with his weaker foot smashed a diagonal shot into the net. Arsenal won 5-3.
Six months into the season, however, he claimed to be homesick – despite having brought his parents and brother to live in London with him – and did little to discourage speculation linking him with a return to Spain.
Reyes stayed to gain an FA Cup winner's medal after Arsenal beat Manchester United on penalties in 2005, though he became the second player ever to be sent off in the final after cynically fouling Cristiano Ronaldo in the dying seconds.
He also featured prominently in Arsenal's run in the Champions League in 2005-06 before appearing as a substitute in the final defeat by Barcelona. It was the last of his 110 matches (with 23 goals) for the club; during the summer he joined Real Madrid on a season-long loan. On the final day of 2006-07 he came on for David Beckham and scored twice against Mallorca to help clinch the La Liga title.
Atletico Madrid then paid Arsenal £9m for Reyes, only for his first year there to prove largely unproductive. Another season-long loan, to Benfica, was followed by a return to the capital. In January 2012 he rejoined Sevilla, playing under current Arsenal manager Unai Emery and adding three Europa League winner's medals to the two earned with Atletico. His tally of five victories still stands as a competiton record.
Released in 2016 he had spells with Espanyol, Cordoba and Chinese club Xinjiang Tianshan Leopard.
Alberto Moreno pays tribute to Jose Antonio Reyes after Liverpool Champions League win
Reyes, who played 21 times for his country, scoring four goals and appearing in the 2006 World Cup, signed for Spanish club Extremadura in January. His death came days before his second wedding anniversary and he is survived by his wife, Noelia Lopez, their two daughters and a son by a previous relationship.
Jose Antonio Reyes, Spanish footballer, born 1 September 1983, died 1 June 2019
Join our new commenting forum
Join thought-provoking conversations, follow other Independent readers and see their replies