Joy Lofthouse: Second World War pilot who flew Spitfires and Hurricanes
She was part of a pioneering band of women who were not allowed on sorties but crisscrossed the country delivering planes to the RAF
Martin Childs
Monday 27 November 2017 16:03 Comments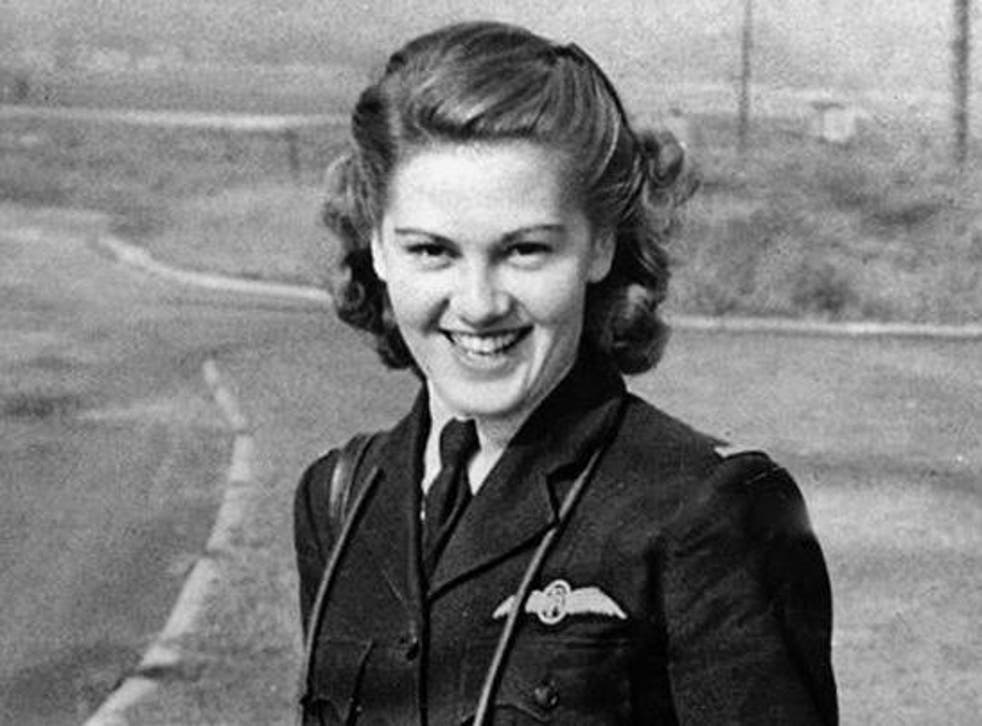 "We're honoured today to be joined by one of the very few female pilots of the Second World War, among the aircraft she flew were Spitfires and Hurricanes," Sue Barker announced at the All England Club last year. "Centre Court please show your appreciation for Joy Lofthouse."
The crowd at Wimbledon, which included David Beckham, burst into a prolonged ovation as a diminutive, smiling figure, stood up.
Lofthouse, who has died aged 94, was a Spitfire Woman – one of the last two survivors of the band of 168 female pilots who fought against all odds in the Second World War. They were part of the Air Transport Auxiliary – hence the nickname "Attagirls" – which transported aircraft to the frontline RAF from factories and depots.
In the summer of 1943, Lofthouse, too young to gain even a driving licence before the war, responded to an advertisement in Aeroplane magazine from the ATA, encouraging more women to apply for training. She applied. Unbeknown to the 20-year-old, her older sister, Yvonne, already a widow, had also applied, but under her married name, which meant the authorities had no idea that they were sisters.
Extraordinarily, both sisters were among the 17 selected from a field of 2,000 applicants.
Having completed her training, she remained at Thame to ferry light aircraft, such as the Tiger Moth and Magister trainer, from factories to RAF flying schools.
A few months later, she joined the all-female ferry pool at Hamble near Southampton, close to various aircraft manufacturers, including the Supermarine factory where the Spitfires were constructed.
"You'd walk into the operations room, the hatch would open and the ops office would hand out the chits for what you'd be delivering," Lofthouse recalled. "Sometimes we were taken to the factory at Eastleigh to collect a Spitfire. We'd transport planes to the maintenance unit where the radio and guns were fitted, but we weren't trained to use those things."
Their schedule involved ferrying aircraft on 12-13 day cycles before a few days' leave. "We did every kind of ferrying that was non-operational to save the air force," she said.
On one occasion, however, Lofthouse narrowly escaped disaster. Having collected a new Spitfire, with a more powerful engine, from the factory, she took off. Despite following her training, she found herself heading towards some barrage balloons at a terrifying speed. "It felt like minutes of sheer terror," she said. "In fact it was a matter of seconds." The aircraft straightened up, "but for that minute or two my brain was racing… am I going to hit that cable? Or whizz through it?"
In all, during her two years, she flew 18 different types of aircraft, the majority single-engine, including British Hurricanes, Tempests, Typhoons and Barracudas, and the American-built P-51 Mustangs and Hellcats, but the "wonderful" Spitfire was her favourite. "Small cockpit. Very manoeuvrable – the slightest touch on the stick and she moved. It's the nearest thing to having wings of your own and flying," she said in 2015.
Lofthouse delivered naval fighters to airfields in Scotland and during the build-up to D-Day was busy taking fighter planes, including over 50 Spitfires, to squadrons on the south coast. By the end of the war, she had converted to flying light twin-engine aircraft, with female pilots also flying to mainland Europe.
"There wasn't much to flying a new plane," she explained. "I guess it's the equivalent of stepping into a car you haven't driven before. It's not all that different."
Remarkably, the ATA girls received the same pay as their male counterparts. Over the course of the war, it delivered 309,000 aircraft of 147 different types, ranging from light training aircraft to heavy four-engine bombers.
Pilots flew each type after a short briefing using a basic checklist. Although the ATA pilots did not fly combat missions, flying without radio or instrument guidance, relying solely on maps, railway lines and other local features to find their way, the weather tended to be their worst enemy with 156 losing their lives, 20 of whom were women.
Born on Valentine's Day 1923 in Cirencester, Gloucestershire, Joy Gough was the younger of two sisters. Her mother was a dressmaker while her father was a hairdresser and professional footballer, "back when they were not paid £500,000 a week". Spurred on by their father, she and her sister Yvonne enjoyed a variety of sports, particularly tennis.
Yvonne had only been married for a year to Tom Wheatley, an RAF bomber pilot, when he was killed in a bombing raid over Berlin in 1943.
Growing up in Cirencester the sisters met many young pilots due to the town's proximity to a number of airfields. Consequently, they became interested in aircraft. Lofthouse admitted, "You couldn't just stand there, useless, dumb, when the boys were talking about planes."
Educated at Cirencester Grammar School, Lofthouse left school to work as a cashier at the local Lloyds Bank until she joined the ATA.
Post-war Lofthouse worked as a teacher and brought up her family but always remained in contact with her former ATA colleagues. In 1990, she was invited with seven survivors to the RAF's Officer and Aircrew Selection Centre at Biggin Hill, to meet the first female candidates aspiring to become RAF pilots. She later wrote to the Commandant, "Our visit brought back many happy memories – we were all made to feel young again for a short while."
In 2008, Lofthouse and the surviving Attagirls received a commemorative badge from Gordon Brown's Labour government. "For 60 years nobody asked me about my wartime job, but for the past 10 I've dined out on it," she joked.
In 2015, to commemorate the 70th anniversary of VE Day, Lofthouse, then aged 92, took to the air in a Spitfire for the first time since the war as a passenger for the BBC documentary Spitfire Women. Flying in a dual control version of the fighter she professed to "not being as confident as I was when I used to fly them alone". After the flight she beamed, "It was lovely. It was perfect but terribly noisy, with radio communications on all the time."
She married Czech fighter pilot Jiri Hartman, whom she met in a bank in 1945. They divorced in 1966. In 1971, she married Squadron Leader Charles Lofthouse, a decorated former Lancaster bomber pilot, whom she had met while taking a teacher training course in Portsmouth.
Lofthouse later confessed that she was disappointed when the war ended because it meant that her services were no longer required. "I was very wicked," she told an interviewer. "I never wanted [the war] to end. I was enjoying my work so much."
She is survived by her son, Peter, and daughter, Lyn, from her first marriage.
Joy Lofthouse, Second World War pilot, born 14 February 1923, died 15 November 2017
Register for free to continue reading
Registration is a free and easy way to support our truly independent journalism
By registering, you will also enjoy limited access to Premium articles, exclusive newsletters, commenting, and virtual events with our leading journalists
Already have an account? sign in
Join our new commenting forum
Join thought-provoking conversations, follow other Independent readers and see their replies