Juan Reinaldo Sanchez: Fidel Castro's bodyguard who blew the whistle on the leader's secret life
The communist leader's right hand fled Cuba and revealed the secrets behind the government
Phil Davison
Wednesday 03 June 2015 18:55 Comments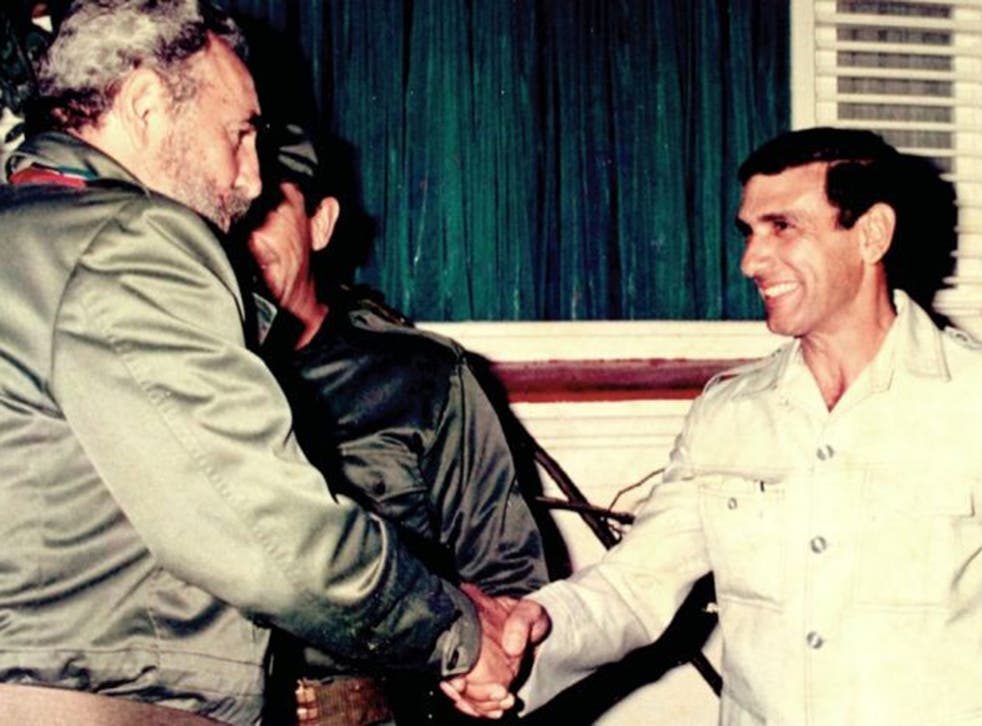 Juan Reinaldo Sanchez was Fidel Castro's bodyguard and personal aide for 17 years. But having fled Cuba, he recently blew the whistle on what he called Castro's "double life" of luxury mansions, yachts, mistresses, secret foreign bank accounts and a private paradise island. Sanchez accused the revolutionary leader of being a "true drugs Godfather", harbouring Colombian drug lords and directing shipments of cocaine via Cuba to the US.
Castro always denied accusations of personal involvement with the cartels; he blamed one of his senior military staff, General Arnaldo Ochoa, and put him to the firing squad in 1989.
The former bodyguard said he witnessed several training camps where Cuban forces taught guerrillas from Spain (the Basque group Eta), Nicaragua (the pre-revolution Sandinistas) and Colombia (FARC). Among Sanchez's other tasks were writing down and summarising Castro's diary entries and organising security on his trips abroad.
Sanchez's sudden death in Miami, reportedly from a lung infection, came two weeks after his book The Double Life of Fidel Castro was published in the US and three weeks before it is due out in the UK. That timing lit up the global blogosphere, notably among Cuban-Americans who speculated that Castro's Miami agents may have poisoned him. In recent TV interviews in Miami he had looked the picture of health at the age of 66 and did not mention being unwell.
He said he had further "high-voltage secrets" of Castro's life yet to publish, adding that he himself had two bodyguards in Miami – and "I've always got my revolver."
Pro-Castro bloggers dismissed the book as "CIA propaganda" and said anti-Castro Cuban-Americans in Miami were attempting to undermine the thawing of relations between President Obama and the Cuban leader Raul Castro, Fidel's brother, who is nominally president but believed to remain beholden to his big brother.
In the book, due to published here by Amberley Publishing on 15 June, Sanchez, a former lieutenant-colonel, a black belt in judo and karate and a multiple national sharpshooting champion, dismisses the official Cuban media line that Castro lives on a small salary (900 old pesos a month, around £25) and shares the hardships of his people. In fact, he says, after repelling the farcical CIA-backed invasion attempt by Cuban-Americans at the Bay of Pigs in 1961, Castro came across a Robinson Crusoe-style island off the same bay known as Cayo Piedra (Stone Cay).
He commandeered it and turned it into a paradise of mansions, guest houses, a half-Olympic-size pool, a heliport, a dolphinarium where two tame dolphins did tricks for visitors, a turtle lagoon, marina, a luxury yacht Aquarama –a gift from the then Soviet leader Leonid Brezhnev – and two deep-sea fishing speedboats. Guests were looked after by attractive young women, plucked from the barrios of Havana and pledged to discretion and secrecy.
The island's existence was banned from the state media but Castro's best friends, from the East German communist leader Erich Honecker to CNN owner Ted Turner and Colombian author Gabriel Garcia Marquez, were regular guests, according to Sanchez. He said he went deep sea fishing, scuba-diving or spear-fishing with the Cuban leader "hundreds of times" watching him wash down his own freshly caught lobster with his favourite scotch, 12-year-old Chivas Regal.
He said the revolutionary leader had his own hospital boat, where he always kept two of his security staff with the same relatively rare blood group as his, A-negative, in case he needed transfusions; one of them went with him everywhere. Sanchez also wrote that he witnessed Castro selecting Cuban criminals from jails to join the so-called Mariel Boatlift to Miami in 1980, ridding himself of a problem while imposing thousands of dangerous criminals on the US. The character Tony Montana, played by Al Pacino in the 1983 film Scarface, was based on one such Cuban.
Sanchez said Castro employed two "doubles" to be seen in cars around Havana after illness – colon cancer, according to the bodyguard – often kept him out of circulation. The cancer was first diagnosed in 1983 but in 1992, after a visit to Galicia in Spain, to visit his father's birthplace, he was "between life and death" said Sanchez.
Juan Reinaldo Sanchez was born in the poor west Havana barrio of La Lisa in 1949. In 1966, his father, disillusioned with the path of Castro's revolution, fled to the US and Sanchez was brought up in poverty by his mother, a cleaner. A better-off uncle took him in and, in his white 1955 Buick, showed a wide-eyed young Juan around Havana during its "golden era" of Hollywood stars such as Frank Sinatra and New York mafiosi including Lucky Luciano, who flocked to the Cuban capital for its casinos, rum, glittering Tropicana nightclub and beautiful women desperate for a dollar.
After three years' compulsory military service, Sanchez's prowess with guns and martial arts saw him handpicked as a bodyguard for Castro. He became the leader's right-hand-man all over the world, a pistol tucked into his jacket or guayabera shirt.
In The Double Life of Fidel Castro, written with the French-Swedish correspondent Axel Gyldén of L'Express magazine, Sanchez writes, "Castro was like a God to me. I had always been prepared to die for him." But after hearing a 1988 conversation involving Castro and Colombian drug dealers, "it was as if the sky had fallen in on me." A year later, after General Ochoa was put to a seven-man firing squad for alleged drug trafficking, Castro forced Sanchez and other bodyguards to watch a video of the execution, carried out in a quarry. In 1994, he asked el Jefe Maximo for early retirement but Castro put him jail for insubordination for two years, often in isolation and subject to tortura blanca ("white torture", to show no traces).
Released in 1996, he tried 10 times to flee, finally reaching Mexico by boat in 2008, crossing the US border illegally and settling in Miami, where he became a consultant on Cuban affairs. He is survived by his son Ernesto (named after Ernesto "Che" Guevara), his daughter Aliette and a brother.
Juan Reinaldo Sanchez, presidential bodyguard and aide; born Havana 31 January 1949; one daughter, one son; died Miami 26 May 2015.
Register for free to continue reading
Registration is a free and easy way to support our truly independent journalism
By registering, you will also enjoy limited access to Premium articles, exclusive newsletters, commenting, and virtual events with our leading journalists
Already have an account? sign in
Join our new commenting forum
Join thought-provoking conversations, follow other Independent readers and see their replies