Karlheinz Böhm: Actor best known as the voyeuristic killer Mark Lewis in Michael Powell's controversial masterpiece 'Peeping Tom'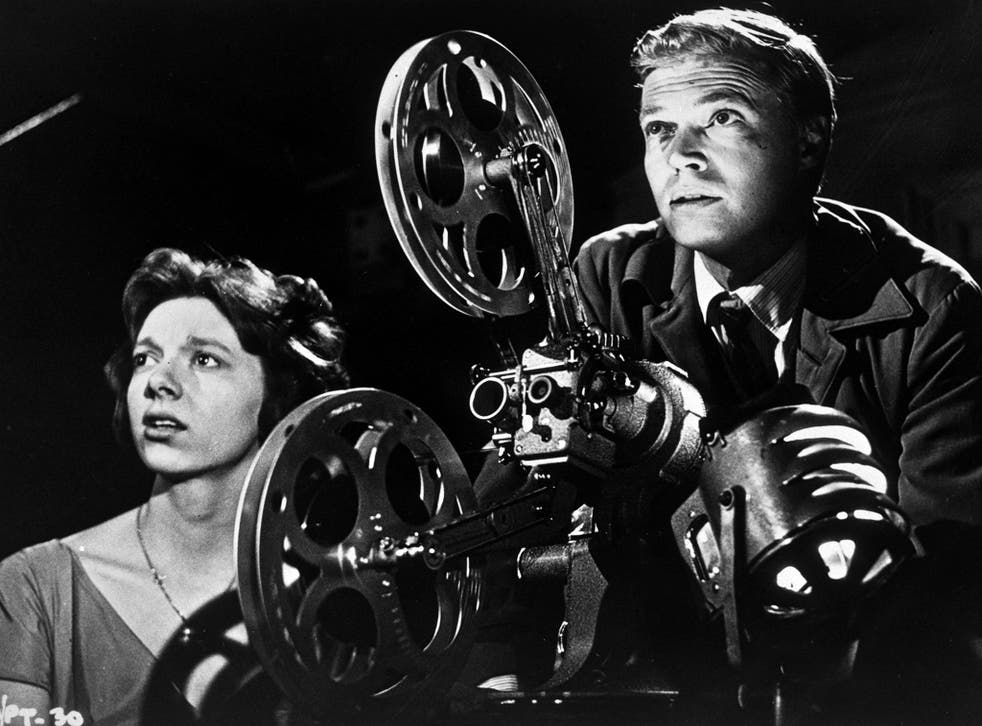 Karlheinz Böhm was a popular leading man in continental cinema of the 1950s, starring in expansive romantic epics that were among the most successful films produced by his home country, Germany. Billed in his English-speaking roles as Carl Boehm, and benefiting from Hollywood's interest in European stars during the early 1960s, he also had an unforgettable leading role in a British film, as Mark Lewis, the tormented, voyeuristic protagonist of Michael Powell's Peeping Tom (1960).
Böhm created an unworldly, pitiable, serial-killer, clad in a raincoat and constantly accompanied by his camera (at one point, Nigel Davenport's policeman jokingly aims it at him before handing it back). His unexplained German accent created a distancing from the other characters; his lowly film employee, shown discussing seasons at the NFT and the Everyman, embodies the film's preoccupation with voyeurism. Believed by Anna Massey's librarian to be merely shy, he actually has her and her fellow tenants in the house he owns, under observation.
In his second autobiography Million Dollar Movie, Powell remembered Böhm's genuine shyness on being recognised ("You're Karl-Heinz Böhm!"), a quality he was not slow to utilise for scenes of Mark Lewis being courted by the innocently unaware Anna Massey.
Killing his female victims with a spike at the end of his camera, taking sexual pleasure from viewing the end results, Lewis eventually oversees his own end by turning the fatal camera on himself. He is revealed to have been driven to it by his domineering father – played, in the flashbacks of home movies, by Powell himself.
The story of how Powell's film, from a script by wartime codebreaker Leo Marks, survived a critical savaging and its disastrous effect on Powell's career to become re-appraised as a classic, has often been told. Less well-known is how Böhm abandoned acting to devote himself to improving living conditions in Africa.
He was born into an artistic family in Darmstadt; his father Karl was a conductor, his mother, Thea Linhard, a soprano. During the Second World War, with the aid of a certificate stating that he had a lung disease, he escaped to Switzerland, where he went to school. At war's end the family moved to his father's home country of Austria. He had planned to become a pianist but his studies were increasingly interrupted by stage appearances.
His first film was Der Engel Mit Der Posaune (The Angel with the Trumpet, 1948) a family saga. A film from a stage play, ...und Ewig Bleit Die Liebe (And Everlasting Love Remains, 1954) also featured Magda Schneider, whose daughter Romy had had success with a fanciful depiction of the young Queen Victoria in Madchenjahre einer Königin (The Girlhood of a Queen, 1955). Capitalising on that film's success, Sissi (1955) paired Romy as the young Empress Elizabeth (the title being her nickname) with Böhm as the Emperor Franz-Josef. Made in colour, it proved hugely successful in Germany, resulting in two sequels, with the young stars reprising their roles.
His first English-language film was a French-Australian co-production, made simultaneously as Le Passenger Clandestin and The Stowaway (1958). Too Hot To Handle (1960), was in the exploitation rut to which Peeping Tom was initially condemned. Set in Soho strip clubs, it featured Jayne Mansfield leading the strippers, Böhm as a French reporter, Christopher Lee among the night club heavies and a morally dubious subplot involving Barbara Windsor as a character called Pony Tail.
For Disney he played the young Beethoven in The Magnificent Rebel (1960), then MGM, having signed him on the strength of the Sissi films, cast him in Vincente Minnelli's The Four Horsemen Of The Apocalypse (1962). An attempt by Paramount to edit the Sissi trilogy down to one film, dubbed into English (with a theme song by Burt Bacharach and Hal David) as Forever My Love (1962) was not successful.
For the epic fantasy The Wonderful World of the Brothers Grimm (1962), MGM cast Laurence Harvey (who had turned down the role of Mark Lewis) and Böhm as the storytellers. Böhm's MGM contract concluded with The Venetian Affair (1966), a spy tale starring Robert Vaughn, often described as indistinguishable from an episode of The Man from U.N.C.L.E.
Returning to Germany, he was in four films for Rainer Werner Fassbinder. Martha (1974), made for TV but later shown in cinemas, was followed by the period drama Effi Briest (1974), Mutter Küsters Fahrt Zum Himmel (Mother Küster's Trip to Heaven, 1975), as a rich communist; and Faustrecht Der Freiheit (Fox and his Friends, 1975), starring the director himself.
Taken ill with bronchitis in 1976, Böhm went to Kenya to recuperate. Shocked by the poverty, when he guested on the game show Wetten das? in 1981, he bet that not one in three viewers would donate a single mark towards helping improve conditions in Africa. The bet was successful, but through his charity Menschen for Menschen [Humans for Humans], Böhm raised over 230 million euros. Based in Ethiopia, the charity established schools, supervised well-digging, and helped women become self-supporting through a credit system. A statue of Böhm was erected in Addis Ababa in 2011. Last year it was announced that he was suffering from Alzheimer's Disease.
GAVIN GAUGHAN
Karlheinz Böhm, actor and charity fundraiser: born Darmstadt 16 March 1928; married four times (six children); died Grödig, Austria 29 May 2014.
Join our new commenting forum
Join thought-provoking conversations, follow other Independent readers and see their replies