Kathy Staff: Nora Batty in 'Last of the Summer Wine' and veteran of ITV soaps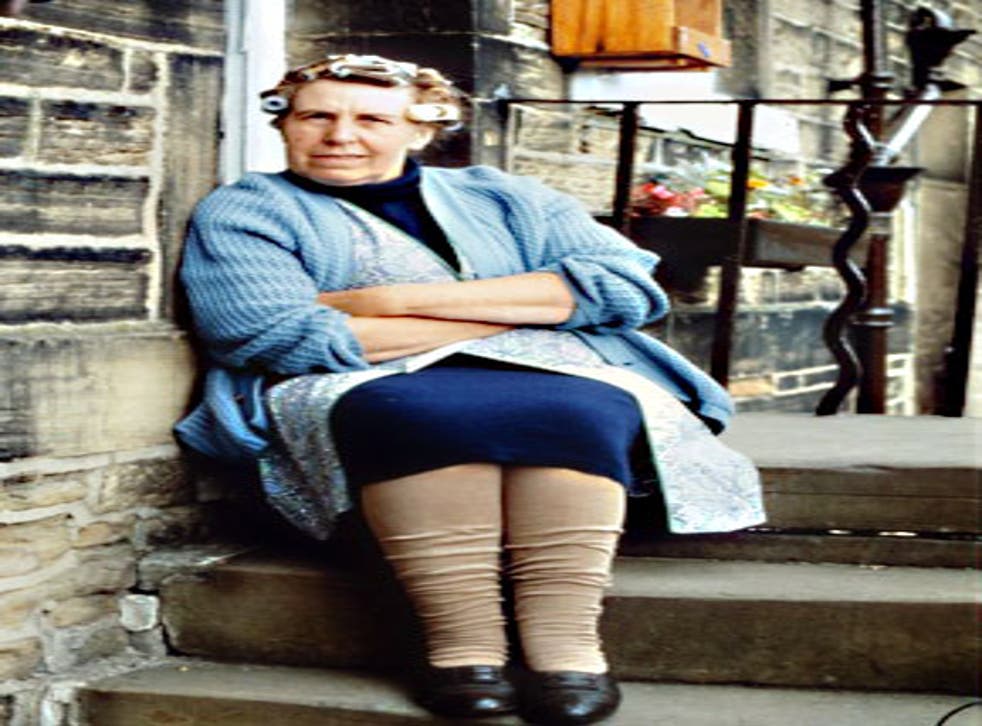 The actress Kathy Staff turned Nora Batty into a television icon. Over 35 years, in 29 series, she played the broom-wielding, humourless battleaxe in the BBC sitcom Last of the Summer Wine. Nora had two targets: her henpecked husband, Wally (played by Joe Gladwin), and the shabby, woolly hat-and-wellies-wearing pensioner Compo (Bill Owen), who lusted after her and did eventually get a kiss. Nora's pursuit by Compo was a staple of most episodes. It provided wacky storylines such as the scruffy old man attempting to have his photograph taken in her bedroom and devising a complicated plan to establish her shoe size.
The tale of three eccentric old duffers ambling around a small Yorkshire town, written by Roy Clarke, changed in tone over the years (and Peter Sallis, as Clegg, is the only survivor from the original trio). The initial acerbic humour was gradually tempered to provide a more gentle and affectionate situation and there was increasing slapstick and larger-than-life characterisation. But Nora Batty maintained her battleaxe status, even though the actress – a devout Christian – was keen to make the character slightly more mellow.
Staff once insisted: "Underneath, Nora is a very warm-hearted woman, but she doesn't like to show her feelings. She's the type of woman who if she shows any feelings thinks it's a sign of weakness. But I don't think she would show her feelings to anybody – even her husband. He probably didn't even realise that she was so fond of him."
Joe Gladwin died shortly after the 1986 Christmas special, leaving Batty as a widow continuing to fend off Compo's amorous advances, until Bill Owen's death in 1999. Staff and Owen had been the only cast members to appear in all 21 series to that date of a programme that attracted up to 22 million viewers and continues to run to this day. Staff completed her 29th series this year.
Nora was seen hanging out her washing in the first scene of the Last of the Summer Wine pilot episode in 1973, but in those early days she was simply "Mrs Batty", Compo's neighbour. However, the character quickly acquired cult status. This was a result not only of Staff's portrayal – complete with padding to make her the fat and ugly Nora envisaged in the script – but also the frequent mentions of her wrinkled stockings made by Terry Wogan on his Radio 2 show. Batty's husband did not appear until the second series, in 1975.
During the first decade of Summer Wine, Staff was able to combine the role of Nora with others in ITV's three most popular soap operas. Having played customers in different Coronation Street shops over the years, she became a semi-regular in the serial as Vera Hopkins (1973, 1974-75), a community centre committee member who then ran the cornershop with her family, renting it from Gordon Clegg. But Vera's plans to become part of the community were sabotaged by her harridan mother-in-law Megan's heavy-handedness with customers. When Staff needed to record the second series of Last of the Summer Wine, Vera was written out to nurse her sick mother.
The actress then played Winnie Purvis, cleaner at The Woolpack pub, in Emmerdale Farm (1975). But her longest-running soap role was as Doris Luke in Crossroads (1978-85). The kindly spinster was first seen as the housekeeper at Ed Lawton's farm, where Benny worked, before becoming a vegetable cook in the motel kitchen. "No good'll come out of it – you mark my words," was a typical Doris observation. (Staff had previously popped up in the critically maligned serial in 1971, as Miss Dingwall, who visited the motel to arrange her daughter's wedding.)
"I enjoyed myself as Nora Batty because I enjoyed the comedy, whereas Doris was more like me," Staff reflected. "Crossroads were very good about me combining the two. They said, 'If you give us three months' notice for your dates on Last of the Summer Wine, we'll write you out.' So Doris was always falling off step ladders and ending up in hospital or going to see her sister."
Although Staff left the Crossroads cast in 1985, three years before the axe fell on the serial, she was one of only three characters who returned when it was revived in 2001. She left a year later, unhappy with the racy storylines – pre-empting the final demise of what was once a much-loved soap.
Kathy Staff was born Minnie Higginbottom in Dukinfield, Cheshire, in 1928, the daughter of a clothing company manager who was also a lay reader at a mission church. As a child, she performed in a local church choir and pantomimes and had ambitions to become a ballet dancer, but her parents could not afford the training fees. Her religious upbringing led her never to drink alcohol or smoke.
On leaving school, she trained as a shorthand typist and took an office job with the National Gas & Oil Engine Company in Ashton-under-Lyne. This gave her the chance to perform on stage with the firm's amateur acting group.
In 1949, at the age of 21, she turned professional and changed her name to Katherine Brant, taking the surname from a shopfront she saw while on a bus to Oldham. She gained experience with repertory companies in Scotland and Wales and, while in Llanelli, met John Staff, a schoolteacher who read lessons in a local church. After they married and had two children, she retired from acting for 10 years.
Gerald Harper, an old friend from rep days, persuaded her to return and she worked as a £3-a-day extra in television. By then using her married name, Kathy Staff, she also landed a prized supporting role in the film A Kind of Loving (1962), one of the "kitchen sink" dramas that portrayed working-class life as it really was. She played Mrs Oliphant, a nosy neighbour, alongside Alan Bates as the North Country draughtsman forced into marriage when his girlfriend became pregnant and Thora Hird as his dragon-like mother-in-law. Staff, whose young daughter Katherine also appeared in the film, later had an uncredited role, again as a neighbour, in The Family Way (1966).
After acting in an episode of the Yorkshire Television schools series How We Used to Live (1968), Staff was cast by the same ITV company in her first soap opera, Castle Haven (1969). She had the regular role of Lorna Everitt, wife of the scruffy Harry (played by another Coronation Street star, Roy Barraclough), in a saga revolving around the residents of flats in a Yorkshire coastal town.
Parts followed in other serials and Last of the Summer Wine. During this time she also had a small, semi-regular role as Mrs Blewett, a miserable, gossiping customer of the stammering Yorkshire shopkeeper Arkwright (Ronnie Barker) in Open All Hours (1976, 1981), which was another of the writer Roy Clarke's creations.
Her cult status as Nora Batty also led Staff to appear with the comedian Les Dawson, first in his comedy playlet "Where There's a Will" (Dawson's Weekly, 1975), then for the 11th and final series of Sez Les (1976) and its successor, Dawson and Friends (1977). Later, she brought her battleaxe screen persona to The Benny Hill Show (1983-86) and Hill's producer, Dennis Kirkland, gave her the role of Mrs H in the Eric Sykes wordless comedy Mr H Is Late (1988).
Staff then landed her own starring role in a sitcom, playing the recently widowed Molly Bickerstaff who moves from Oldham to live with her divorced daughter and granddaughter in London, in No Frills (1988), but it ran for only one series.
The actress's other films included The Dresser (based on Ronald Harwood's play, 1983), Little Dorrit (as the cook and housekeeper Mrs Tickit, 1988) and Mary Reilly (also as a cook, alongside Julia Roberts and John Malkovich, 1996). She also played the boarding-house maid Mabel in the television film adaptation of Terence Rattigan's Separate Tables (1983). Staff's autobiography, My Story – Wrinkles and All, was published in 1997.
Anthony Hayward
Minnie Higginbottom (Kathy Staff), actress: born Dukinfield, Cheshire 12 July 1928; married 1951 John Staff (two daughters); died Ashton-under-Lyne, Lancashire 14 December 2008.
Register for free to continue reading
Registration is a free and easy way to support our truly independent journalism
By registering, you will also enjoy limited access to Premium articles, exclusive newsletters, commenting, and virtual events with our leading journalists
Already have an account? sign in
Register for free to continue reading
Registration is a free and easy way to support our truly independent journalism
By registering, you will also enjoy limited access to Premium articles, exclusive newsletters, commenting, and virtual events with our leading journalists
Already have an account? sign in
Join our new commenting forum
Join thought-provoking conversations, follow other Independent readers and see their replies