Kazimierz Piechowski: Auschwitz survivor who posed as an SS guard and stole the commandant's car to escape
He was part of a group of four men who drove up to the gates of the death camp in Nazi uniforms and demanded the guards to open up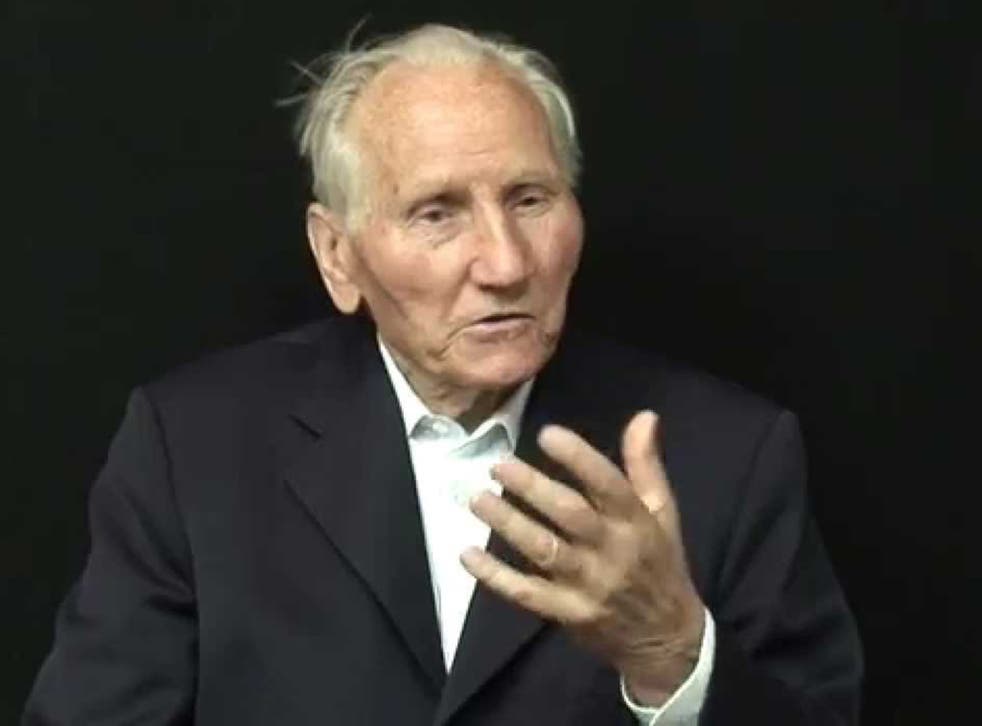 Kazimierz Piechowski was a teenage member of the Polish Boy Scouts before he became one of the first prisoners at Auschwitz. He went on to lead a daring escape from the Nazi death camp, helping to steal the commandant's car.
Piechowski was 19 when German forces swept through Poland and began killing priests, intellectuals and members of the country's scouts organisation in September 1939. The scouts served as an underground resistance network and were proscribed by the Nazis.
Piechowski soon left the country for France, aiming to join the displaced Polish army. But Piechowski was captured near the Hungarian border, imprisoned and, on 20 June 1940, sent to Auschwitz. It had opened a month earlier by the SS as a concentration camp for criminals and political prisoners.
​Piechowski, who went by the name "Kazik", acquired a new name: Prisoner 918. Under the threat of death he took on a new job, working more than 12 hours a day to expand the forced-labour camp into the core of an elaborate killing centre.
About 1.1 million people, most of them Jewish, would die at Auschwitz before the complex was liberated in 1945. While many were killed in gas chambers built to look like shower installations, some political prisoners, including women and children, were stripped naked and shot in the back of the head outside a "death wall". For six weeks, Piechowski later said, he was tasked with carting bodies from the wall to a crematorium.
Murder was often seen as sport, or even a means to a vacation. "When an SS man was bored, they would take off a prisoner's cap and throw it away," Piechowski said in an interview with the The Guardian in 2011. "They would then order the prisoner to fetch it. As the prisoner was running, the officer would shoot them. Then they would claim the prisoner was trying to escape and get three days off for foiling it."
Some inmates were beaten to death with batons. Many starved. Only a few – 196, according to the Auschwitz-Birkenau Memorial and Museum – successfully escaped to freedom.
Piechowski enacted his own unlikely escape plan in 1942, two years to the day after he arrived at Auschwitz. He had seen plenty of escapes foiled by the electrified barbed wire and watchtowers surrounding the camp, and knew that 10 people were forced to starve in reprisal for each person who escaped.
But the calculus changed abruptly when a friend of Piechowski's, Eugeniusz Bendera, learned that he was scheduled to be killed and suggested they flee the camp in an SS car. Bendera, a mechanic, had access to the vehicle. Piechowski, who was working in the warehouse, knew where to find a stash of uniforms and weapons that would allow them to disguise themselves as SS officers.
In an effort to spare his cellmates from retribution, Piechowski devised a plan in which he, Bendera and two others – Stanislaw Gustaw Jaster, a former Scout, and Jozef Lempart, a priest – would leave the main camp area by pretending to be part of a four-person work unit. If the entire unit disappeared, Piechowski figured, their block supervisor would likely be held wholly responsible. If they were caught, the men agreed, they would shoot themselves.
On a quiet Saturday morning, they pushed a garbage cart through the first camp gate, under the infamous sign bearing the legend, Arbeit Macht Frei (Work sets you free). Three of the men scurried through a coal hatch inside the warehouse, and Piechowski led them to a room where they nabbed SS uniforms, four machine guns and eight grenades, according to historian Laurence Rees's 2005 book Auschwitz: A New History.
They stepped inside a speedy Steyr 220 – the fastest car on the base, belonging to commandant Rudolf Höss – and drove toward the camp's main gate, greeting SS officers with a "Heil Hitler!" along the way, Piechowski later said. They had good luck pushing their garbage cart and taking the uniforms out of the warehouse, where SS officers failed to identify them, but at the camp's outermost gate they were met with a closed barrier.
"Wake up, you buggers!" Piechowski yelled in German to the men manning the gate, he later told the Guardian. "Open up, or I'll open you up."
The gate opened, and the escapees drove to freedom. Concentration camp commandants were warned to watch against future escapes, according to Rees's account, but at Auschwitz only Piechowski's kapo – the prisoner who helped supervise his unit – was punished.
Still, the episode seemed to haunt each man for years. Jaster, working with resistance leader Witold Pilecki, delivered a report on Auschwitz's horrific conditions to the Polish underground, according to the Auschwitz museum, but his parents were sent to Nazi death camps and died there in reprisal for his escape.
Piechowski, too, worked closely with the underground movement known as the Home Army. He was born in the northern Polish village of Rajkowy and grew up in nearby Tczew, where his father worked in the railroad industry and where Piechowski returned before serving with the resistance.
When the communists consolidated power in Poland after the war, Piechowski was sentenced to 10 years in prison as an enemy of the state, according to the Mail on Sunday. He was released after seven years. He later worked as an engineer in the Gdansk shipyard. Piechowski returned to Auschwitz with his wife, Iga, some 30 years after his escape.
He spent years speaking with student groups and others about the Holocaust and his experiences at Auschwitz, describing nightmares of guard dogs, nerve problems and a sense of duty that led him to recount his memories despite the pain they caused.
Kazimierz Piechowski, born 3 October 1919, died 15 December 2017
© The Washington Post
Register for free to continue reading
Registration is a free and easy way to support our truly independent journalism
By registering, you will also enjoy limited access to Premium articles, exclusive newsletters, commenting, and virtual events with our leading journalists
Already have an account? sign in
Register for free to continue reading
Registration is a free and easy way to support our truly independent journalism
By registering, you will also enjoy limited access to Premium articles, exclusive newsletters, commenting, and virtual events with our leading journalists
Already have an account? sign in
Join our new commenting forum
Join thought-provoking conversations, follow other Independent readers and see their replies