Keith Grant: Recording engineer who worked on many defining albums of the classic-rock era
Wednesday 15 August 2012 20:50 Comments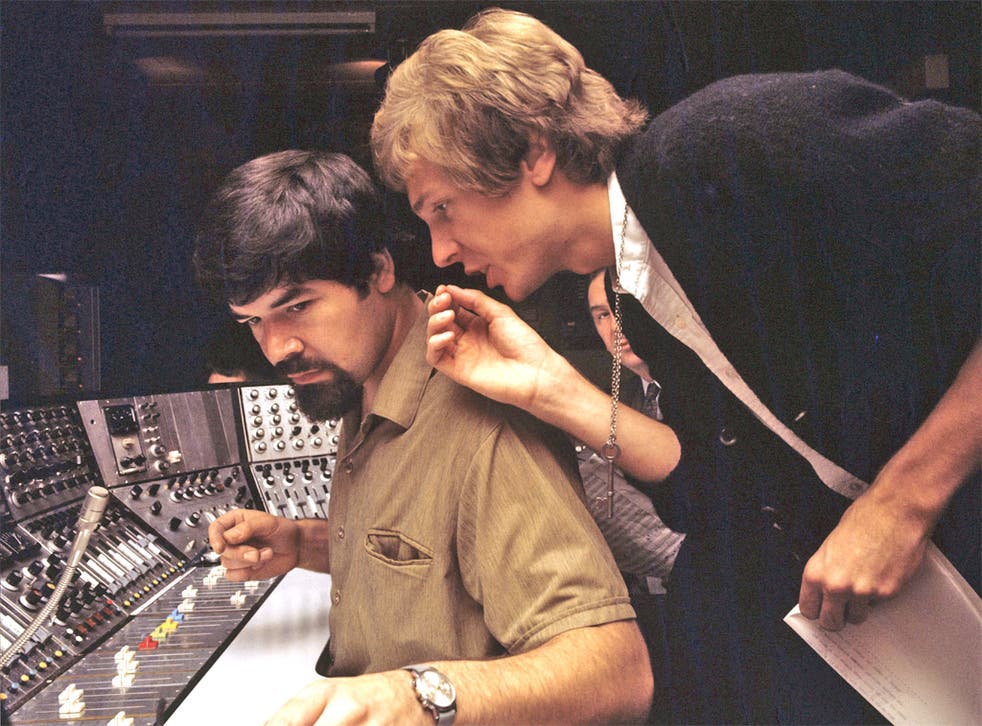 The recording and production engineer Keith Grant was a legendary character in the British music industry and worked with many of the most popular acts of the Sixties and Seventies, including The Beatles, David Bowie, Eric Clapton, The Eagles, The Jimi Hendrix Experience, Led Zeppelin, Queen, the Small Faces, Dusty Springfield, Scott Walker and The Who.
A mainstay of Olympic Studios at both its central London location and its subsequent home in the suburb of Barnes from the mid-Sixties, Grant was an inspirational figure to many, and helped engineers-turned-producers Glyn Johns, Eddie Kramer and Chris Kimsey and their clients make many of the albums that defined the classic-rock era. In the early Seventies, Olympic eclipsed rivals with a turnover that reached £4m a year as it juggled bookings for rock, pop, classical, advertising jingles, TV scores and film soundtracks.
"We did everything," Grant recalled. "In 1969, we were doing The Prime of Miss Jean Brodie in the afternoon with 100 people, including a 40-piece choir, and then the Rolling Stones in the evening and back to Jean Brodie the next morning. It was nothing unusual to take a huge session apart and put it back the next day."
Grant commissioned his father, the architect Robertson Grant, to redesign and improve the soundproofing of one studio, and to develop a system of absorptive panels that meant acoustics could be changed at the pull of a cord. "It was absolutely spot-on. You could do anything. We never had a complaint from any musician; they just loved to play in the room," he said. The state-of-the-art mixing desks, built by Grant and Dick Swettenham, became the envy of other studios, while their laissez-faire attitude towards the musicians' lifestyles created the perfect environment for the creatives to thrive.
Following the acquisition of Olympic by Richard Branson's Virgin in 1987 – which led to an ill-advised clear-out of the facility's master tapes – Grant left, but he continued to record soundtracks in a room he set up at Twickenham Film Studios. He subsequently moved to All Saints Church, Petersham, and finally built another studio in an outbuilding at his home in Sunbury-on-Thames, a fitting locale for a man who loved boating as much as he enjoyed collecting unusual musical instruments and old Citroëns and drinking real ale.
Born in 1941, he was, like many children of his generation, an undiagnosed dyslexic, and left school at 15. He spent a year at technical college and joined Regent Sound Studio in London's Denmark Street. "It was a case of in at the deep end and learning on the job," he remarked.
Following a short spell at IBC, another central London studio, he became music engineer at Olympic in 1958. By the mid-Sixties, he had worked with The Yardbirds, The Troggs and Millie, and had masterminded the studio's relocation to a former theatre in Barnes, where it remained until its closure in January 2009.
The Beatles were usually ensconced in Abbey Road, but on 11 May 1967 they came to the hipper Olympic, where they recorded 12 takes of "Baby, You're a Rich Man", one of their most "far-out" tracks, eventually issued as the B-side of "All You Need is Love".
"I'm a terrible pusher on sessions," said Grant, who was balance engineer alongside producer George Martin. "The Beatles said that this was the fastest record they'd ever made. We started the session at about 9pm and it was finished and mixed by about 3am, vocals and everything. They kept playing, version after version, then we spooled back to the one they liked and overdubbed the vocals," he told Mark Lewisohn, the author of The Complete Beatles Recording Sessions.
Grant had an extraordinary pair of ears and became especially adept at overseeing big orchestral albums and mixing film scores. These included Life of Brian, Never Say Never Again, Clockwise, The Fly and Cry Freedom, and – subsequent to his tenure at Olympic – Howards End, Shadowlands, Ed Wood, The Madness of King George and The English Patient. In 1974, he won the Best Soundtrack Bafta for his work on the film version of Jesus Christ Superstar. He also mentored the next generation of engineers and producers, helping tape-operators like Alan O'Duffy and Toby Alington develop into award-winning production sound-mixers.
He may have been a consummate and inventive sound man, yet he was also an indefatigable prankster, doing cartwheels in the studio or waving a white flag, often as a way of relieving tension during a difficult session. He once fired up a vacuum cleaner placed under the rostrum of conductor Tony Britten and, on another memorable occasion, appeared to be smashing up violinist Patrick Halling's priceless Guarneri in front of a shocked orchestra (he had replaced it with a cheap Chinese copy).
Highly esteemed by his peers, Grant received a British Academy of Songwriters, Composers and Authors Gold Badge of Merit in 1997, the UK Screen Sound Awards Fellowship in 2009 and Lifetime Membership of the Music Producers Guild in 2010. "I've enjoyed every single minute," he said of his career, that spanned over five decades. "Who wouldn't if you were getting paid to do a job you'd happily do for nothing?"
He was found dead on his boat on the river Thames with a beer in his hand.
Pierre Perrone
Keith Robertson Grant, recording engineer: born Freebridge, Norfolk 16 February 1941; married 1979 Jenny (two daughters, two sons); died Sunbury-on-Thames 18 June 2012.
Register for free to continue reading
Registration is a free and easy way to support our truly independent journalism
By registering, you will also enjoy limited access to Premium articles, exclusive newsletters, commenting, and virtual events with our leading journalists
Already have an account? sign in
Join our new commenting forum
Join thought-provoking conversations, follow other Independent readers and see their replies