Ken Russell: Film director whose style was unmistakable and whose love of controversy defined his career
Tom Vallance
Tuesday 29 November 2011 01:00 Comments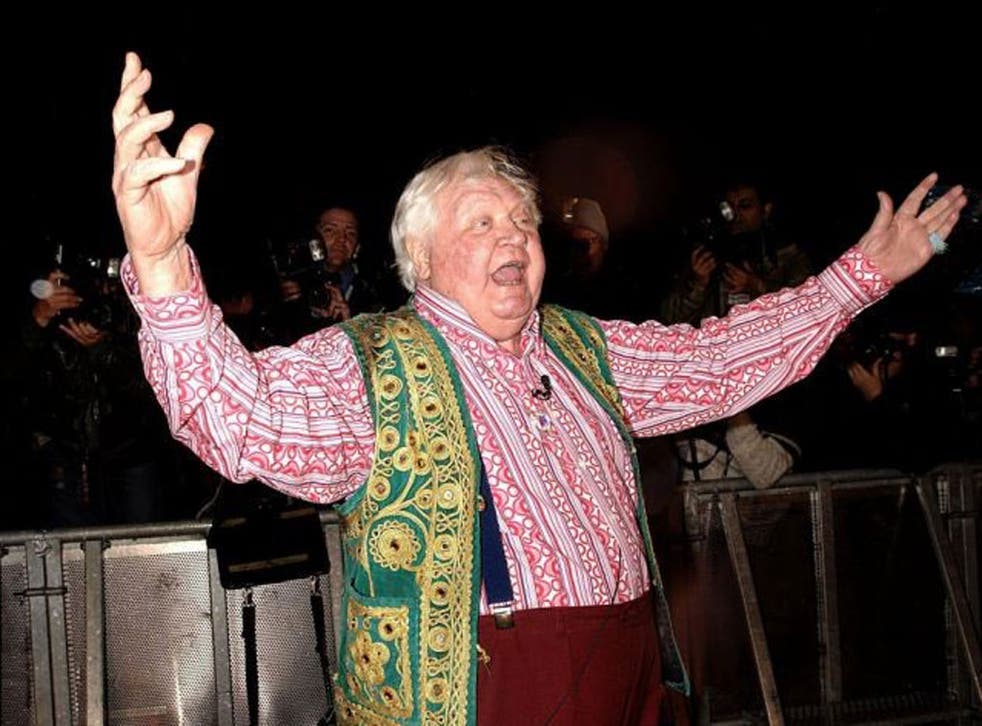 Ken Russell was a flamboyant and often controversial figure who won an Oscar nomination for his film Women in Love (1969), famous for its graphic and passionate nude wrestling scene between Alan Bates and Oliver Reed. An eccentric, larger-than-life personality, he was for a time the British cinema's enfant terrible, who often battled censors and distributors over his unconventional approach to such varied and distinctive fare as The Music Lovers (1970), The Devils (1971), The Boy Friend (1971) and the rock opera Tommy (1975).
He described The Music Lovers, based on the life of Tchaikovsky as "the love affair between a homosexual and a nymphomaniac", disturbed his most fervent followers when he depicted nuns finding outrageous uses for their crucifixes in The Devils, and turned Sandy Wilson's delicately hilarious Twenties pastiche The Boy Friend into an overblown farce, but even his critics admired his imagination and creative energy.
He initially achieved fame with a series of notable television documentaries about composers, including Delius and Elgar, and it was one of these – in which he portrayed Richard Strauss as a Nazi – that provoked his first major skirmish with censorship. Titled The Dance of the Seven Veils, it prompted the Strauss family to withdraw all rights to his music, and the film remains out of circulation. In later years Russell essayed music videos and an appearance on Celebrity Big Brother. The Labour MP and former actress Glenda Jackson, who appeared in several of his films, described him as a "unique genius", adding, "He created the kind of climate in which actors could do their job, and I loved him dearly."
The son of a shoe-shop owner, he was born Henry Kenneth Alfred Russell in Southampton in 1927 and educated in Walthamstow and at Nautical College in Pangbourne. He later stated that his father was grumpy and distant and that he spent much of his childhood at the cinema with his mother. He served in the Merchant Navy in 1945 and with the Royal Air Force from 1946 to 1949, prior to becoming a dancer with the Ny Norsk Ballet in 1950, followed by a spell as an actor with the Garrick Players.
After studying photography at the Southampton Technical College, he became a freelance photographer, and in 1955 his series of "Teddy Girl" photographs in the magazine Picture Post drew favourable attention, and lead to work as a documentary maker for the Free Cinema movement. In 1959 he was hired by the BBC to make documentary features for the arts programmes Monitor and Omnibus, particularly the former, which was edited and introduced by the legendary Huw Weldon.
"My education proper began at the age of 32 with Huw Weldon," Russell later said. "I stammered and stuttered my way through 20 documentaries with him." A documentary for the 100th edition of Monitor titled simply Elgar (1962), picturing the life of the English composer, was a tremendous success, and marked the first time that an arts programme had devoted its complete running time to one subject rather than short items. It displayed Russell's rich imagery and his meticulous attention to period detail, and it also pioneered the use of actors to portray Elgar at various stages of his career, rather than photographs or documentary footage, an innovation for which Russell had to battle with the BBC.
He continued to win acclaim for such television films as Bela Bartok (1964), The Debussy Film (1965), which starred Oliver Reed and was co-scripted with Melvyn Bragg, Always on Sunday (1965), about the artist Rousseau, Isadora Duncan, the Biggest Dancer in the World (1966), starring Vivian Pickles as the exotic dancer, Dante's Inferno (1967) with Oliver Reed, the lyrical Song of Summer (1968), based on an episode in the life of Frederick Delius, and the notorious Dance of the Seven Veils, which included a sequence in which Nazis torture a Jew to the strains of Richard Strauss.
Russell made his first feature filmin 1964, a weak comedy set in a wet and windy seaside resort and titled French Dressing ("a very unhappy film asfar as I was concerned"), and it was three years before his next feature, Billion Dollar Brain (1967), the third (and least) of the trilogy featuring Michael Caine as author Len Deighton's seedy spycreation Harry Palmer. Russell was unable to bring coherence to the convoluted plot.
Next came the movie for which he will be best remembered, Women in Love, in which Glenda Jackson and Jennie Linden played two sisters living in post-First World War Britain. Jackson won an Oscar for her performance, and the lauded costumes were designed by Shirley Ann Russell, who in 1956 had become the first of Russell's four wives. When asked by the historian Brian McFarlane what she thought of the outraged reaction shown by some to the nude wrestling scene, Jackson replied, "I thought it was daft. It was that sort of breakthrough period when the idea of female nudity was just beginning to be acceptable, but the idea of two men being shown entirely naked was something that people got very worried about, and the idea that the relationshipbetween Oliver Reed's character and Alan Bates' character could have had some kind of sexual-emotional overtone was something that people found quite hard to take at the time." A less publicised aspect of the film is the amount of DH Lawrence's dialectic that it retains due to Russell's skill at making the dialogue cinematic.
He next directed Jackson (in a literally bodice-ripping role) and Richard Chamberlain in The Music Lovers, an account of Tchaikovsky's life that was criticised for the excess that was to become something of a Russell trademark. "I followed the practice that I had established in my television documentaries of great artists by making a definite connection between the man's life and his work. All the music in the film is there to reflect some aspect of Tchaikovsky's life and personality."
His next film was his most controversial, a version of Aldous Huxley's The Devils of Loudun and John Whiting's subsequent play, The Devils, in which Oliver Reed starred as a wanton priest, out to expose corruption in the church, who gives absolution in the morning to the women he has slept with the night before. When the critic Alexander Walker, in a television encounter with Russell, called the film "monstrously indecent", Russell hit him over the head with a rolled-up copy of the Evening Standard, Walker's paper.
Because Russell's next film, a total reconception of Sandy Wilson's hilarious though affectionate stage masterpiece, The Boy Friend, precluded the prospect of a more faithful adaptation, it has been arguably under-valued, with Twiggy a charmingly ingenuous Polly and a fine cast of comic players including Max Adrian, Moyra Fraser, Barbara Windsor, Georgina Hale and, as the star who breaks her leg and has to be replaced by chorus girl Polly, Glenda Jackson. Russell, who also produced and wrote the film, set it in a rundown provincial theatre where a sparsely attended performance of The Boy Friend becomes chaotic when it is learned that a Hollywood producer is out front, and several of the cast members become determined to make an impression.
Russell returned to dissecting the artistic temperament with Savage Messiah (1972), the story of sculptor Henri Gaudier-Brzeska's relationship with a Polish woman 20 years his senior. Russell said he saw the subject as "a good example to show that art, which is simply exploiting to the full one's natural gifts, is really bloody hard work, misery, momentary defeat and taking a lot of bloody stick – and giving it."
The public failed to respond to the eccentricities of the main characters (played by Scott Antony and Dorothy Tutin), but Russell's Mahler (1974), starring Robert Powell, was a success and a partial return to form, with its blend of music, biography and imagery, and his semi-surreal, flamboyant approach to Tommy (1975) was a valid interpretation for the through-sung rock opera composed by Pete Townsend of The Who. Russell made pertinent changes to the key scene in which the child Tommy witnesses a murder that turns him dumb, deaf and blind, and he made sterling use of a star-studded cast including Roger Daltrey, Oliver Reed, Ann-Margret, Jack Nicholson, Tina Turner, Elton John and Eric Clapton.
It was to be Russell's last hit film. Neither the over-fussy Lisztomania (1975) nor the florid Valentino (1977) was a major success, though the latter had a convincingly erotic performance by Rudolf Nureyev as the screen's great lover. In 1978 Russell returned to television for the first time since 1971 to direct two hour-long films (both co-written with Melvyn Bragg) about the Lakeland poets, William Wordsworth and Samuel Coleridge, filmed on location where they had lived and starring David Warner and David Hemmings.
In Hollywood, he made an ambitious sci-fi thriller, Altered States (1980), revelling in the hallucinatory aspects of Paddy Chayefsky's script, but his displays of temperament (including an on-set row with Chayefsky) are said to have made him unwelcome in Hollywood, though he returned in 1984 to make a tasteless flop, Crime of Passion (1984), with Anthony Perkins and Kathleen Turner. Two horror movies, Gothic (1986) and Lair of the White Worm (1988) were poorly distributed failures though, like several films of the genre, they now attract a cult following.
Salome's Last Dance (1988) was inspired by Oscar Wilde's Salome, which was banned from the London stage. "Only Ken would choose to do that play," said Glenda Jackson, "and set it in a brothel that really existed and that Oscar Wilde had really attended... a visually really extraordinary thing to do."
Russell won his first critical praise for some time with an adaptation of Lawrence's The Rainbow (1989), a prequel to Women in Love in which Glenda Jackson played the mother of her character in the previous film. Russell himself played a prominent role in his thriller The Russia House (1990) with Sean Connery and Michelle Pfeiffer, which was followed by Prisoner of Honour (1991), his last film with Oliver Reed, dealing with the Dreyfus Affair which exposed anti-Semitism in French military culture.
His last notable film was Whore (1991), a bleakly uncompromising look at the life of a prostitute that stirred up familiar controversy. The following year he made his last film with Glenda Jackson, the television documentary The Secret Life of Arnold Bax. In 2000 he declared a new interest in "minimal film-making", and produced a film made in his back garden. In 2007 he made a surprising return to the limelight when he volunteered to be a contestant on Celebrity Big Brother, but he resigned from the show after four days following an argument with his fellow contestant Jade Goody. In 1995, the American Cinematheque presented a retrospective of his films for both cinema and television. They called the season "Shock Value".
Henry Kenneth Alfred Russell, film director: born Southampton 3 July 1927; married 1956 Shirley Kingdom(divorced 1978, died 2002; four sons, one daughter, 1984 Vivian Jolly (one son, one daughter), 1992 Hetty Baines (divorced 1997; one son), 2001 Elize Tribble; died 27 November 2011.
Register for free to continue reading
Registration is a free and easy way to support our truly independent journalism
By registering, you will also enjoy limited access to Premium articles, exclusive newsletters, commenting, and virtual events with our leading journalists
Already have an account? sign in
Join our new commenting forum
Join thought-provoking conversations, follow other Independent readers and see their replies