Khushwant Singh: Politician, journalist and award-winning author both feared and revered for his sharp-tongued authority
'Writing is where I succeeded,' he said in 2010. 'I was a flop at everything else'
John Calder
Saturday 22 March 2014 02:07 Comments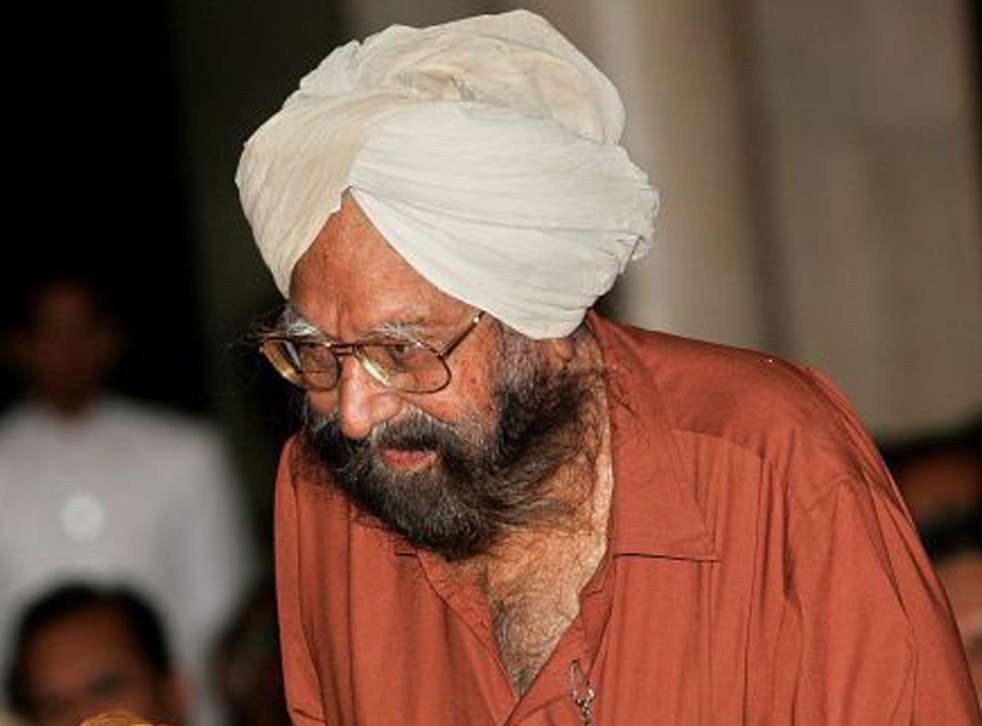 At home, Khushwant Singh was a model of Indian deportment, the serious paterfamilias, the elder statesman of Indian journalism, revered and feared for his political knowledge and ability to attack where attack was justified. But he was also a man of the world, with a deep affection for Western Europe in particular.
He had been partially educated in England, held an LLB from London University, and had attended King's College and the Inner Temple. As a barrister he practiced at the High Court in Lahore from 1939 until the end of the Raj in 1947. Much of his fiction used those heady and dangerous days as its background, especially Train to Pakistan (1956) – a short novel about the horrors of the Partition – and I Shall Not Hear the Nightingale (1961), but he was a prolific author in every sphere, a historian of authority whose massive and exhaustive work A History of the Sikhs in many volumes remains the standard work.
He did, however, write many other books about the Sikhs, other aspects of Indian history and many biographies – often finishing what others had started. A listing of his published works would take much space.
The son of a wealthy builder, he joined the Indian Foreign Service in 1947 and was posted to London and then Ottawa, being in charge of the press office from 1948-51. He spent two years at Unesco and became a Member of the Indian Parliament; he was also editor of The Illustrated Weekly of India, then of the Hindustani Times and The Times of India. Never inactive, he travelled widely, accepting short-term teaching posts and visiting lectureships at Oxford, Rochester, Hawaii, Princeton, Swarthmore and elsewhere.
As a parliamentarian, he was decisive, fluent and witty, seeing himself largely as the conscience of the nation – and he was never afraid to criticise his allies as well as his opponents. His scathing tongue was feared almost as much as his pen; his editorials carried great weight. He also wrote articles for all the world's major newspapers.
But those who met him in the West knew a less formidable figure, a friendly, civilised lover of all the good things the West had to offer: its food, its fine wines that he would not allow himself to drink back at home, its theatres, conferences and social meetings. On one occasion, in the 1950s, dining at a famous London restaurant with Richard Crossman, then a Minister in the Labour Government, his host was taken aside by the manager who told him that they would say nothing on this occasion, but usually they did not admit coloured gentlemen. Crossman went to the telephone and within half an hour an official came to inform the restaurant that their licence to sell alcoholic drinks had been revoked. It took them some months to recover it, and their "policy" was instantly liberalised.
Although famous as a libertarian, Singh had conservative and restrictive sides to his character. He was not opposed to the permissive society as it developed in the 1960s, but at the Edinburgh Festival Conference of 1962, where he proved himself a formidable debater, he came down heavily against homosexuality – not its practice, but its validity as a form of love, crossing swords in particular with Angus Wilson. He loved controversy and played the devil's advocate on several of the topics discussed, siding with Rebecca West on many issues to counterbalance a conference heavily weighted towards liberal social reform – but supported Henry Miller and Norman Mailer against censorship.
Khushwant Singh received many awards and honours, which in India are usually given with a sum of money attached. In 2007 he received the Padma Vibhushan, India's second-highest civilian award. Besides novels, histories and biographies, he wrote and translated much poetry and many classics from Indian languages. His outspokenness and the fanaticism of many fundamentalist and nationalist groups meant that during his last years he had to be under constant police protection, which seriously hindered his mobility and freedom.
He was one of the first modern Indian novelists to openly discuss sexuality, and write about it graphically. "I've been called a dirty old man and it doesn't bother me one bit," he said in an interview in 2010. He was aware that some younger writers and critics considered him as something of a relic, but he was unperturbed.
"I couldn't give a damn, he said of an extremely critical review of his 2010 novel The Sunset Club. Writing, he said, "is where I succeeded. I was a flop in everything else."
He was married to Kaval Malik, with one daughter and one son, who was educated at Oxford.
Khushwant Singh, statesman, journalist, novelist and lawyer: born Hadali, Punjab 2 February 1915; married Kaval Malik (died 2002; one son, one daughter); died New Delhi 20 March 2014.
Register for free to continue reading
Registration is a free and easy way to support our truly independent journalism
By registering, you will also enjoy limited access to Premium articles, exclusive newsletters, commenting, and virtual events with our leading journalists
Already have an account? sign in
Join our new commenting forum
Join thought-provoking conversations, follow other Independent readers and see their replies