Kim Bok-dong: South Korean survivor of Japan's 'comfort women' camps
She endured a system of mass rape during the Second World War and made it her mission to hold Tokyo to account – an outcome that eluded her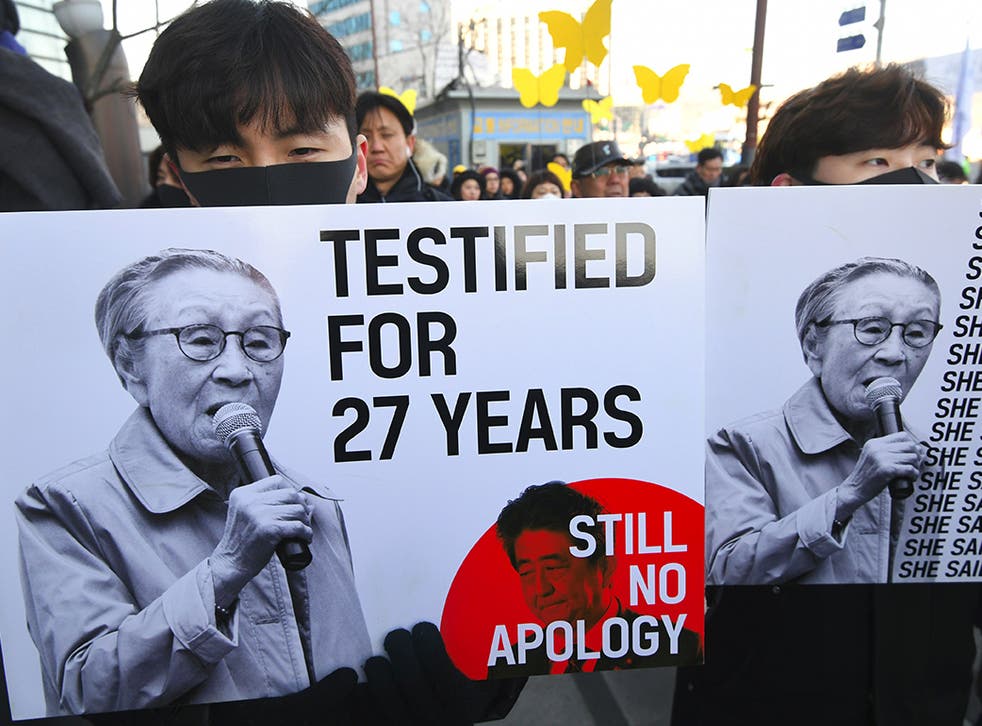 Kim Bok-dong was one of les than 50 surviving members of the Korean "comfort women" tricked into sex slavery by the occupying Japanese army, during the Second World War.
When she got to return home after the war, she decided not to tell anyone about her eight-year ordeal, only speaking out publicly more than 40 years later.
Her mother, however, was surprised that she had no intention of getting married and pressed her to tell the truth – a secret they shared until her mother died of a heart attack.
Up to 200,000 women and girls from Korea and other Asian countries are believed to have been subjected to systematic rape in that time.
In the final months of her life, the human rights advocate, who has died aged 92, expressed her great dismay at having being denied an apology from the Japanese government for the torture that befell so many, dehumanised for the sexual gratification of Japanese troops.
Aiming to hold Japan to account, she took her story around the world and testified at the UN, winning much support at home.
Kim decried the 2015 accord in which Japan agreed to pay $8.3m (£5.6m) into a fund for surviving victims as it was reached without consulting them or accepting legal liability.
"What kind of bastards would reach such a one-sided deal," she said in an interview with YouTube channel Asian Boss in October.
"They should say what we did was completely wrong and we'll correct our history textbooks."
Set up in the 1930s, Japan's "comfort stations" – or, more accurately, militarised-rape centres – were also intended to stop the rape of civilians by its soldiers and to curb the spread of STDs (condoms were issued, Kim said).
When Kim was 14 years old, Japan was at war with China. She was strong-armed by Japan's colonial authorities to go to Guangdong Province in China where she had been promised work in a factory making soldiers' uniforms.
Her captors initially thought her too young – she had travelled there with 19- and 20-year-olds. But after a medical inspection was sent to her dormitory at the rape-centre where her first assailant beat her before leaving her suicidal.
She and two other captives decided to take their own lives. Kim handed over the small amount of cash her mother had given her to a cleaner to buy a bottle of a notoriously strong alcoholic drink which knocked them all out.
Notable deaths in 2019

Show all 30
But the girls were discovered and had their stomachs crudely pumped. Her suffering was "unfathomable", she later said.
"On weekdays, I had to take 15 soldiers a day," she once said. "On Saturdays and Sundays, it was more than 50. We were treated worse than beasts."
If one rapist took too long, the next one would knock on the door, she said.
Kim was removed to other territories where Japan had bases: Hong Kong, Indonesia, Malaysia and Singapore, where "after Japan lost the war, the Japanese soldiers tried to cover up the existence of these comfort stations by turning us into nurses at the army hospitals".
After the Americans arrived, she managed to board a refugee boat to Korea.
"I think it's truly a miracle that I wasn't shot and came out alive," she said.
Kim was born into a well-to-do family in the town of Yangsan, in Gyeongnam, in what is now South Korea in 1926, the fourth of six daughters.
In 1992, when Kim Hak-sun became the first of the "comfort women" – known reverentially as halmoni (grandmothers) – to break her silence, Kim Bok-dong began to share her experience too.
Kim – who for years had been running a fish restaurant in Busan – regularly took part in the weekly Wednesday Demonstration outside the Japanese embassy, which still goes on, organised by the Korean Council for the Women Drafted for Military Sexual Slavery by Japans.
In 2012, along with fellow survivor Gil Won-ok, she set up The Butterfly Fund to raise funds for victims of sexual violence around the world – their hope was that reparations from Japan would bolster it.
The fund helped Rebecca Masika Katsuva set up Listening House, a shelter for victims of rape in the Democratic Republic of Congo and to aid Vietnamese women attacked by Korean soldiers during the Vietnam War.
"Our government owes the Vietnamese victims an apology, too," she once said.
Kim spent her final years in House of Sharing, a home for the halmoni, where she took to art therapy. Among her paintings was "The day a 14-year-old girl is stolen away".
Asked by Asia Boss what her response is to the Japanese, who claim she and other women were wilful participants in a prostitution racket, she said: "Is that what a 14-year-old does to make money? How could I have thought about selling my body at that age?"
Yoon Mi-hyang, president of the Korean Council for Justice and Remembrance, who was at her bedside when she died, reported that Kim's rage at Japan informed the insult she screamed with her final breath.
Kim Bok-dong, human rights activist, born 19 April 1926, died 28 January 2019
Join our new commenting forum
Join thought-provoking conversations, follow other Independent readers and see their replies