Kirtanananda Swami: US Hare Krishna leader, deposed after a racketeering conviction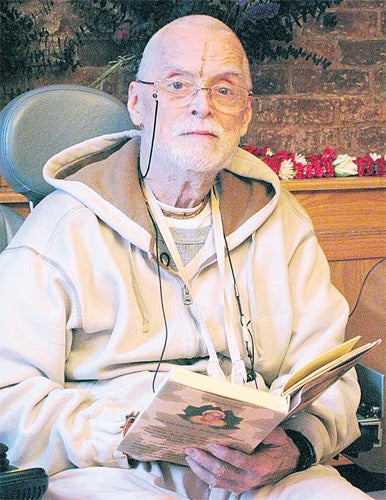 Kirtanananda Swami was the charismatic yet controversial former leader of the US Hare Krishna movement over a 26-year period. Among the first Americans to join the movement's founder, Swami Prabhupada, Kirtanananda broke away to form his own successful and financially lucrative community, before scandals, with allegations of child molestation and racketeering charges, including conspiracy to commit murder-for-hire, led to his downfall and eventual incarceration.
The Federal charges against Kirtanananda, a senior Krishna spiritual leader, and the resulting international publicity did much to tarnish the public image of the gentle, saffron-robed devotees who had long been familiar presences in American airports and major cities across Europe.
Kirtanananda Swami, aka Swami Bhaktipada, was actually born Keith Gordon Ham in Peekskill, New York on 6 September 1937. He was the youngest of five children of Marjorie and Francis, a strict Southern Baptist minister. Ham graduated with a first class honours degree in history from Maryville College, Tennessee, in 1959, before receiving a prestigious Woodrow Wilson fellowship for a postgraduate PhD, which he undertook initially at the University of North Carolina, before moving to Columbia University in New York. Ham and Howard Morton Wheeler, who became his lifelong partner, were forced to leave for New York after their homosexual relationship was discovered and they were threatened with an investigation. Ham never completed his doctorate in religious history and left Columbia in 1965 as his experimentations with drugs, LSD in particular, and a search for a spiritual haven seemed to take hold.
Following a short trip to India in search of a guru, Ham returned to New York in 1966 and met A C Bhaktivedanta Swami Prabhupada, an Indian, who had only months before founded the International Society for Krishna Consciousness (ISKCON) and was operating a storefront mission. Prabhupada had come to the West in 1965 in an attempt to educate Westerners with the Krishnas' brand of monotheistic devotional Hinduism, or Vaishnavism. Ham joined the Krishnas and rose quickly within the movement, being initiated as a Swami within a year. He was now Kirtanananda.
In 1967, early on in his spiritual journey and without any consultation with the movement's leader in India, Kirtanananda unilaterally set out to "Westernise" the religion by eliminating some traditional elements while chanting prayers in English at a New York temple. He was evicted from the temple and left New York the same year, but was later forgiven.
In 1968, Kirtanananda and Wheeler secured a plot of land in the foothills of the Appalachian Mountains in West Virginia and founded New Vrindaban, which went on to become the movement's largest American Hare Krishna community. Initially costing $500,000, money for the site was raised largely by Kirtanananda's followers, who sold baseball caps and bumper stickers adorned with counterfeit sporting logos along with copyrighted and trademarked logos such as Disney cartoon characters. Sales of these products ultimately generated over $10m for the community according to court documents.
New Vrindaban was opened in 1979, with award-winning gardens and beautiful landscape, but the crown jewel of the 4,500-acre "Spiritual Disneyland" was its ornate Palace of Gold. At its peak, the community had more than 600 members and was visited by tens of thousands of ISKCON pilgrims, with many devotees also attending the annual Krishna Janmashtami festivals, all of which generated huge revenue streams. Kirtanananda appeared to have established an earthly paradise, but in 1987 his kingdom began to fall apart.
Following accusations by former members that Kirtanananda was running the community as a cult, in 1987 the ISKCON governing body expelled Kirtanananda from the society for "moral and theological deviations" and, in 1988, excommunicated New Vrindaban. He refused to step down and established a new League of Devotees. The same year, the FBI raided their premises, removing documents and computer equipment.
In 1990, Kirtanananda was indicted by the US Federal Government on five counts of racketeering, six counts of mail fraud, and conspiracy to murder two of his opponents in the Hare Krishna movement – Chakradhari and Sulochana, who it was suggested posed a threat to his leadership and multi-million dollar empire, and threatened to reveal his sexual abuse of under-age boys. The government also claimed that he had illegally amassed a profit of more than $10.5m over four years.
In 1991, Kirtanananda was found guilty on nine of the 11 charges and sentenced to 30 years. However, 18 months later the Court of Appeals threw out the convictions and ordered a retrial on the grounds that testimony about Kirtanananda had been prejudicial. Although he returned to New Vrindaban victorious, his reign ground to a halt following what became known as the "Winnebago incident", when he was caught in a compromising position with a male Malaysian disciple. In 1994, Kirtanananda and his remaining supporters left West Virginia and returned to New York.
During his retrial in 1996, Kirtanananda pleaded guilty to one count of racketeering – mail fraud and conspiracy to commit murder – while denying any involvement in the murders, for which he received 20 years. This was later reduced to 12 years due to his poor health. He was eventually released in June 2004 having served eight years. Kirtanananda was banned from returning to New Vrindaban, which had returned to ISKON in 1998, and in 2008 emigrated to India to preach a message of interfaith.
Kirtanananda was the subject of a book, Monkey on a Stick: Murder, Madness and the Hare Krishnas (1988), by John Hubner and Lindsey Gruson, and a documentary film, Holy Cow Swami (1996), by Jacob Young.
Kirtanananda was hospitalised in July in Thane with a collapsed lung and eventually died of kidney failure on 24 October, aged 74.
Kirtanananda Swami (Keith Ham), religious leader: born Peekskill, New York 6 September 1937; died Thane, Maharashtra, India 24 October 2011.
Join our commenting forum
Join thought-provoking conversations, follow other Independent readers and see their replies