Lady Rozelle Raynes: The wartime mariner who helped disadvantaged teenagers
She served as wartime stoker and later began a scheme to take disadvantaged teenagers on to the Thames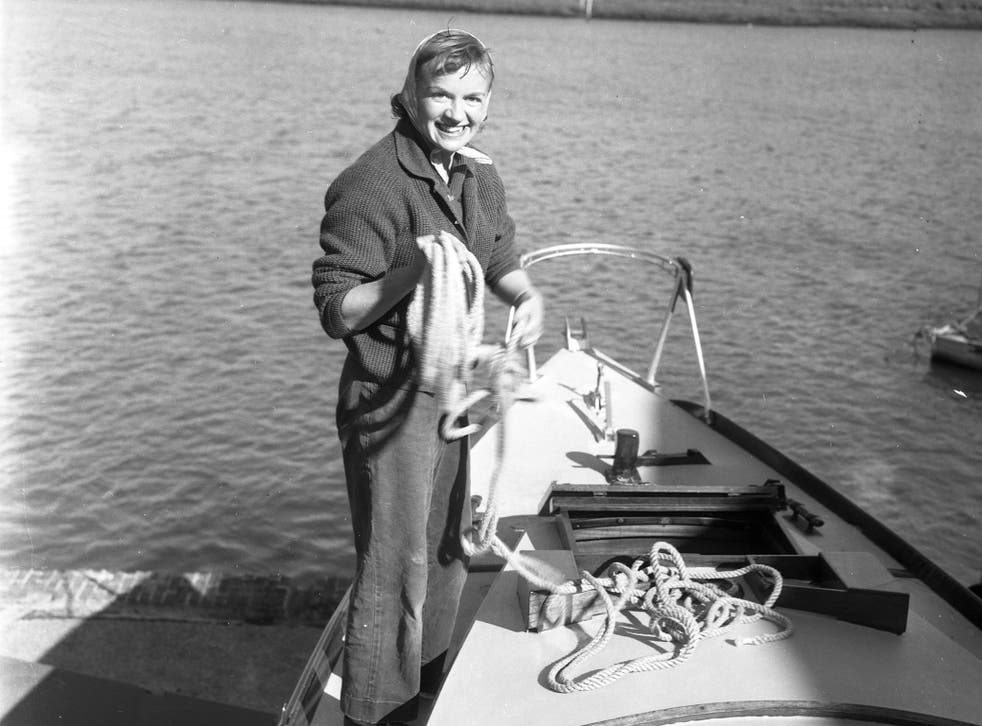 Lady Rozelle Raynes, who came from a moneyed family studded with dukes and earls, realised as a child that the world of high society and aristocracy was not for her. She wrote in one of her many books that toiling as an oil-smeared stoker in the Channel at the time of D-Day was her "ultimate peak of happiness."
She was 18 at the time but her passion for the nautical went back much further than that. Later in life she recalled that, as a child, "whenever some plaintive little foghorn called out in the night I would rush to the window in my long flannel nightdress and make desperate plans for running away to sea." She lived her long life in a decidedly unconventional way, devoting years to helping youngsters from difficult backgrounds by teaching them the ways of the sea, which she had picked up as a stoker on a tugboat.
She recalled the day before D-Day, when she was unceremoniously "awaken from a dreamless sleep to find that someone was squeezing a spongeful of ice-cold water over my face." Ordered with other women to carry out last-minute ship repairs, she recalled soldiers and sailors on their way to Normandy cheering – "One man leant over the stern of his landing craft as it gathered way and called out to us: 'You're the last bit of Old England we'll see for a while, girls, and you sure look worth fighting for!'"
She saw the effects of war up close, as the wounded were brought home across the Channel. She was particularly moved by the condition of German prisoners of war, remembering: "I suddenly became aware of the indescribable tragedy and horror of war. These were no proud and noble specimens of the Aryan race but a pathetic collection of underfed, tired and ill-looking youths wearing the ragged remains of their uniforms, with a forlorn and hopeless look in their eyes."
Serving on tugboats was not the genteel life planned by her family for Lady Frederica Rozelle Ridgway Pierrepont. She was the daughter of Gervas Evelyn Pierrepont, who won an MC during the First World War and who would become the sixth Earl Manvers. Her mother was Marie-Louise Roosevelt Butterfield, who was related to Theodore Roosevelt.
But Rozelle would not give up the sea. She burst into tears when she was demobbed at war's end, but remained on the water on a freelance basis. She first joined the crew of a Bermudan cutter, then on her 21st birthday acquired a former lifeboat in which she cruised the coasts of France, Belgium and the Netherlands. Later, in a larger craft, she sailed to Finland and explored the Baltic, mostly single-handed.
She flatly refused to become a debutante. Her marriage to a Coldstream Guards officer, Alexander Beattie, did not last, and in 1965 she married again, this time a doctor, Richard Hollings Raynes. Her books were published under the name of Rozelle Raynes.
The couple, who had no children, thought up a scheme to help boys from the ages of 9 to 13, taking groups out on the Thames for sailing training. The venture was not an unalloyed success: one of the teenagers was later in life murdered while sleeping rough, another was jailed and the couple bailed out a third who got into trouble with the law. All this was perhaps not surprising, given that the first eight boys on the scheme all came from what were described as "horrific" backgrounds. The boys, none of whom had previous maritime experience, were taught the basics of sailing, including safety and navigation, spending time on the bridge of a cross-channel vessel and going on courses which included 10-day trips to the continent.
The experiment was judged a valuable initiative. A Social Services report concluded: "There has been a marked change for the better in the boys. There is no doubt that their confidence and independence have improved as a result of this experience and it has given them a new outlook on life." Rozelle was complimented for "spending endless time and energy in making this venture possible." In their end-of-term tests three of the boys gained a distinction while five passed with merit, results that led to an expansion of an enterprise which remained in existence for 30 years.
At another stage in her life Raynes worked with refugees displaced when Yugoslavia descended into violence, helping to bus 27 of them to England and finding them accommodation around Nottingham. "We started helping them because we had several very good friends in the former Yugoslavia who had been extraordinarily kind to us in the past," she explained. "We wanted to do more than simply write a cheque."
She remained friendly with some of the Yugoslavians who remained in England and also with some of her trainee sailors. Her books, which covered her adventures in wartime, her sailing exploits and the other experiences of her life, included North in a Nutshell, Maid Matelot, The Sea Bird, The Tuesday Boys, A Boat Called Martha and The Last Coach from Croatia.
Described by the Nottingham Post as "the nice Lady with the common touch", she was known for her natural charm and old-world courtesy. A cousin, Hugh Matheson, said of her: "I think people will remember her manners, which were perfect. Late in her life she might give someone a hard time over having to take a pill – but when the same person later asked, 'How are you feeling now?' she would always say something like, 'All the better for seeing you.' She was incredibly courteous." Her husband died last year.
Lady Frederica Rozelle Ridgway Pierrepont, mariner and writer: born 17 November 1925; married 1953 Alexander Beattie (divorced 1961), 1965 Richard Raynes (died 2014); died 22 June 2015.
Register for free to continue reading
Registration is a free and easy way to support our truly independent journalism
By registering, you will also enjoy limited access to Premium articles, exclusive newsletters, commenting, and virtual events with our leading journalists
Already have an account? sign in
Register for free to continue reading
Registration is a free and easy way to support our truly independent journalism
By registering, you will also enjoy limited access to Premium articles, exclusive newsletters, commenting, and virtual events with our leading journalists
Already have an account? sign in
Join our new commenting forum
Join thought-provoking conversations, follow other Independent readers and see their replies